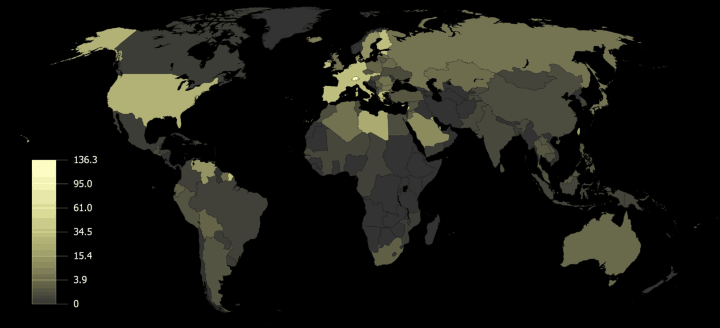 The map above shows how many grams of gold each country holds relative to its population.
Ever wonder what your share is of your country's gold reserves? Well wonder no more. The map above shows how much gold you'd get if the reserves were divided evenly.
Swiss citizens lead the world in reserves per person with 136.3 grams. With July 2016 prices of around $42 USD per gram, that means each person in Switzerland's share is worth over $5,700 USD. Not too bad!
Below you can find figures for most countries around the world based on data from 2011. Please note that the map and table below were created for Wikipedia, based on data from the World Gold Council.
You can find the latest gold price at the bottom of the page, in case you're wondering what your share's worth. And if you'd like to buy gold yourself you can find great deals on BullionVault.
Area
Population
Gold reserves in tonnes
Gram per capita
Switzerland
7,633,271
1,040.1
136.3
Lebanon
4,140,243
286.8
69.3
Netherlands Antilles
229,645
13.1
57.0
Eurozone
322,669,491
10,792.5
33.4
Aruba
105,484
3.1
29.4
Kuwait
2,846,367
79.0
27.8
Singapore
4,724,773
127.4
27.0
United States of America
311,997,196
8,133.5
26.1
Libya
6,541,767
143.8
22.0
Taiwan
23,053,305
423.6
18.4
Qatar
845,215
12.4
14.7
Sweden
9,082,567
125.7
13.8
Venezuela
27,465,835
365.8
13.3
Denmark
5,524,306
66.5
12.0
Saudi Arabia
29,506,952
322.9
10.9
Iceland
310,178
2.0
6.4
Bahrain
743,369
4.7
6.3
Japan
126,626,004
765.2
6.0
Russia
139,006,099
784.1
5.6
Bulgaria
7,116,512
39.9
5.6
United Kingdom
61,385,414
310.3
5.1
Algeria
34,825,464
173.6
5.0
Romania
22,160,479
103.7
4.7
World
6,875,841,027
30,546.1
4.4
Kazakhstan
15,496,742
67.3
4.3
Suriname
489,785
2.0
4.1
Australia
21,663,346
79.9
3.7
Belarus
9,591,779
35.3
3.7
Latvia
2,210,167
7.7
3.5
Macedonia
2,075,245
6.8
3.3
Mauritius
1,299,795
3.9
3.0
Bolivia
10,047,732
28.3
2.8
Poland
38,452,413
102.9
2.7
South Africa
49,094,711
124.9
2.5
Jordan
6,488,225
12.8
2.0
Serbia
7,324,607
13.1
1.8
Ecuador
14,918,083
26.3
1.8
Lithuania
3,539,499
5.8
1.6
Philippines
101,030,609
156.5
1.5
Trinidad and Tobago
1,228,043
1.9
1.5
Thailand
66,638,287
99.5
1.5
Turkey
78,383,454
116.1
1.5
Malaysia
26,420,998
36.4
1.4
Argentina
41,595,293
54.7
1.3
Czech Republic
10,195,128
12.7
1.2
Laos
7,087,667
8.8
1.2
El Salvador
6,063,774
7.3
1.2
Peru
30,115,664
34.7
1.2
Syria
22,451,898
25.8
1.1
Egypt
81,415,484
75.6
0.9
Cambodia
14,907,288
12.4
0.8
Sri Lanka
21,622,468
17.5
0.8
China
1,333,962,627
1,054.1
0.8
Morocco
31,827,695
22.0
0.7
Tunisia
10,649,246
6.8
0.6
Ukraine
45,250,507
27.5
0.6
Guatemala
13,710,922
6.9
0.5
India
1,182,599,587
557.7
0.5
Kyrgyzstan
5,554,165
2.6
0.5
Tajikistan
7,568,703
3.3
0.4
Albania
3,671,632
1.6
0.4
WAEMU
99485261
36.5
0.4
Pakistan
178,846,050
64.4
0.4
Papua New Guinea
6,136,694
2.0
0.3
Hungary
9,864,998
3.1
0.3
Indonesia
244,535,321
73.1
0.3
Korea, South
48,710,208
14.4
0.3
China, Hong Kong SAR
7,109,657
2.1
0.3
Mongolia
3,114,066
0.9
0.3
CEMAC
319,470,944
102.7
0.3
Fiji
965,473
0.2
0.2
Brazil
202,482,844
33.6
0.2
Colombia
44,511,121
6.9
0.2
Paraguay
6,424,800
0.7
0.1
Mozambique
22,294,275
2.3
0.1
Canada
33,918,089
3.4
0.1
Honduras
8,080,289
0.7
0.1
Uruguay
3,519,648
0.3
0.1
Bangladesh
159,242,804
13.5
0.1
Yemen
23,868,673
1.6
0.1
Mexico
113,207,390
7.3
0.1
Dominican Republic
9,879,476
0.6
0.1
Malawi
15,697,470
0.4
0.0
Costa Rica
4,551,966
0.1
0.0
Chile
16,830,930
0.2
0.0
Burundi
10,068,983
0.0
0.0
Comoros
785,786
0.0
0.0
Haiti
9,302,365
0.0
0.0
Kenya
40,654,681
0.0
0.0
Oman
3,002,517
0.0
0.0