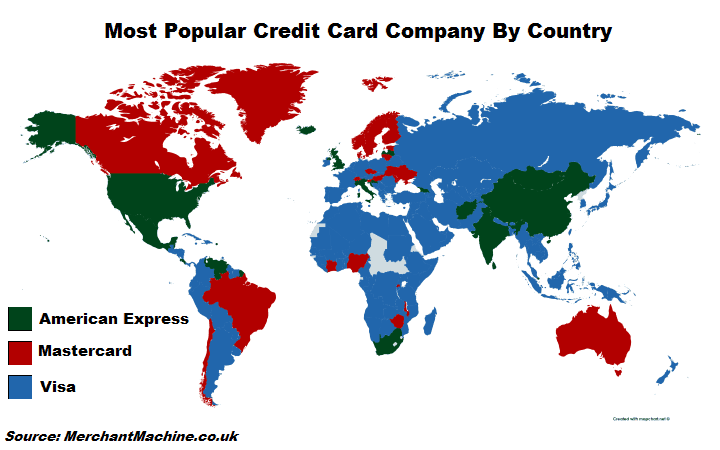 The map above shows which credit card company is the most popular in each country based on Google search data from Google Trends. It does not reflect the number of cards issued, nor transaction volume, simply the volume of searches for each company.
Overall, Google was able to provide data for 168 countries. Of those countries, Visa is the clear winner, being the most popular credit card company in 123 countries. Surprisingly, American Express (AMEX) is the most popular in 23 countries including the UK and US. Finally, Mastercard was the most popular company in 22 countries including Canada and Australia.
However, when you look at data on the biggest credit card networks, the data looks slightly different. Visa is the largest creit card issuer in the United States. According to CreditCards.com data, Visa has 304 million cards in circulation in the US and 545 million cards in circulation outside the US. Total transaction volume in the US was $1.2 trillion USD in 2014.
Mastercard has 191 million cards in circulation in the US and 576 million cards in circulation outside the US, which actually places it ahead of Visa globally (excluding US). However, US transaction volume is only $607 billion, around half of Visa's total.
Finally, American Express is much smaller than the two giants with only 54.9 million cards in circulation in the US and another 57.3 million cards in the rest of the world. However, due to the affluence of their average customer, their transaction volume in the US is slightly higher than Mastercard's at around $668 billion.
So why is Amex so popular in many countries, given it's much smaller size?
This can likely attributed to the way Google collects search trends data. Data was for total searches for each company. And while Visa and Mastercard specialise in credit cards, American Express offers a variety of other services including insurance, travellers cheques and other travel and rewards services.
They also issue their own cards as opposed to Visa and Mastercard who issue their cards via banks, building societies, retailers and other financial services companies.
Also it should be noted that while we looked at China Unionpay, Discover Card and other credit card issuers, they were not included as there were no country where they were the most popular brand.
The reason why Unionpay was not the most popular brand in China is due to the fact data comes from Google, which only has around a 9% share of the Chinese search market and likely skews towards expats and those with an international focus.
The full list of countries by credit card company popularity is below:
The 123 countries where Visa is the most popular credit card company
Albania
Algeria
Andorra
Angola
Argentina
Armenia
Austria
Azerbaijan
Bahrain
Bangladesh
Barbados
Belarus
Belgium
Benin
Bhutan
Bolivia
Bosnia Herzegovina
Botswana
Brunei
Bulgaria
Burkina Faso
Burundi
Cambodia
Cameroon
Colombia
Congo (Democratic Republic)
Congo
Cuba
Cyprus
Djibouti
Dominican Republic
Ecuador
Egypt
El Salvador
Ethiopia
Fiji
France
Gabon
Gambia
Germany
Ghana
Greece
Guatemala
Guinea
Guyana
Haiti
Honduras
Indonesia
Iran
Iraq
Ireland
Israel
Jamaica
Japan
Jordan
Kazakhstan
Kenya
Kosovo
Kuwait
Kyrgyzstan
Laos
Lebanon
Liberia
Libya
Luxembourg
Macedonia
Madagascar
Malaysia
Mali
Malta
Mauritania
Mauritius
Montenegro
Morocco
Mozambique
Myanmar
Namibia
Nepal
Netherlands
New Zealand
Nicaragua
Niger
Oman
Pakistan
Palestinian territories
Panama
Papua New Guinea
Paraguay
Peru
Philippines
Poland
Portugal
Qatar
Romania
Russia
Saudi Arabia
Senegal
Serbia
Sierra Leone
Slovakia
Somalia
South Korea
Spain
Sudan
Suriname
Syria
Taiwan
Tajikistan
Tanzania
Thailand
Timor-Leste
Togo
Trinidad & Tobago
Tunisia
Turkey
Turkmenistan
Uganda
United Arab Emirates
Uruguay
Uzbekistan
Vietnam
Yemen
Zambia
The 23 countries where American Express (AMEX) is the most popular credit card company
Afghanistan
Bahamas
Belize
Bermuda
China
Costa Rica
Croatia
French Guiana
Georgia
Hong Kong
Iceland
India
Italy
Latvia
Mexico
Mongolia
Puerto Rico
Singapore
South Africa
Sri Lanka
United Kingdom
United States
Venezuela
The 22 countries where Mastercard is the most popular credit card company
Australia
Brazil
Canada
Chile
Côte d'Ivoire
Czech Republic
Denmark
Estonia
Finland
Greenland
Hungary
Lithuania
Malawi
Moldova
Nigeria
Norway
Rwanda
Slovenia
Sweden
Switzerland
Ukraine
Zimbabwe
Use of this map: You are free to use this map on your own website BUT YOU MUST provide linked attribution back to this blog post and/or MerchantMachine.co.uk. Map created using MapChart.net.
For more see our guide to the best card machines for small business in the UK.
Enjoy this post? Please help us by sharing it: