Volt is a PSD2-enabled digital payments gateway that provides open banking capabilities across Europe. Their aim is to move users toward an account-to-account payment model, reducing intermediary fees and costs. 
The company acts as a technology developer and global open banking payments aggregator for merchant organisations. 
In this article, we'll go over what Volt is and review its services and prices. 
Let's get started. 
Volt Overview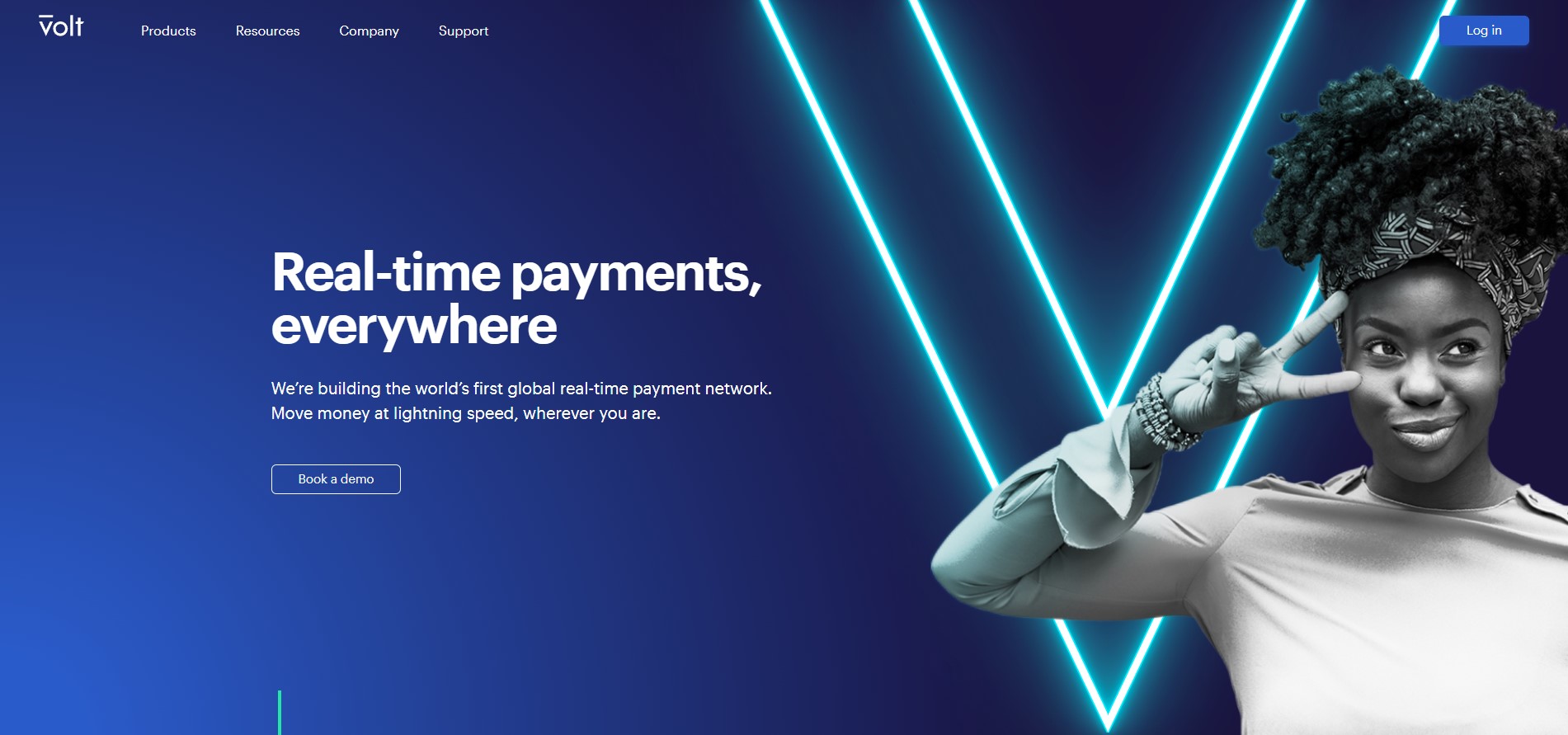 Volt is an open payments service company that aims to help businesses transition to direct payments. 
The London-based company was launched in 2019 and has been working to create an open payments gateway. Their focus is on merchants and enabling them to receive direct account payments in real-time globally. 
In January 2020, Volt received £1M in seed funding from Fuel Ventures. They used that funding to help their first batch of merchants go live in November 2020. 
In their latest funding round, Volt received £17M in Series A funding in a round led by EQT Ventures. The primary goal of the funding was to expand internationally and accelerate product development. 
Therefore, in November 2021, Volt launched its platform in Brazil, along with Pix. 
As of 2022, the company has over 5,000 bank connections across the PSD2 Open Banking network. 
Furthermore, the following is a list of Volt's products and offerings. 
Fuzebox –

It acts as a control centre where you can get real-time reporting and instant notifications regarding any flows. You can download reports, test features, and get 360-degree transaction views. 
Circuit Breaker –

This is Volt's answer to eliminate fraud and maximise conversions. You can manage risks by identifying and blocking suspicious payments since the Circuit Breaker monitors each transaction and its parties. 
Connect –

You can use this product for cash cycle control, utilising real-time control of your payment lifecycle through analytics and insights. 
Checkout –

On top of a backend system, Volt also has a front-end offering for checkouts and the end user so businesses can provide a unified experience. 
Currently, Volt is available in 25 territories, including the UK, Europe, and Brazil. 
What Differentiates Volt from Others? 
Volt is aiming to create a well-connected global network that allows A2A payments across the world. They're in the process of integrating domestic networks and international networks. 
This means that Volt can be the first truly global open payments platform. Furthermore, they've managed to combine their services into one API with a single point of access. 
Furthermore, having one control centre to manage all your transactions is more efficient. 
Moving on, Volt has a robust front-end checkout system.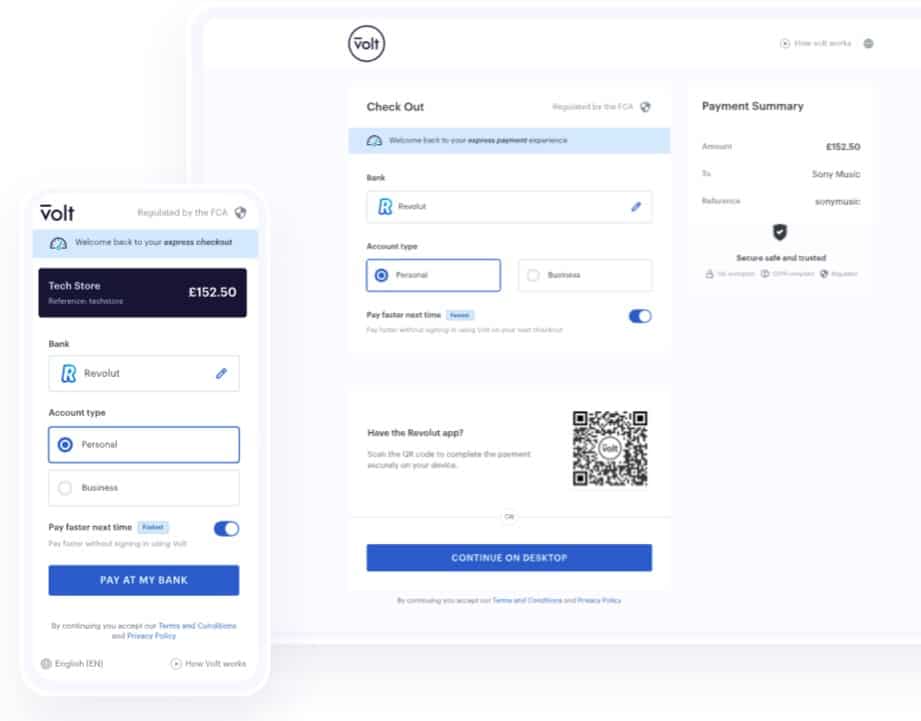 It gives end users a simple additional button for making direct payments.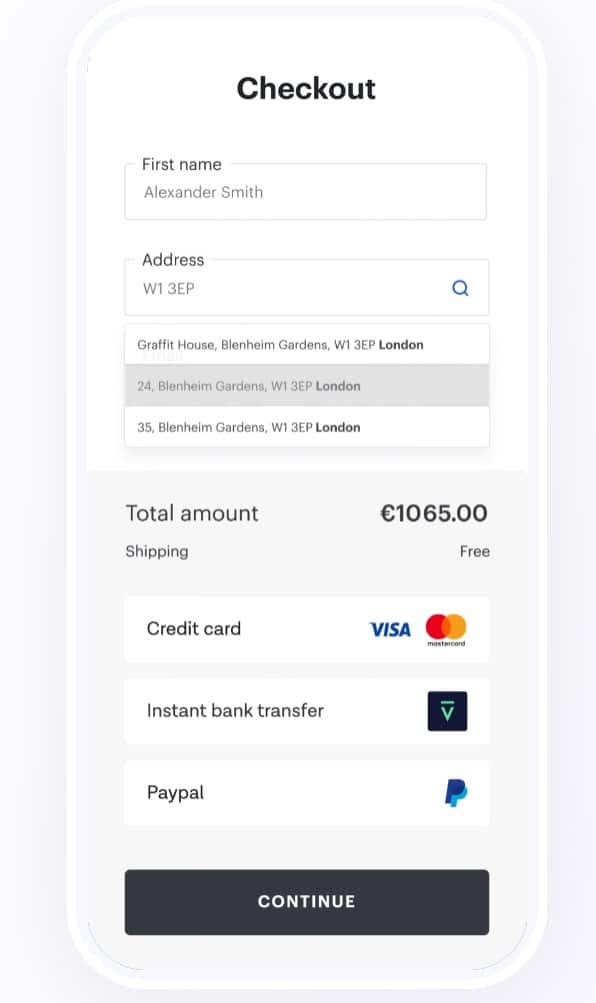 Furthermore, here are a few outstanding features of Volt. 
Assisted Onboarding  
When you submit your KYC documentation and onboarding form, Volt will set you up on their control centre – Fuzebox. 
At that point, a Volt implementation engineer will help you learn the ropes on a call. 
You can immediately start creating payment requests, and your checkout, and implement an authentication flow.  
Simple Integration  
Both merchants and PSPs can join Volt through a simple integration process. The developers have to add a few lines of code to integrate Volt's API into existing systems. 
At that point, the onboarding process automatically starts, provided you filled the relevant forms. 
Sandbox Features 
Users can switch between the Fuzebox and a sandbox to try out new tools and integrations. This allows merchants and PSPs to try out new strategies and applications without causing any real impact. 
They can then use that experience to use the exact tools and integrations they need in their Fuzebox (control centre). 
Risk Management  
Volt's Circuit Breaker allows businesses to build their risk strategies from scratch. You can manage the rules engines, develop block lists, and monitor potential fraud transactions. 
You can also create entire fraudster blocklists. These can be developed using several criteria, including emails, banks, device fingerprints, and IP addresses. 
Furthermore, you can utilise a 100-point risk score to grade transactions and payers. 
Cash Cycle Management 
Real-time payment lifecycle management allows for real-time reconciliations using virtual IBANs. You can also automate exceptions to minimise manual intervention. 
Furthermore, you can set up your system to receive multiple currencies and sweeps. Lastly, the platform also allows you to automate payouts and refunds. 
Volt Review 
Volt's vision of a global open payments gateway is something that is coming closer to reality. While most open banking platforms in the UK focus their efforts within the UK and select European countries, Volt is expanding across the Atlantic. 
That means merchants and PSPs that are using Volt will be able to provide direct payment services to customers globally. 
That makes Volt's value proposition extremely favourable to businesses and institutions that are looking to scale their operations worldwide. 
Furthermore, Volt's branding of its products is unique and provides a breath of fresh air. On top of that, they offer several additional tools and features within those products. 
That includes things like risk assessments, risk scores, downloadable reports, and more. 
On top of that, Volt has an excellent checkout front-end for end-users. It's optimised for various payment methods such as QR payments. More importantly, the UI and UX are well-optimised for the final customers. 
Things like intelligent bank search where the correct bank is matched even if the user makes a typo make a great addition and add to the overall customer experience.  
Pros 
The following are some major pros of using Volt.
Simplified and assisted onboarding for merchants and PSPs 

Unique product lineup with several complementing features 

Streamlined and UX-optimised checkout for final customers 

Potential global expansion for scaling businesses 

Single API integration 

Automated reconciliations regardless of cash cycle velocity 
The best thing about Volt is that its platform is extremely well-optimised for UI and UX. 
Cons 
The following are some of the drawbacks of Volt. 
You can customise the checkout windows 

There is no mention of pricing on Volt's website 

The target market is very limited 

Currently only provides an open payments gateway to businesses 
While Volt's platform is optimised, there aren't many options for customisation. 
User Reviews 
Currently, there are no reviews for Volt online, especially because their direct customers are merchants and PSPs. 
However, there hasn't been any mention of distrust, problems, or issues from the end-users either. 
Furthermore, Volt recently overhauled its branding to provide a new front. Therefore, it's safe to say that user reviews, whether positive or negative will now start to build up. 
Volt Pricing and Fees 
Volt doesn't provide any details about their pricing or their method of pricing each transaction. 
However, you can book a demo with Volt to get an idea of how their real-time payment network works. You can request a demo by filling out the appropriate details here. 
You can also get in touch for sales and partnerships here to get a custom quote for your pricing. 
What's the Verdict? 
Volt is trying to build a massive global open payments gateway to allow merchants and PSPs to provide direct payment services worldwide. 
On top of that, their recent branding efforts, updates to the platform's UI/UX, and robust architecture make Volt a great option. 
If you're a merchant or payment service provider, Volt can provide the necessary payment architecture to improve cash flows and make payments more efficient. 
User Reviews
Review Summary
0.0 out of 5 stars (based on 0 reviews)
Recent Reviews
There are no reviews yet. Be the first one to write one.
Submit a Review