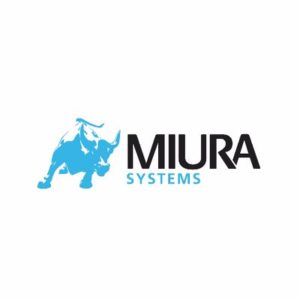 Miura Systems is based in High Wycombe, UK.  The company's focus is on providing secure electronic payment hardware for retail, hospitality, financial, government and healthcare markets around the globe.
Miura Systems Point of Sale Pricing
Miura Systems doesn't list its prices online. Contact the company directly for prices or purchase through portals such as Square, eBay and Amazon.
M010 – £162.35 (inc VAT)
POSzle – £558.50 (inc VAT)
Source:  Miura Pricing and Pricing
To see how they compare, have a look at: UK Merchant Account and Debit Card Processing Fee Comparison.
Miura Systems Features
Shuttle – billed as one of the world's most successful mPOS Chip and Pin devices
Connects easily to all types of smartphones and tablets via Bluetooth
Recommended for retailers, micro merchants and people on the move
MO10 – Mobile, counter-top and instore
Interact with customers wherever they go
Delivers a seamless, secure consumer payment experience everywhere
MO20 – One solution, infinite opportunities
A single device, one API and a simple way of configurating with innovative plug and play peripherals
Suitable for rolling out payment across even the most challenging POS environments
MOO7 – High volume checkout payments and store mobility
Ability to take payment to the consumer
POSzle – Integrated tablet POS and payment solution
ITP – Integrates a tablet, printer and connectivity for a cash drawer and scanner
Company Background
Miura Systems was founded in 2008 by Ricky Garrido.  Mr. Garrido also founded Dione, a company which became the top supplier for Chip and PIN systems in the UK.  Miura has produced highly successful mPOS Chip and PIN devices which are used worldwide.
Miura Systems POS Reviews
Trustpilot: 4.4 out of 5 based on 24 reviews
Based on the reviews on the above sites, our Merchant Machine score is 4.4 out of 5.
Website: https://www.miurasystems.com/