Magento is an open-source eCommerce platform that's used for building and managing online stores. The company was bought out by Adobe back in 2018, which is why it also has a paid plan known as Adobe Commerce.
It provides a range of management and SEO features for both small and large shops that are easy to implement and can help anyone run their shop a lot more easily.
Magento is still used as a free open-source platform for site building that a lot of small companies can use in order to get their first site off the ground. You get a number of design options, themes, and essential site features that can help you create a decent website for your business. The free service is great for small shops that have a limited inventory and don't need to expand.
Adobe Commerce, on the other hand, is a paid service that comes with a lot more customization options and overall benefits. The paid program offers better security for customer info, better customer and finance management systems, B2B-oriented features, and so on. While paying for licencing fees, hosting costs, and other site upkeep expenses might not be ideal, it's the only way to gain access to the more powerful tools that can help you scale up your site.
Service Overview
Magento comes with a multitude of useful features that help merchants manage and customize their shops. Let's walk you through them.
Builder
Interface

– The drag-and-drop placement tools make it very easy to organize both the tabs on your site and the products that you want to display.

Media Support

– Images, video, text, sliders, and promotional banners are just a few of the different content types that you can easily integrate into your pages.

Content Management

– You can either edit and change the layout of your website in real-time or set it to run automatically. 

Regular Reports

– You can check the state of your site at any time and see how many daily visitors you get, which products sell the most, what your revenue looks like, and so on.

Marketing

– The SEO tools give you regular reports on your ranking along with tips on how to improve it, like recommended keywords and other methods.

API Integration

– The API integration will allow you to pull data from third-party software and optimize information transfer between several different systems. In simpler terms, this lets you grant access to other developers and business partners to the site so they can make changes as they see fit.

PWA Studio

– An incredibly useful tool that can help you optimize your site for desktop, tablet, and mobile. It automatically adjusts the scale of the site for you, the theme layout, the tab sizes, and so on. You just need to fine-tune the settings to suit your needs.

Store Fulfilment

– This feature allows your store employees to fill out orders and handoffs more efficiently by streamlining the paperwork that they need to fill out and simplifying the entire process. The feature also works on smartphones so you don't need to be behind a desk to fill out the orders.

Catalog Service

– Faster data retrieval, API mesh integration, and PHP optimization are only a few of the perks of this feature. In the simplest terms, this is essentially just an all-around boost to the performance of your site.

Reports

– You'll receive regular reports on the state of your site. This included daily visitor numbers, weekly revenue numbers, Google Ranking, and so on. In terms of the ranking, you'll also receive a few tips on how you can improve the discoverability of your site.
Products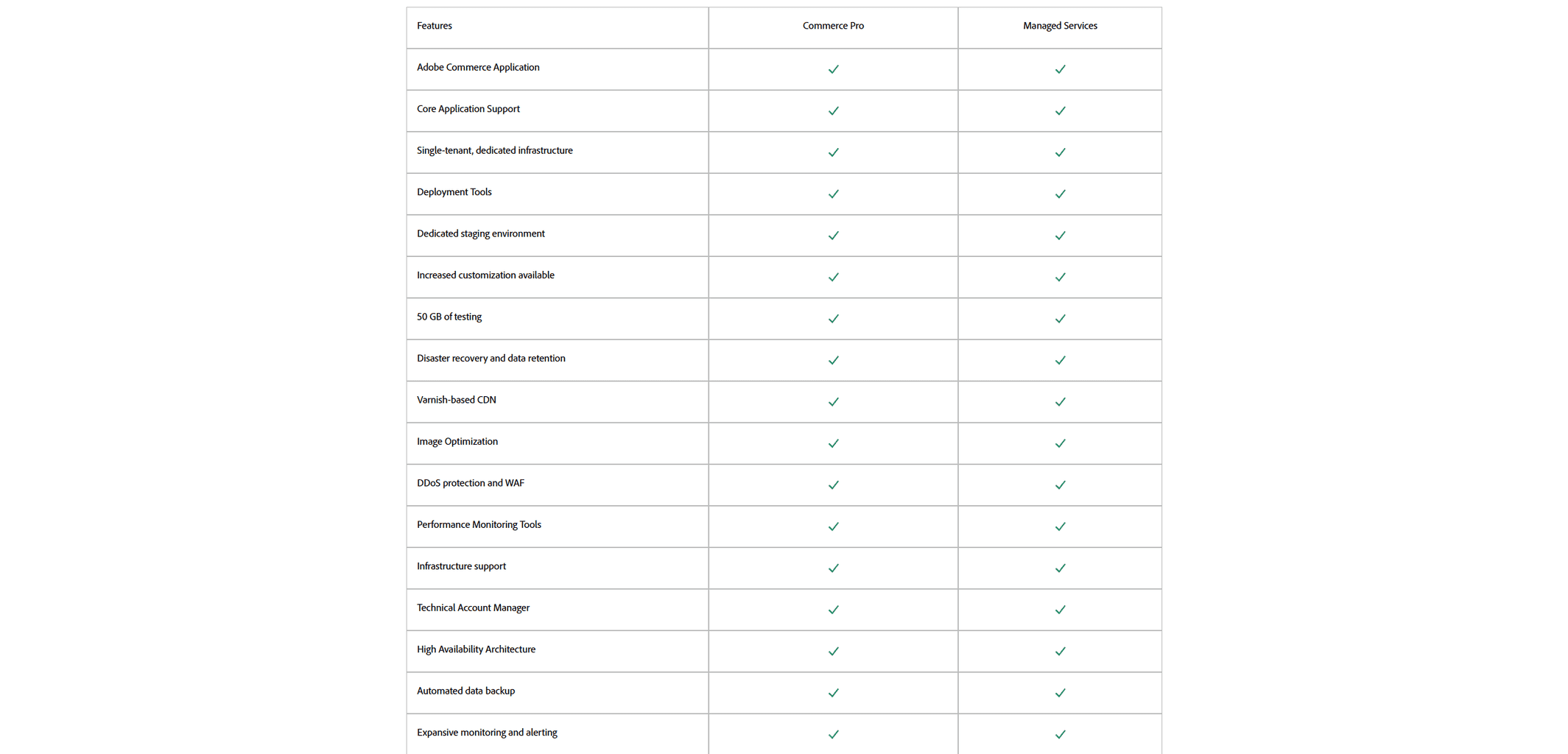 Recommendations

– The AI-powered product recommendation tool analyzes customers' product selections and builds a list of preferred items they might like. The process is automatic and it helps customers find products they might need easier.

Categories

– You can segregate the products into as many categories as you want. Customers will much more easily find something ideal for them if the items are sorted by price, dimensions, and so on.

Inventory Management

– You'll easily be able to check the state of your inventory with a simple click of a button, and you'll also be able to set certain limiters on your stock. This will send a notification once you start to run low on certain items so that you can restock as needed.

Product Descriptions

– Aside from the standard product descriptions, like size, price, and so on, you can also add a feature that allows your customers to see if products are in or out of stock.

Coupons

– If you plan on having special sales on discounts, you can notify your customers of any low prices they can take advantage of.

Integration

– Adobe Commerce allows you to integrate both Amazon and Walmart into your site. You can list and sell your products on both of these sites as long as you have an account. This will allow more people to locate your site through your listed products.

Live Search

– You get access to an AI-powered search tool that you can add to your site. This will streamline the product filtering process and provide your visitors will only the most relevant results for the items that they're looking for.

Shipping

– Integrating ShopRunner into your website allows you to offer two-day shipping deals. The FedExe subsidized service also allows your customers to fill out return forms if something is wrong with the product, which goes a long way to build trust towards the company.
Customers
Real-Time Order Data

– Addresses and contact information are stored on the server, and can easily be modified at any time. This will allow your customers to change their phone number or address without having to cancel their order (if the product hasn't been sent out yet, of course). 

Contact Info

– You'll be able to give your customers direct lines to your service representatives through phone or email addresses. This will help streamline the communication process and allow your customers to get the best support possible, which might earn you a valuable repeat customer.

Source Selection Algorithm

– You can set your site to prioritize certain items for your customers, and you can even add or develop certain extensions that can improve the capabilities of the algorithm.

Multi-Channel Tracking

– Customers will be able to see where their products are at any point. This applies to all of the stores where you have any inventory.

Search Engine

– The Search-as-you-type feature is a great way to help customers find a specific item that they might be looking for. There are also several search categories to choose from, and several filters you can use to make product location much simpler and easier.

Bundles

– You can group certain products together and offer reduced prices for bulk purchases. This is incredibly useful when dealing with larger businesses that buy large numbers of products. Offering them competitive deals keeps them on your site instead of buying from your rival shops.

Quick Checkou

t – The checkout feature allows you to process all of the payment requests on a single page. Rather than link the customer over to a payment site, you can simply allow them to enter their details and pay for their items through the payment page on your site.
Prices/Fees
Magento unfortunately doesn't display the price of the services they offer. There's no mention of any general costs or pricing structure on the site, and the only actual way to find out about potential costs is to contact them directly and ask for a quote.
The process isn't difficult at all and you simply need to enter your contact information, like name and email address, as well as some company info.
While it would be great to at least have an idea of the prices that you might encounter, this method allows you to get a much more accurate estimation of how much the service will cost, and find out exactly what features you're getting with each payment plan.
Payment Options
Magento has its own payment extension. You can download and install it with a single click and since it's Adobe-powered, the implementation to your site is seamless.
The layout is simple and customers can select from all of the major payment methods, like Mastercard, Visa, or Paypal. They're also given the option to pay in instalments, which are automatically tracked for you.
All of the payments and outstanding debts are collected and displayed on the dashboard, and you can easily compile and print out reports for any day, week, or month. You can easily keep track of your finances both on your PC and on paper if you want to.
Company Background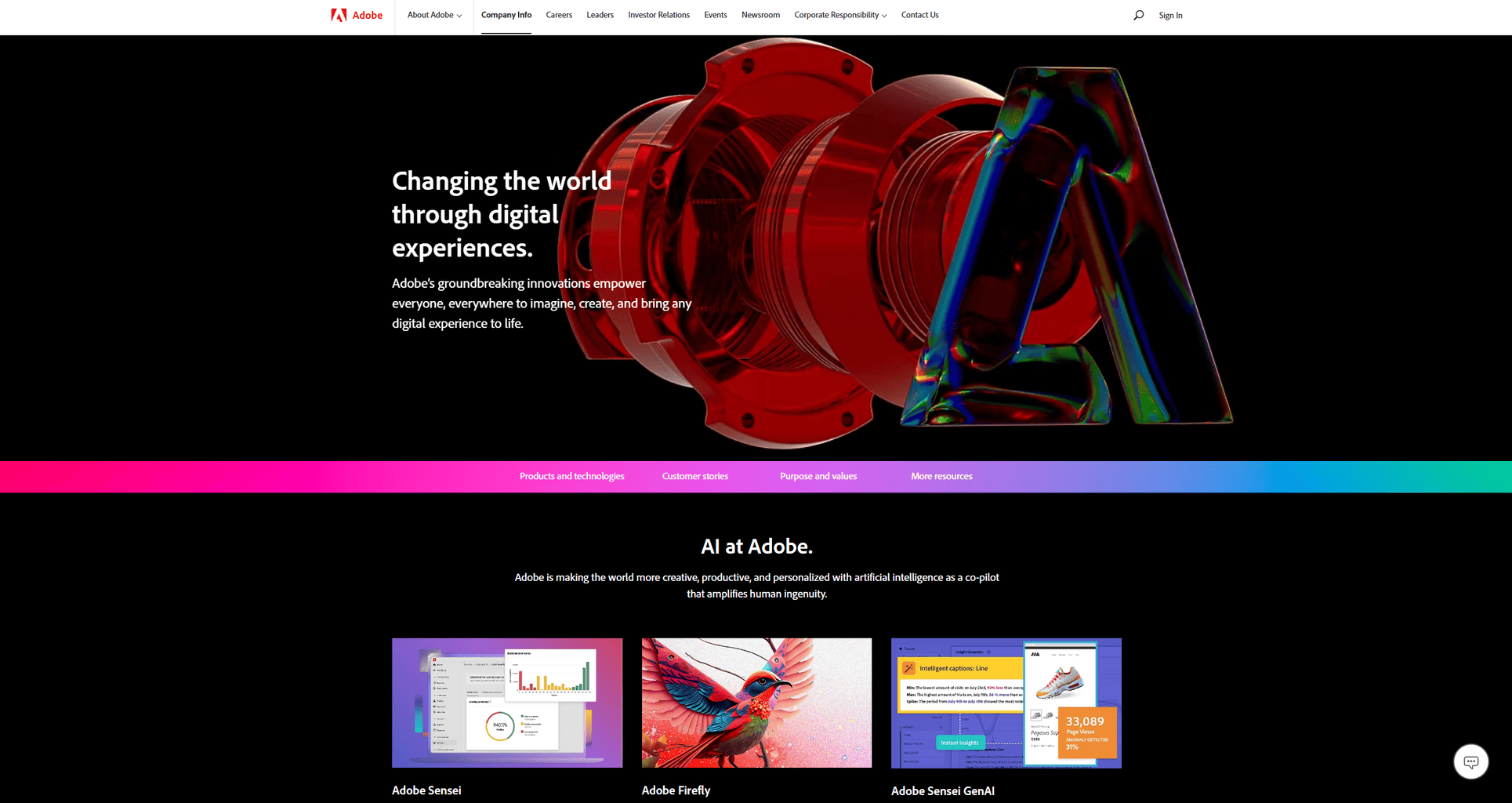 The software that's used as the base for Magento was actually developed by a different company called Varien Inc. by Roy Rubin and Yoav Kutner. The product was launched in 2008 while the company was still called Varien, but it was later renamed Magento after the platform that they developed.
Both founders left the company by 2014, and Magento was bought up by Adobe for more than a billion dollars in 2018. This is why the company now goes as Adobe Commerce.
In the 15 years that the platform has been operational, more than 150,000 different online stores have used it to create their own website for their products.
User Reviews
Merchant Maverick gives Magento a perfect 5 out of 5 stars but mentions that there's no customer support and that there's some programming knowledge required.
The Ascent rates the service at 3.10 out of 5 stars and mentions the same issues that Merchant Maverick reviewers brought up.
User Reviews
Review Summary
0.0 out of 5 stars (based on 0 reviews)
Recent Reviews
There are no reviews yet. Be the first one to write one.
Submit a Review