EVO Payments was founded in 1989 and has celebrated more than 3 decades of offering financial and merchants services to businesses around the world. 
Based in New York, EVO Payments also boasts offices in the UK, Canada, Mexico and Europe, assisting with overseas business. More than $80bn is moved through the EVO Payment systems annually with over 130 currencies processed. 
With in-store, online, and on-the-go solutions available to merchants, it's clear to see why EVO Payments proves to be such a popular choice, with more than 450,000 global merchants. 
Prices/Fees
The pricing of the services available at EVO payments is clear with four main ready-made packages available with pricing starting at £33 per month. 
Each package offered is tailored to the monthly card turnover with ready-made packages offered in increments between £1,500 and £9,000. 
| | | | | |
| --- | --- | --- | --- | --- |
| Package | Ready Made 1500 | Ready Made 3000 | Ready Made 6000 | Ready Made 9000 |
| Monthly fee  | £33  | £45 | £71 | £94 |
| Monthly card turnover | £1,500 | £3,000 | £6,000 | £9,000 |
Table: Pricing of the ready-made payment solutions available at EVO Payments
For merchants that are searching for a solution when the monthly card turnover is more than £9,000, or when specific business needs are required, a customised plan can be created.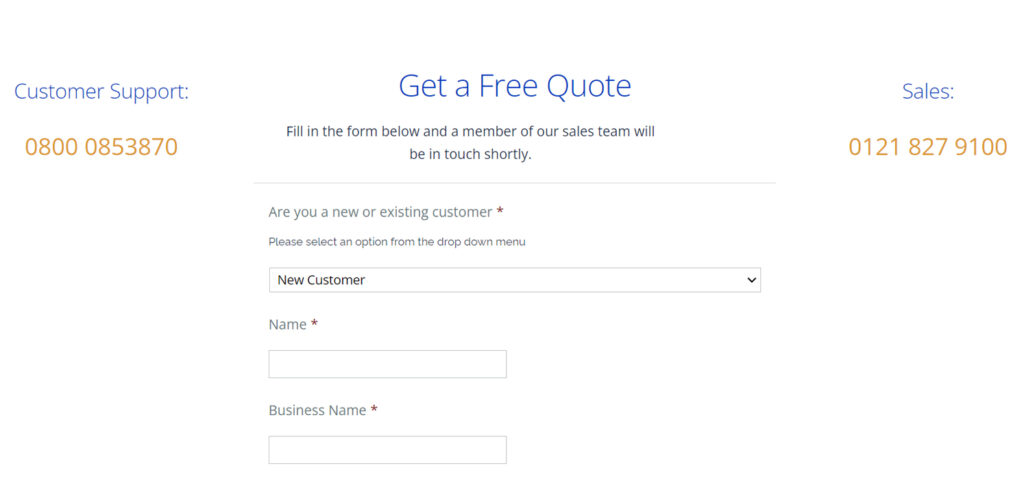 To discuss the custom plans further, merchants should reach out to the EVO Payments sales team for a free quote. 
Product/Service Overview
Evo Payments separates its products and services into three main categories depending on how merchants look to trade.
When viewing the products on offer, in-store, online and on the go options can be selected with merchants able to select the most relevant services to their business. 
In-store
With ready-made plans available for businesses to instantly get started, merchants can be up and running to accept in-store payments efficiently.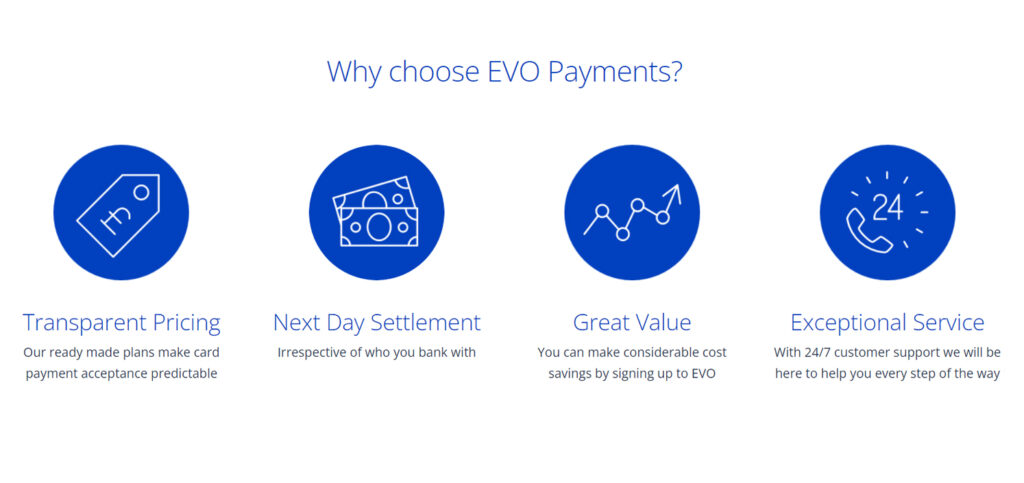 EVO Payments offer a range of advanced terminals that accept major payment methods including Google Pay and Apple Pay. These payment methods are offered in addition to a range of integrated card payment solutions. 
There are no hidden fees or unexpected expenses when opting for in-store payments with EVO Payments. Instead, merchants pay exactly what they expect not only for the ability to accept in-person payments but for a range of value-added services including DCC (dynamic currency conversion).
Online
EVO Payments offers a wide range of online payment services with state of the art technology used to implement and process payments.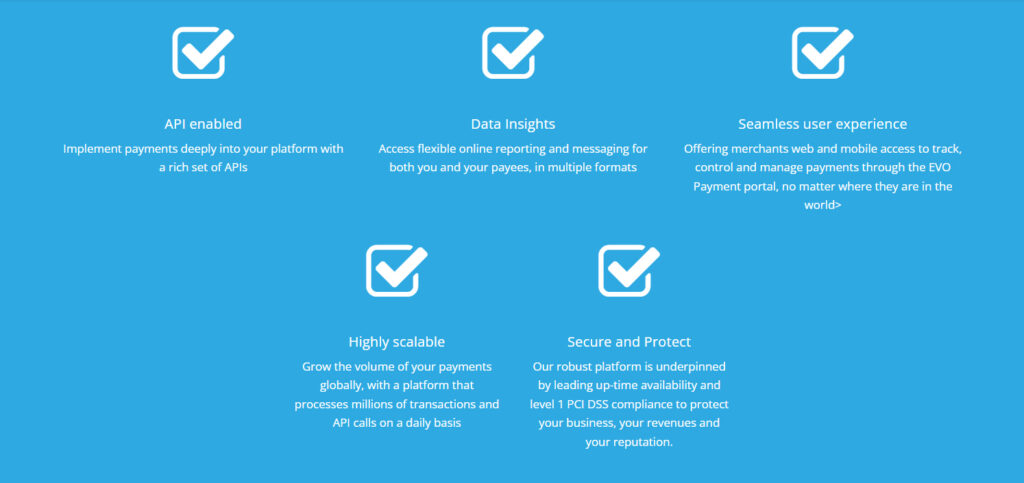 Payment methods can easily be implemented on an online platform with a range of rich APIs with a highly scalable platform that can process millions of transactions daily. Merchants can access data insights on their transactions with flexible online reporting in multiple formats. 
The suite of online payments processing tools offers a seamless experience, allowing merchants to view all of their data via the EVO Payments Portal. Data can be accessed and payments managed from the web or via mobile from anywhere in the world. 
With level 1 PCI DSS compliance, merchants can be certain that all payments are processed safely and securely, protecting both the customer and the business reputation. 
Payment Gateway
The EVO Payments Payment Gateway offers merchants the ability to accept payments online when operating an eCommerce business.
The gateway offered is compatible with more than 50 different cart modules, with all major modules available for integration to websites catered for. Additionally, the payment gateways are fully customisable, allowing merchants to fully customise the feel and flow of their checkout.
In addition to traditional debit and credit cards, mobile wallets including Google Pay and Apple Pay can be processed by the Payment Gateway at EVO Payments. An easy-to-use management system can be used to review real-time transactions with access to the online portal offered from anywhere in the world on both web and mobile. 
This can all be completed with both customers and merchants safe in the knowledge that all transactions are safe and secure with fraud screening. EVO Payments ensures that 3D Secure (3DS) is used, requiring customers to supply an additional password when paying online. AVS & CV2 are also used, ensuring that the address of a customer is correct and that the 3-digit CVV is required when purchasing. 
Virtual Terminal 
The EVO Payments virtual terminal allows merchants to take payments over the phone, offering business expansion without geographical boundaries. 
The virtual terminal can be seamlessly implemented in a call centre or place of work with multiple users permitted on a single account. Real-time reporting is offered as part of the virtual terminal, offering and quick and easy way for customers to pay and merchants to track. 
For small to medium businesses, EVO Pro Pay is the virtual terminal offered by the company with the rates starting at £6 per month. Transactions are charged at £0.01 each with up to 3 users able to access the portal at any one time. 
Pay by Link
EVO Payments also offers a pay by link service, allowing merchants to utilise a simple online tool that can lead to faster payments. 
To get started with the service, merchants should first enter the payment details before creating the link in the EVO Portal. Once created, this link can be sent to the customer via email, SMS or a direct message. The customer can then efficiently make a payment and receive a receipt for their purchase. 
There is no requirement for a merchant website to use the pay by link service and businesses are able to view real-time reporting on the payments received via links. Secure payments can be made using major credit and debit cards with Visa, Mastercard and Maestro all catered for by EVO Payments. 
Brands are able to customise the emails sent to match their branding, accept multiple currencies and access 24/7 support from the service. 
On the go
Merchants looking to take payments on the go are able to do so with the GPRS terminal offered by EVO Payments. 
The terminal can be used anywhere, from the homes of customers to a local coffee shop or out on the open road. Similar to the in-store solutions offered by EVO Payments, there are no hidden fees and pricing is offered in the same ready-made plans.
On the go payments offer a simple payment method, allowing merchants to take payments anywhere in the UK with contactless ability. Additionally, next-day settlement is guaranteed, regardless of the business bank account provider. 
Company background
Founded in 1989, EVO Payments is a financial services company with a wealth of history.
The company is based in New York City but has premises in the UK, Europe, Canada and Mexico. EVO Payments are also a Principal Member of Visa and MasterCard, allowing the company to offer international solutions for both debit and credit card. These solutions span from payment acceptance and transaction processing to physical points of sale, ATMs, eCommerce and mail-order retail. 
At the time of writing, more than $80bn in payments are made via the EVO Payments systems globally with more than 50 markets operating worldwide. Payments are processed in more than 130 different currencies from more than 450,000 merchants.
User reviews from around the web 
EVO Payments have been reviewed online a handful of times on different independent review sites with the following overall scores: 
Taking into account all online reviews, EVO payments scores a total of 4.4 / 5 from a total of 429 reviews. 
User Reviews
Review Summary
0.0 out of 5 stars (based on 0 reviews)
Recent Reviews
There are no reviews yet. Be the first one to write one.
Submit a Review