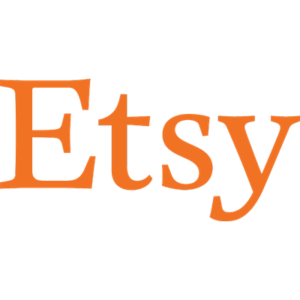 Etsy was developed as a global marketplace for unique, handmade and creative goods.  It's basically an online craft fair, where sellers can reach buyers from around the globe.  Etsy has an estimated 54 million members, with 31.7 million active buyers in 83 countries.
Etsy eCommerce Fees & Pricing
No monthly fees
£0.14 per listing (active for 4 months)
5% transaction fee
4% + £0.20 payment processing
Source: Etsy Pricing
To see how they compare, have a look at: UK Merchant Account and Debit Card Processing Fee Comparison.
Etsy Features
Low fees
Manage your business anywhere
Build a website in minutes
Improve your views with promoted listings + free social media tools
Analyse and optimise your shop
Unlimited listings
SSL certificate included
Secure payment processing
Expand brand with custom website – Pattern
Manage Etsy shop and Pattern site from same place
Custom domains
Beautiful designs, made for mobiles
Other Etsy Products and Services
Company Background
Etsy was launched by Iospace in 2005.  The first version too its three owners, Haim Schoppik, Chris Maguire and Robert Kalin, just two and a half months to complete.  Etsy quickly attracted traffic to its site due to constantly updating and adding innovative functions to it.
In 2008, Haim and Chris, together with other employees, left the company.  This was the time when former Yahoo! Executive, Chad Dickerson came on board.  Chad became CEO in 2011.
Etsy announced its B Corporation certification in 2012 and raised $40 million in Series F funding.  In September 2016, Etsy bought Blackbird Technologies, an AI company.  Etsy's headquarters are in Brooklyn, New York, with a European presence in Berlin.
Etsy generally has around 45 million products for sale at any one time.  Eighty-six per cent of these are sold by women.  Repeat purchasers make up 81% of Etsy sales.  In 2016, Etsy's gross merchandise sales was $2.84 billion.
Etsy Pros & Cons
The following pros and cons are based on information available on reviews from Trustpilot.
Pros:
Good source for handcrafted items and vintage items
Great site to browse
Professional and helpful sellers
Personal feel to the site
Cons:
Poor customer service
Inefficient admin staff
Rude emails from Etsy
Blocking of accounts
Accounts closed because Etsy won't believe articles are handmade
Etsy Reviews
Note that many of the negative Etsy reviews concern the actual sellers rather than Etsy itself.
Trustpilot: 2.3 out of 5 based on 1,196 reviews
Based on reviews on the above three sites, our Merchant Machine score is 2.3 out of 5.
Website: www.etsy.com