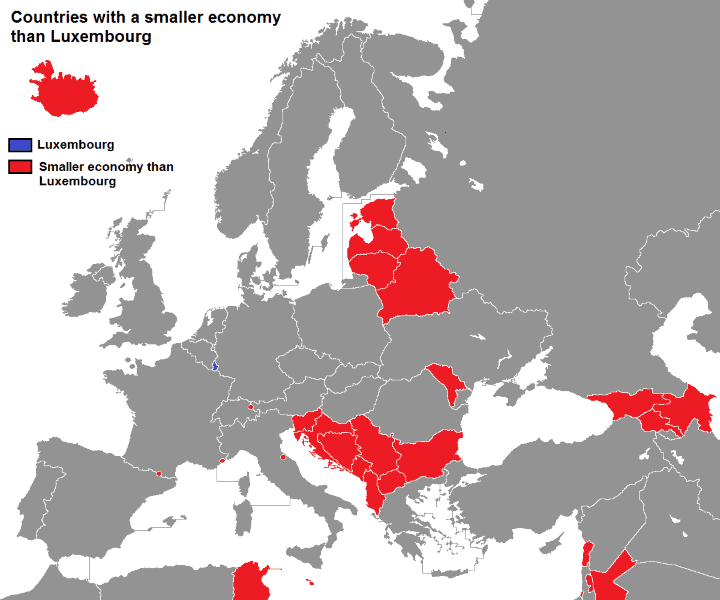 Map created by reddit user Chief_of_Achnacarry
The map shows European countries whose total GDP (in nominal terms) is smaller than that of tiny Luxembourg. In 2016, according to the IMF, Luxembourg's total GDP was $60.98 billion, making it the world's 75th largest economy.
However, with a population of only 543,202 people, this means, on a per capita basis, Luxembourg ranks number 1, according to the IMF (or 3rd behind Liechtenstein and Monaco according to the UN). A total of $101,994 per person!
Going down the list of economies on the map smaller than Luxembourg's you have:
Lebanon: $51.82 billion ($11,157 per capita)
Bulgaria: $50.45 billion ($6,843 per capita)
Croatia: $49.86 billion ($11,573 per capita)
Belarus: $48.13 billion ($5,749 per capita)
Slovenia: $44.12 billion ($20,747 per capita)
Lithuania: $42.78 billion ($14,180 per capita)
Tunisia: $42.39 billion ($3,923 per capita)
Jordan: $39.45 billion ($3,976 per capita)
Serbia: $37.76 billion ($5,120 per capita)
Azerbaijan: $35.69 billion ($5,739 per capita)
Latvia: $27.95 billion ($13,573 per capita)
Estonia: $23.48 billion ($17,896 per capita)
Cyprus: $19,93 billion ($22,822 per capita)
Iceland: $19.44 billion ($50,277 per capita)
Bosnia and Herzegovina: $16.53 billion ($4,140 per capita)
Georgia: $14.46 billion ($3,754 per capita)
Arab Palestinian areas: $12.77 billion ($2,712 per capita) [UN]
Albania: $12.14 billion ($3,945 per capita)
Armenia: $10.75 billion ($3,521 per capita)
Macedonia: $10.49 billion ($4,871 per capita)
Malta: $10.46 billion ($22,713 per capita)
Monaco: $7.06 billion ($165,871 per capita) [UN]
Moldova: $6.65 billion ($1,821 per capita)
Kosovo: $6.56 billion ($3,548 per capita [World Bank])
Liechtenstein: $5.86 billion ($169,492 per capita) [UN]
Montenegro: $4.24 billion ($6,409 per capita)
Andorra: $3.28 billion ($39,896 per capita) [UN]
San Marino: $1.56 billion ($49,615 per capita)
Note: There is no GDP data for the Vatican
Enjoy this map? Please help us by sharing it: