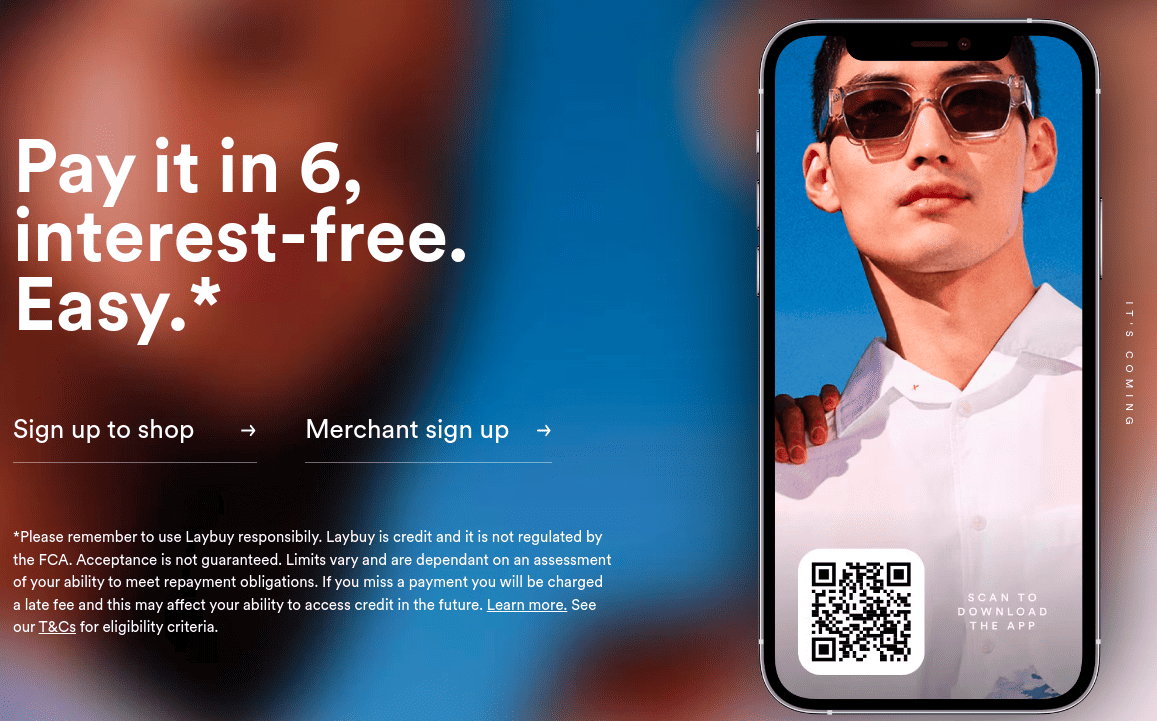 Founded in 2017, the New Zealand fin-tech company Laybuy quickly rose as one of the prominent players in the Buy Now Pay Later (BNPL) industry. The company provides seamless and flexible payment solutions to consumers in New Zealand, Australia, and the United Kingdom.
Laybuy's inception marked a shift in the direction of consumer empowerment to shop freely while dividing their payments into instalments they can gradually cover later.
Thanks to their widespread availability and user-friendly platform, the company has managed to attract some prominent clients in the retail sector, forging partnerships with renowned brands like Ray-Ban, Oakley, JD Sports, and many others.
Prices/Fees
Laybuy doesn't have any specific fees and prices listed on its website, except for the penalty charges for late payments.
In case of a failed payment, Laybuy immediately informs the customer via email. After 24 hours, they retry the payment. In case of a repeated failure, they charge a fee of £6. If the customer doesn't make a payment within another seven days, Laybuy charges another £6 fee. This goes on until a limit of £24 is reached for each purchase made with Laybuy. All late fees are taken from the default payment method from the customer's Laybuy account. If the payment still can't be processed after this, Laybuy warns that they might hire a debt collection agency to collect the amount the consumer owes.
Until the consumer pays the amount of money they owe, they can't continue with using Laybuy's services.
In case a consumer wishes to exchange a purchased item, Laybuy won't pause their payments. The consumer will need to proceed with their weekly instalments.
For more detailed and up-to-date information about payments, consumers can review the terms and conditions page provided during the checkout process whenever they use Laybuy as their payment option when buying from a specific retailer.
Product/Service Overview
Laybuy is primarily a BNPL service provider with a focus on providing flexible payment solutions designed to empower consumers.
Here's an overview of their products and services.
Interest-Free Instalments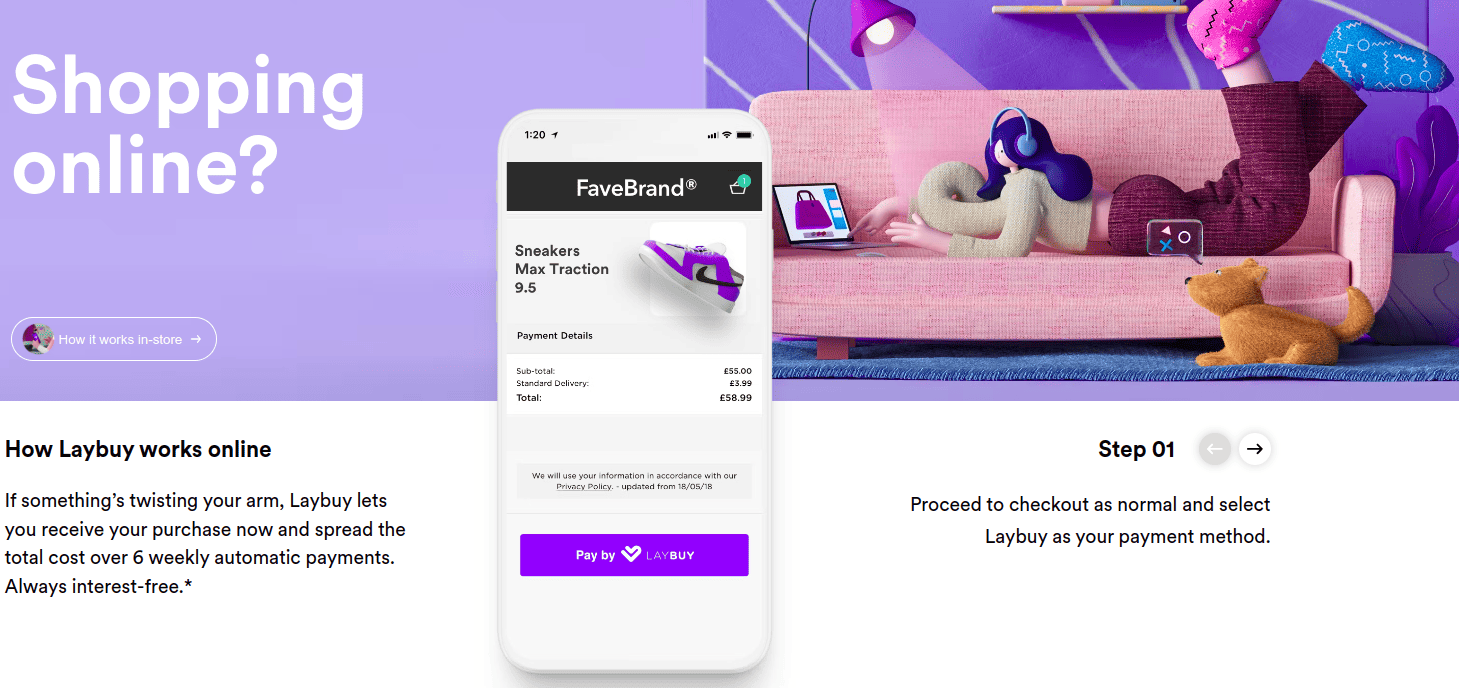 Laybuy's main service is the Buy Now Pay Later service or the interest-free credit for consumers. This service allows customers to shop and split the total cost of their purchase into six equal instalments paid over a six-week period.
Although Laybuy's payment services were initially focused online, over the years the service has expanded to in-store shopping as well. However, the availability of Laybuy's services for in-store shopping may vary depending on whether a specific retailer has integrated Laybuy, which is why consumers should first check with the retailer whether the option is available.
In either case, consumers should create accounts on Laybuy's website or through the Laybuy mobile app. Their accounts will be approved almost instantly and they can start shopping right away. During checkout, they simply need to choose Layout as their payment method and complete the purchase.
Once the purchase has been made, the first instalment is charged and the remaining instalments are automatically scheduled for the following five weeks.
The key feature is that Laybuy doesn't charge any fees or interest on top of the purchase price if customers make all of their payments on time.
Virtual Card
Upon account approval, Laybuy provides its customers with a virtual card that can be used for making online purchases. The card is associated with unique card details such as number, expiration date, and security code.
Each virtual card generated by Laybuy is intended for a single use. This improves security during online shopping and helps protect against unauthorised transactions. For each purchase, customers are typically issued a new virtual card.
Customers can easily manage their virtual card and view transaction details through the Laybuy app or when they login to their Laybuy account.
Laybuy App
Besides the website, consumers can also access their Laybuy accounts through a mobile application. This app allows them to manage their accounts on the go, access their virtual card, track their purchases, receive payment reminders, discover new retailers, and access the Laybuy support and help centre.
Merchant Benefits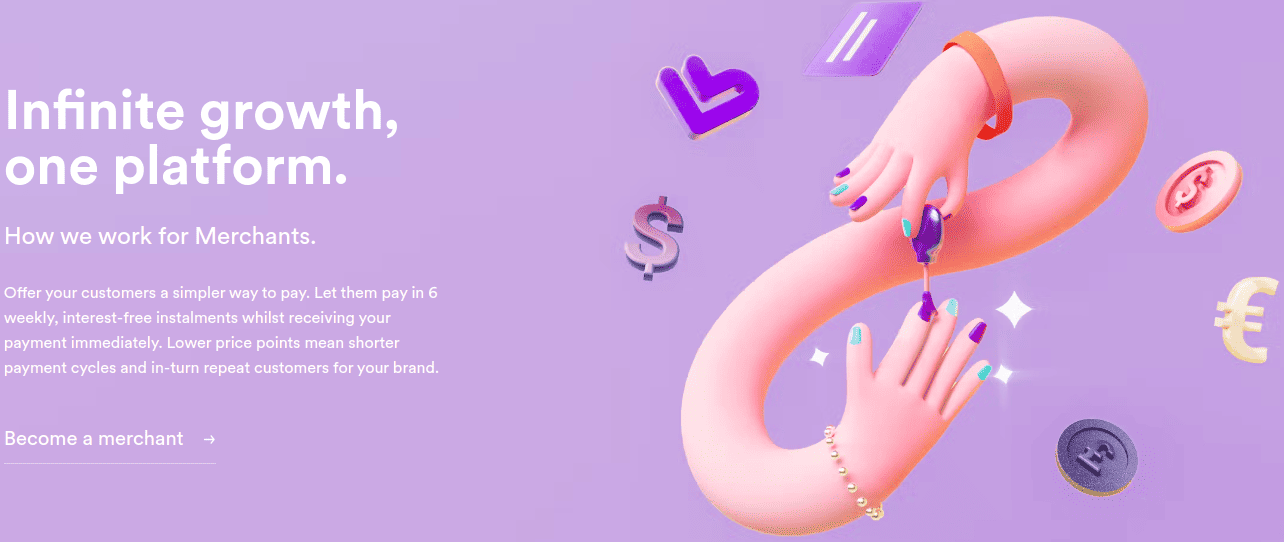 According to Laybuy, merchants can benefit from partnering up with them because this partnership can help them drive sales, increase conversion rates, and improve customer experience.
Access to Customers
By partnering up with Laybuy, merchants get access to their huge customer base. This can improve the business's customer reach and with that, their sales.
Conversion Rates
When offered flexibility with their payments, many consumers feel empowered to make purchases, which means that more visitors will turn into customers.
Average Order Values
The possibility of delayed payment doesn't only motivate people to shop, but it motivates them to shop more. Merchants who collaborate with Laybuy report increased basket sizes, which translates to an increase in their average order values.
Customised Branding
Laybuy understands the importance of preserving each merchant's authentic brand identity and offers customisation solutions for the Laybuy payment solution. Merchants who decide to integrate Laybuy can tailor the look of the Laybuy interface so that it aligns with their brand's aesthetic.
Business Operations
Along with their BNPL service, Laybuy also engages in a number of business operations that help them stand out as industry leaders.
Customer Support and Help Centre
Laybuy takes pride in its exquisite customer support. In case they have any questions, both merchants and consumers can access the help centre through the app or website. There, they can either access answers to some common enquiries or contact support through the website form or by sending an email.
Furthermore, all merchants who wish to integrate Laybuy into their online or physical store are provided step-by-step assistance throughout the whole process and a detailed explanation of how things work.
Financial Hardship
In case a consumer finds themself in an unexpected financial glitch, Laybuy won't try to take advantage of that in any way. On the contrary, the company has built an individualised, judgement-free approach for anyone who is struggling.
In case a person's been through an illness, injury, emergency, natural disaster, personal change in expenditure, loss of job, divorce, death of a family member, or something else, they can contact the Laybuy help centre and ask for help.
They will be required to explain the situation and in some cases to provide proof of hardship. The professional team from Laybuy will then try to create a mutually satisfying payment plan that the consumer can accomplish in the new circumstances.
User Reviews From Around the Web
To get a complete image of Laybuy, let's see what people from around the web have said about their experience with this company.
User Reviews
Review Summary
0.0 out of 5 stars (based on 0 reviews)
Recent Reviews
There are no reviews yet. Be the first one to write one.
Submit a Review