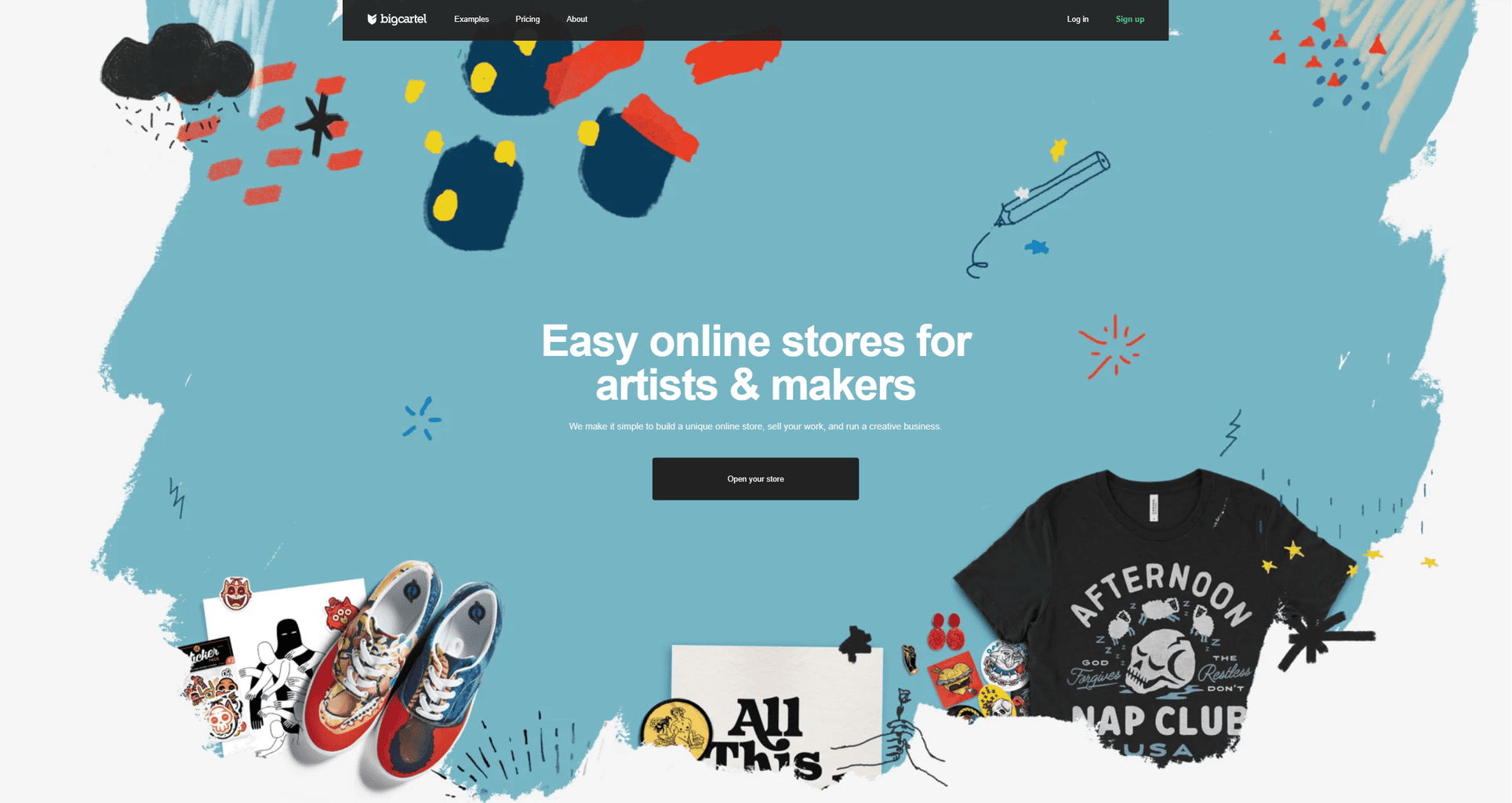 Big Cartel is a small SaaS company. While this might seem pretty ironic considering the name, the small size allows the company to remain independent from big-time investors and allows the team to make changes to their service as they see fit.
Small companies that are just starting out will get everything they need to start their first business online, but medium companies are also able to create a decent site with Big Cartel.
The limited theme selection and layouts are a deal breaker for most companies, especially when you consider that the most expensive plan only offers up to 500 products to be displayed on the site. Additionally, while the hosting is free, the servers might have issues supporting a large influx of daily visitors. Again, this is problematic if you're a large company or even a medium company that's trying to grow.
On the positive side, the platform is very easy to use and simple to understand. Small businesses or one-man teams can take advantage of these easy-to-use features and the affordable pricing of the plans to create a decent site.
Service Overview
The particular service that Big Cartel provides is in the eCommerce field. The site creation software can help small entrepreneurs to create their own fully customizable websites for their stores.
All of the tools that are available can allow you to make very simple and easy-to-navigate store pages.
There are several example sites that are listed on the Big Cartel site, and they'll give you a bit of a preview of the sort of site you can make using this service.
You won't be able to create anything too spectacular, and all of the layouts are pretty similar, but it's good enough for small shops.
If you're just starting out, you'll most likely want a website creation tool that's very affordable and that can allow you to display all of the products you're trying to sell. Big Cartel can help you do just that, at a very affordable price.
Themes
Big Cartel has 16 themes you can pick from. Without sugarcoating it, this is an incredibly low number, especially when you consider that most other site-creation platforms generally have at least 100 themes to pick from.
The good thing about these themes is that they're completely free and you don't have to pay any additional fees, unlike certain other sites, like WooCoomerce for example, that hide their highest quality items behind a paywall.
Additionally, the themes can all be modified. This does require knowledge of at least basic programming, but if you have the skills, you can improve the already existing assets and create something that better suits your tastes.
Blogs
Site layouts and product-oriented features are a definite must for any site-creation platform, but another less talked-about feature is the blog page.
Posting articles is one of the best ways to increase your Google rankings by simply using basic keywords and other SEO and SEM optimization tools.
It doesn't matter if you have a team of writers working full time, or if you write and post one article a day yourself, the blog section can really increase site traffic.
Not only will you be able to increase your site visibility in the search engine, but you'll also be able to write about topics that interest you, and more importantly, that might interest your clients.
Who knows, maybe you'll get a few return customers thanks to your articles and not just your products.
Analytics
You'll be able to receive regular reports on the state of your site, how many visitors you're getting on a daily basis, daily revenue, and so on.
You also have access to Google Analytics which tells you the ranking of your site, and even gives you some tips on how to improve that same ranking so you get more monthly hits.
Social Media
You can add links that lead from your site to popular social media platforms, like Facebook or Instagram, and vice-versa.
These links and the accompanying social media pages you can create for your site can help raise the chances that people will see your products. It's also easier to find your site if you simply link it in your profile and on any posts you make.
Email
Your customers can sign up and leave their email addresses, at which point you'll be able to provide them with a number of useful perks.
Any registered customer will now receive notifications if they have an "abandoned cart". This is simply a message that tells them they have items they might have forgotten about, but might still be interested in buying.
You can also use automated messages to send out coupons and discounts to any customers you choose. This is an easy way to reward loyal customers and cultivate return visitors to your site.
Customers will also receive a message when a product has been shipped so they're in the loop and know the estimated time of arrival for their purchase.
Drag-and-Drop
The drag-and-drop layout design feature is a hallmark of any beginner-friendly site-creation platform.
As the name suggests, this feature allows you to simply click on a specific feature, icon, or banner that you want to add to your site, and simply drag it to the appropriate position using your mouse.
You can change the layout whenever you want, as well as add or remove any products according to your preference.
Template
The site templates are all designed and reordered through the drag-and-drop feature that we just went over, but aside from changing the layout, the template editor allows you to make other changes as well.
You get a selection of more than 50 Google Fonts that you can use for your product listing and descriptions that can be modified in terms of size and style.
You can also rescale your images or increase the size of the icons so they're either larger and more clearly visible, or smaller in order to pack more into a single row.
Bulk Imports
Manually adding each and every product and image is simple, but time-consuming. Big Cartel comes with a bulk import feature that allows you to add up to 500 products to your store with a click of a button.
This is especially necessary when you have to add multiple pictures of all of these products and attach them to the corresponding item.
Store Organization
You get inventory tools that automatically calculate the number of products you still have in stock. Once you log a certain number of items as present in your inventory, the site then tracks the purchases and reduces the number of products that you have in stock automatically.
You also have tax and purchase calculating tools so that your monthly revenue and expenses are all automatically added up for you. This makes it easy to track the state of your site and stay on top of bills and payments.
Additionally, you can also link your online store with any physical stores that you might have so that the purchases are all gathered in one place and calculated simultaneously.
Phone App
Regardless if you're using an iPhone or an Android, the Big Cartel phone app allows you to make changes to your site from your phone or tablet. 
Prices/Fees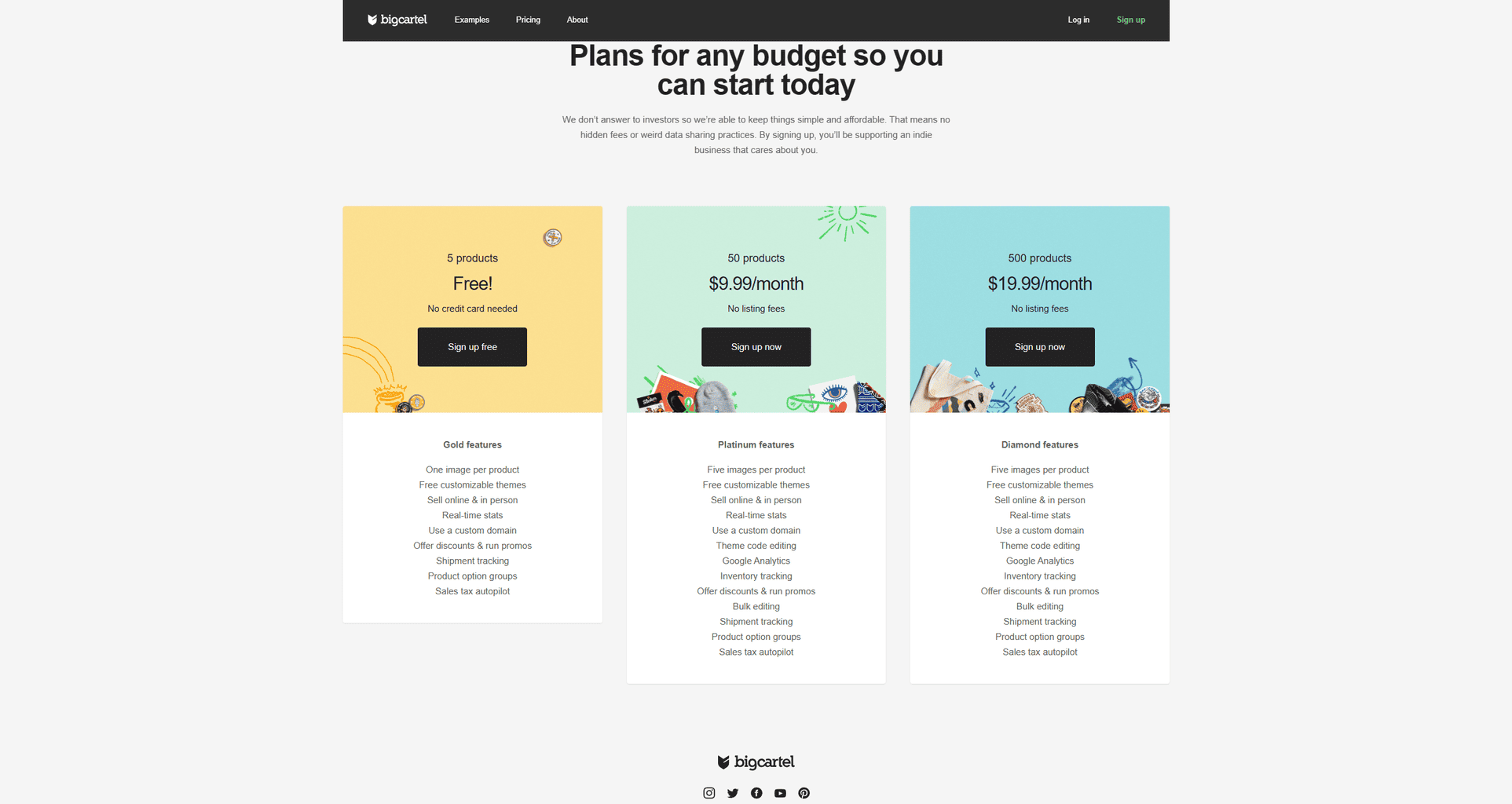 Big Cartel has 3 different plans you can choose from. Rather than annual revenue, the plans are divided based on how many products you can add to your store page.
Gold
The first plan on offer essentially allows you to try out the capabilities of the software entirely free of charge, without even asking for your credit card details.
You'll only be able to put up 5 products on the page, but that should be more than enough to see how everything works. You can continue using this plan for as long as you want, but since it's very limited it might not suit you in the long term.
Each product can have a single image attached to it, there are several product option groups that you can add, and you can also attach special discounts and promotions for all of your items.
Customers can use a shipment tracking option for products sold online, and you can use an autopilot tool that does the math for you and automatically calculates all of the sales taxes on any purchase. You can also link to physical stores where your products might be sold in person so that the purchases from both the online and offline stores are collected and calculated towards the daily revenue together.
There are several different themes that you can pick for your site layout, and you can also check out the site stats to get real-time information on the amount of traffic that you're getting.
Platinum
The second plan on the list will cost you $9.99 a month, and for that price, you'll be able to put up to 50 products on your page. You'll also get access to all of the features that we mentioned in the free version.
Choosing this plan will allow you to add up to 5 images per product, as well as bulk edit certain components on your layout. You'll also be able to go into the code and edit your themes, but you'll obviously need to have at least a basic understanding of programming to do that.
On top of the real-time stats, you also gain access to Google Analytics so that you can get a better idea of how your site is performing and maybe some insight into what you can do to improve your ranking.
Finally, you also get an inventory tracking feature that you can use to display how much stock you have left of a certain product.
Diamond
The final plan that Big Cartel has all of the same features and tools that we just mentioned in the previous option, except that this time you can add up to 500 products on your store page.
You'll need to pay $19.99 for this plan, which is incredibly affordable, and a great pick for beginner eCommerce store owners who are just figuring things out. This plan will allow you to sell a wide variety of items so that you can figure out what sells and what you should get rid of going forward.
Payment Options
The service doesn't mention which cards and online payment options can be integrated into their site.
Unfortunately, this means that you'll need to contact them directly to find out what exact service you can add to your online shop.
Company Background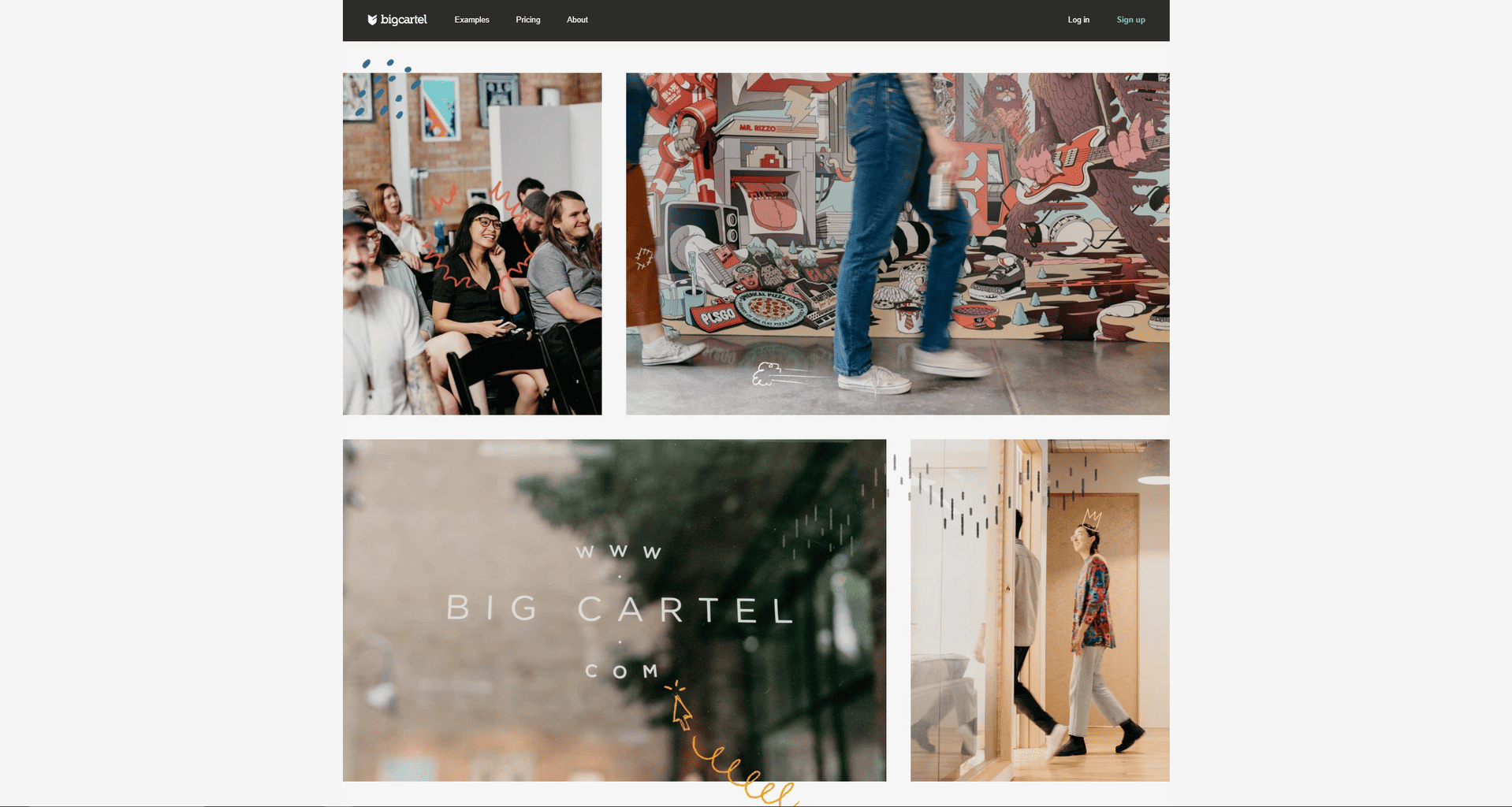 There isn't a lot of info on Big Cartel. All we really know is that the company was started all the way back in 2005 and that their small team is currently comprised of just under 30 people.
Since the company was started nearly 2 decades ago, it's helped customers sell more than $2.5 billion of products collectively.
User Reviews
Merchant Maverick gives the service a 3.5 out of 5 stars and says that it has excellent prices, but very basic features and tools.
Trustpilot puts the rating at 2.8 out of 5, with a lot of the reviews mirroring comments made by Merchant Maverick about the pricing and the tools.
372 reviewers on My Best Website Builder gave Big Cartel a collective score of 6.3, which isn't bad at all for such a small company.
User Reviews
Review Summary
0.0 out of 5 stars (based on 0 reviews)
Recent Reviews
There are no reviews yet. Be the first one to write one.
Submit a Review