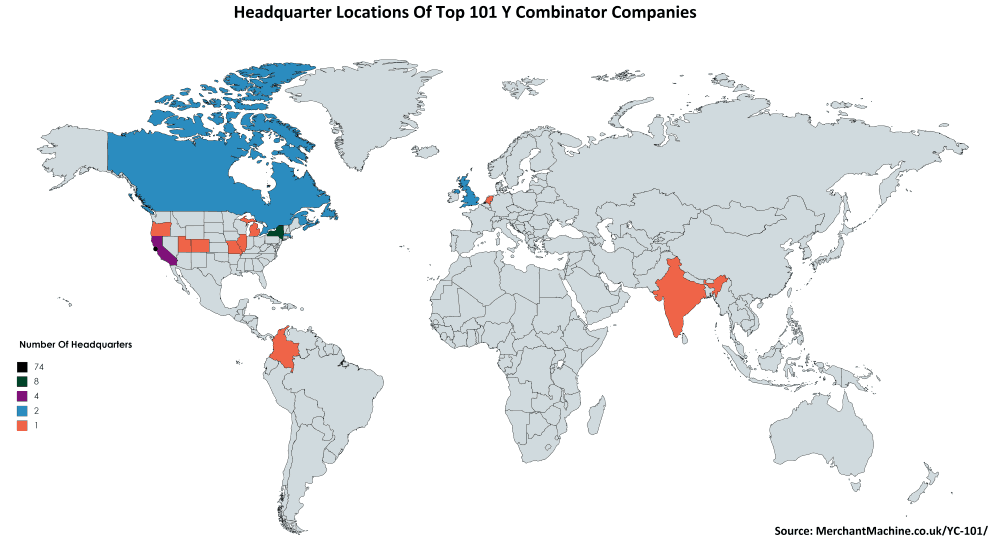 The map above shows the headquarter locations of the top 101 Y Combinator Companies by valuation as of October 2018.
Note Strikingly is headquartered in Shanghai China and not Sunnyvale as originally published.
The San Francisco Bay Area is home to the vast majority of companies (74 73 out of 101) with 63 located in San Francisco itself.
All of the top 10 companies are located in the Bay area with 9 of the 10 headquartered in San Francisco.
New York City is the second most popular headquarter location with 8 companies.
Ginkgo Bioworks is the most valuable company located outside of the Bay area and Rappi is the most valuable company located outside the US.
94 93 of the top 101 companies are based in the US.
The only other countries with top companies were Canada (2), the UK (2), Colombia, India, the Netherlands and China.
You can see a full list of companies and headquarter locations below:
Rank
 Company Name
HQ City
HQ State
HQ Country
1
Airbnb
San Francisco
California
USA
2
Stripe
San Francisco
California
USA
3
Cruise
San Francisco
California
USA
4
Dropbox
San Francisco
California
USA
5
Coinbase
San Francisco
California
USA
6
Instacart
San Francisco
California
USA
7
Machine Zone
Palo Alto
California
USA
8
DoorDash
San Francisco
California
USA
9
Zenefits
San Francisco
California
USA
10
Gusto
San Francisco
California
USA
11
Reddit
San Francisco
California
USA
12
PagerDuty
San Francisco
California
USA
13
Docker
San Francisco
California
USA
14
Ginkgo Bioworks
Boston
Massachusetts
USA
15
Rappi
Bogotá
-
Colombia
16
Brex
San Francisco
California
USA
17
GitLab
San Francisco
California
USA
18
Twitch
San Francisco
California
USA
19
Flexport
San Francisco
California
USA
20
Mixpanel
San Francisco
California
USA
21
Checkr
San Francisco
California
USA
22
Optimizely
San Francisco
California
USA
23
LendUp
San Francisco
California
USA
24
Segment
San Francisco
California
USA
25
uBiome
San Francisco
California
USA
26
Memebox
San Francisco
California
USA
27
Zapier
San Francisco
California
USA
28
Rigetti Computing
Berkeley
California
USA
29
North (Formerly Thalmic)
Kitchener
Ontario
Canada
30
Podium
Lehi
Utah
USA
31
Equipment Share
Columbia
Missouri
USA
32
Soylent
Los Angeles
California
USA
33
PlanGrid
San Francisco
California
USA
34
Sift Science
San Francisco
California
USA
35
Algolia
San Francisco
California
USA
36
Easypost
San Francisco
California
USA
37
Amplitude
San Francisco
California
USA
38
Meta
San Mateo
California
USA
39
WePay
Redwood City
California
USA
40
MemSQL
San Francisco
California
USA
41
Weebly
San Francisco
California
USA
42
CoreOS
San Francisco
California
USA
43
Vidyard
Kitchener
Ontario
Canada
44
Clever
San Francisco
California
USA
45
MessageBird
Amsterdam
-
The Netherlands
46
Heroku
San Francisco
California
USA
47
GOAT
Culver City
California
USA
48
Ridecell
San Francisco
California
USA
49
Matterport
Sunnyvale
California
USA
50
Fivestars
San Francisco
California
USA
51
Faire
San Francisco
California
USA
52
Atrium
San Francisco
California
USA
53
Rescale
San Francisco
California
USA
54
Lever
San Francisco
California
USA
55
Front
San Francisco
California
USA
56
ShipBob
Chicago
Illinois
USA
57
Le Tote
San Francisco
California
USA
58
OMGPOP
New York
New York
USA
59
Axoni
New York
New York
USA
60
Scribd
San Francisco
California
USA
61
Lob
San Francisco
California
USA
62
Atomwise
San Francisco
California
USA
63
Heap
San Francisco
California
USA
64
Hush
Los Angeles
California
USA
65
FutureAdvisor
San Francisco
California
USA
66
SFOX
Los Angeles
California
USA
67
InfluxData
San Francisco
California
USA
68
Bitmovin
San Francisco
California
USA
69
Boom
Denver
Colorado
USA
70
ZeroCater
San Francisco
California
USA
71
Rainforest
San Francisco
California
USA
72
SmartAsset
New York
New York
USA
73
Embark
San Mateo
California
USA
74
Razorpay
Bangalore
-
India
75
Qventus
Mountain View
California
USA
76
Cloudant
Boston
Massachusetts
USA
77
GrubMarket
San Francisco
California
USA
78
Codecademy
New York
New York
USA
79
Automatic
San Francisco
California
USA
80
Ironclad
San Francisco
California
USA
81
FarmLogs
Ann Arbor
Michigan
USA
82
Caviar
San Francisco
California
USA
83
HackerRank
Palo Alto
California
USA
84
Nurx
San Francisco
California
USA
85
Function of Beauty
New York
New York
USA
86
Gigster
San Francisco
California
USA
87
Goldbelly
New York
New York
USA
88
Buildzoom
San Francisco
California
USA
89
People.ai
San Francisco
California
USA
90
inDinero
Portland
Oregon
USA
91
Firebase
San Francisco
California
USA
92
Genius
New York
New York
USA
93
Science Exchange
Palo Alto
California
USA
94
Thread
London
-
UK
95
The Muse
New York
New York
USA
96
Second Measure
San Mateo
California
USA
97
Scale Labs
San Francisco
California
USA
98
Strikingly
Sunnyvale
Shanghai
California
-
USA
China
99
The Athletic
San Francisco
California
USA
100
HelloSign
San Francisco
California
USA
101
GoCardless
London
-
UK
Map created using MapChart.net
Data came from the following sources: