Personal finance apps promise to whip our bank accounts into shape or provide deals to take some of the expense out of shopping. And with many consumers not being taught how to handle their finances at school, this modern phenomenon is, in part, a welcome development. One study found 'statistically significant Improvement's in the 'financial knowledge, understanding and basic skills' and 'attitudes and motivations' of consumers who used personal finance apps on their phones — lessons which are unfortunately left to finance companies to impart.
Of course, these apps wouldn't last long if they weren't effective — and personal finance is a science that has long been overdue mainstream attention. "We work with a lot of behavioural economists who help us think about what is the way we can… bridge that intention divide," says Colleen Briggs, JP Morgan's head of community innovation, who has worked closely with fintech developers to provide effective tools for everyday users.
Unfortunately, however, personal finances aren't the only thing that many of these apps account for. They also collect all kinds of personal information — some in order to function properly, but much of it for profiling and marketing purposes.
In fact, Merchant Machine found that, among the twenty finance apps that require the most personal data of their users, the average app requested 20 separate types of data on average. For our new study, we analysed the data requirements of every sizable finance app on the iOS App Store to reveal which personal finance apps ask for the biggest variety of data.
What We Did
Merchant Machine uncovered the number of personal data types that users must consent to in the privacy agreements of every personal finance app with at least 5,000 iOS App Store user reviews. We ranked them overall and in the categories of Buy Now, Pay Later; Online Banking; Budgeting & Money Management; Stock Trading & Investing; Cash Back; Coupon and Money Transfer apps.
Key Findings
· Investment app Robinhood requires the most user data, using 25 data segments.
· Chime is the banking app that uses the most personal data (23 segments).
· In the UK, Monese is the most data-hungry banking app (18 segments).
· Klarna is the Buy Now, Pay Later app that uses the most personal data (24 segments).
Robinhood is the Most Personal Data-Hungry Finance App
The personal finance app that requests the most personal data is the investment app Robinhood. The company states that it uses this data for everything from personalising services to complying with brokerage-related laws and obligations. Robinhood suffered a data breach affecting seven million customers back in 2021, when a hacker tricked a customer support employee and gained access to the company's customer support systems.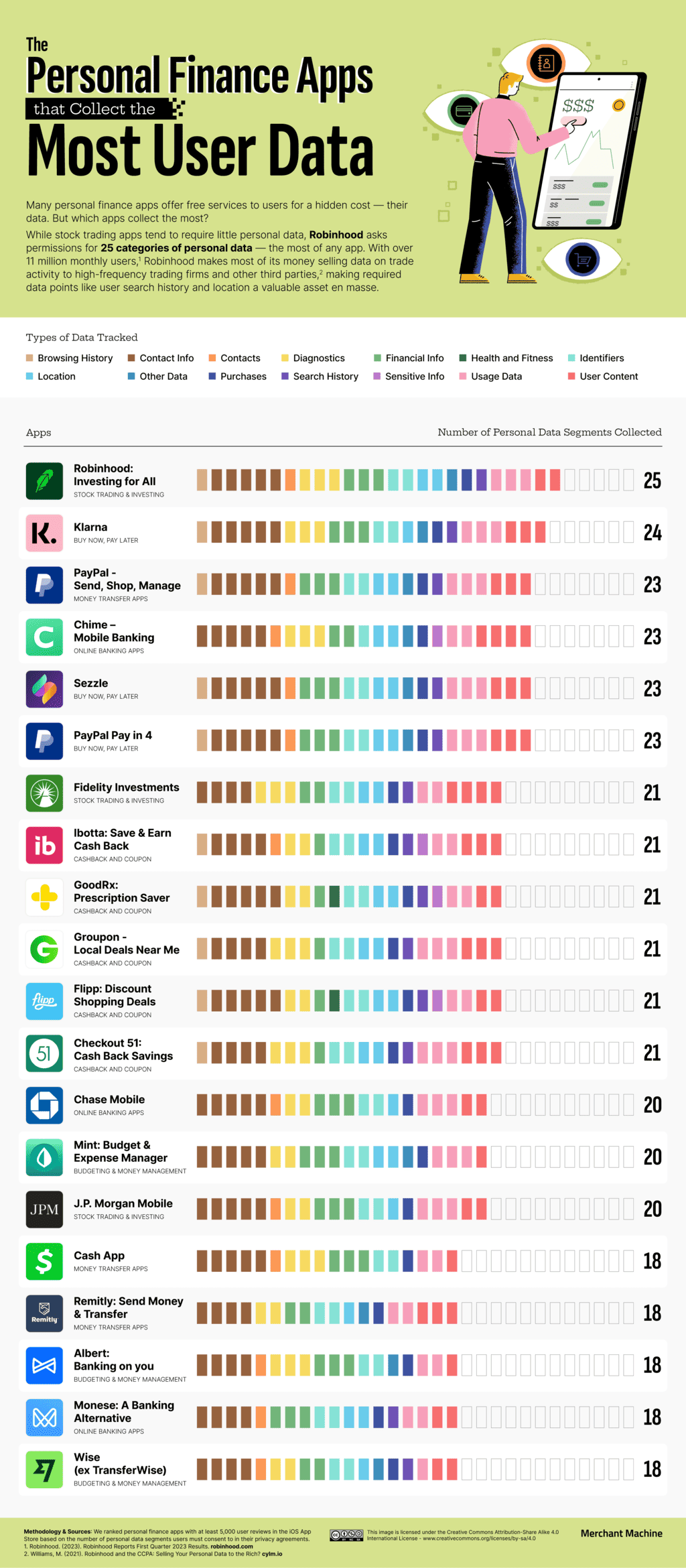 Click here to see the image in full size
Of the twenty personal finance apps that use the most data, five are Cashback and Coupon apps — the most of any category. The ten data-hungriest apps in this category request have, on average, 18.5 types of data each, which is more than the top ten in any of the other categories we've covered. Retailers that partner with cashback apps benefit from this source of customers. But they are also likely to benefit from detailed personal data that the apps share with them.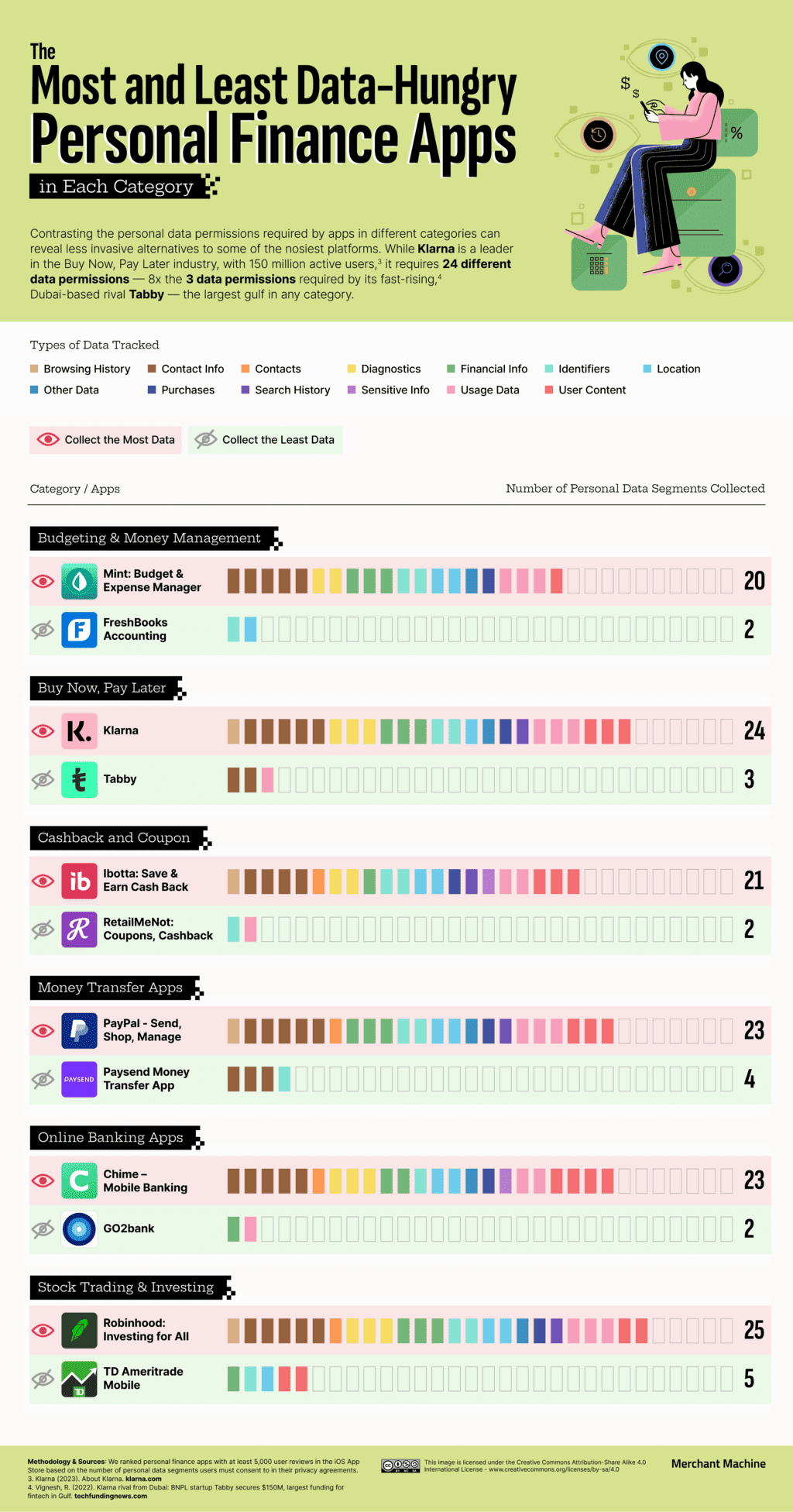 Click here to see the image in full size
"Consumer behaviour data is incredibly valuable to businesses," says consumer data advocate Kate Bower. "It can be used to manipulate and influence consumers through direct marketing, behavioural advertising and even personalised pricing… This means businesses may be using your data to convince you to buy things you don't need or even to charge you higher prices for certain items." Conversely, the Cashback and Coupon app that asks for the least personal data is RetailMeNot, which requires just two categories of information — the joint fewest for any personal finance app in our study.
Chime and Chase Among Banks that Use Most Personal Data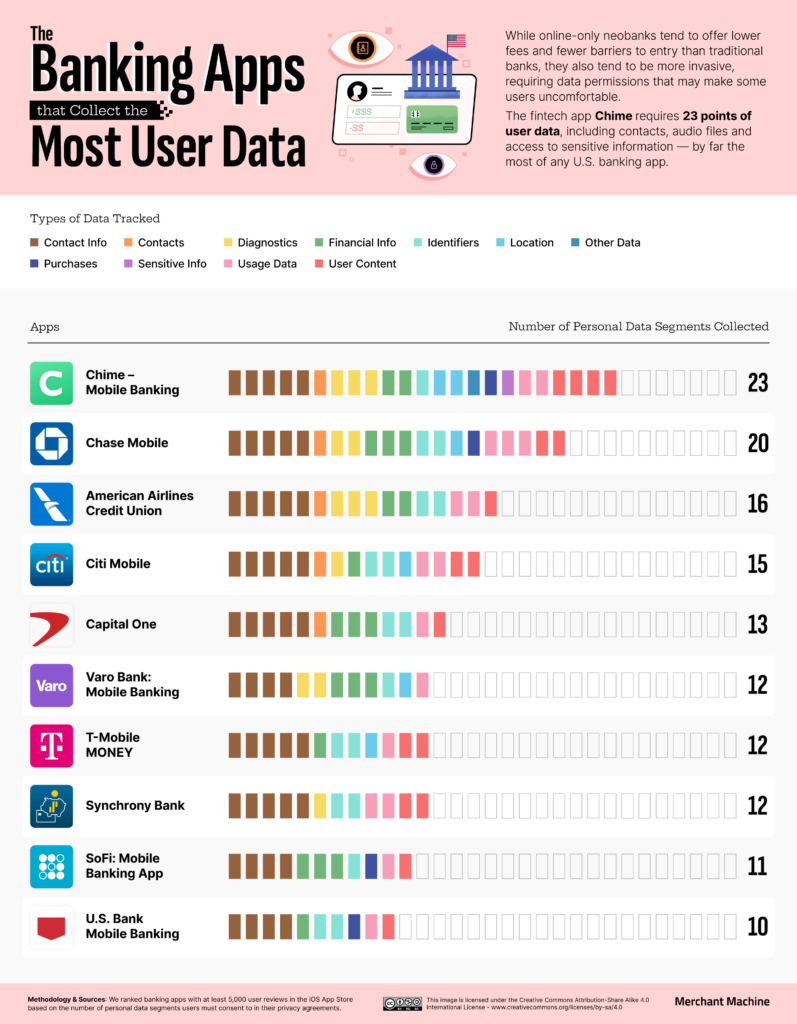 Click here to see the image in full size
Big banks require consumer trust on a massive scale if they are to flourish. Perhaps that's why both the U.S. and UK top ten for data collection share an average of 14.4 data points collected — the lowest average of any app category in our study. However, the U.S. top ten is more uneven, with Chime and Chase running away at the top with 20+ data categories each. The 'neobank' Chime has attracted considerable controversy in recent years, whether through shutting users out from their accounts with their money locked inside or the disparity between the company's heavily bank-themed marketing and small print disclaimer: "Chime is a financial technology company, not a bank."
Monese and Virgin Are the UK's Worst Personal Finance Data Offenders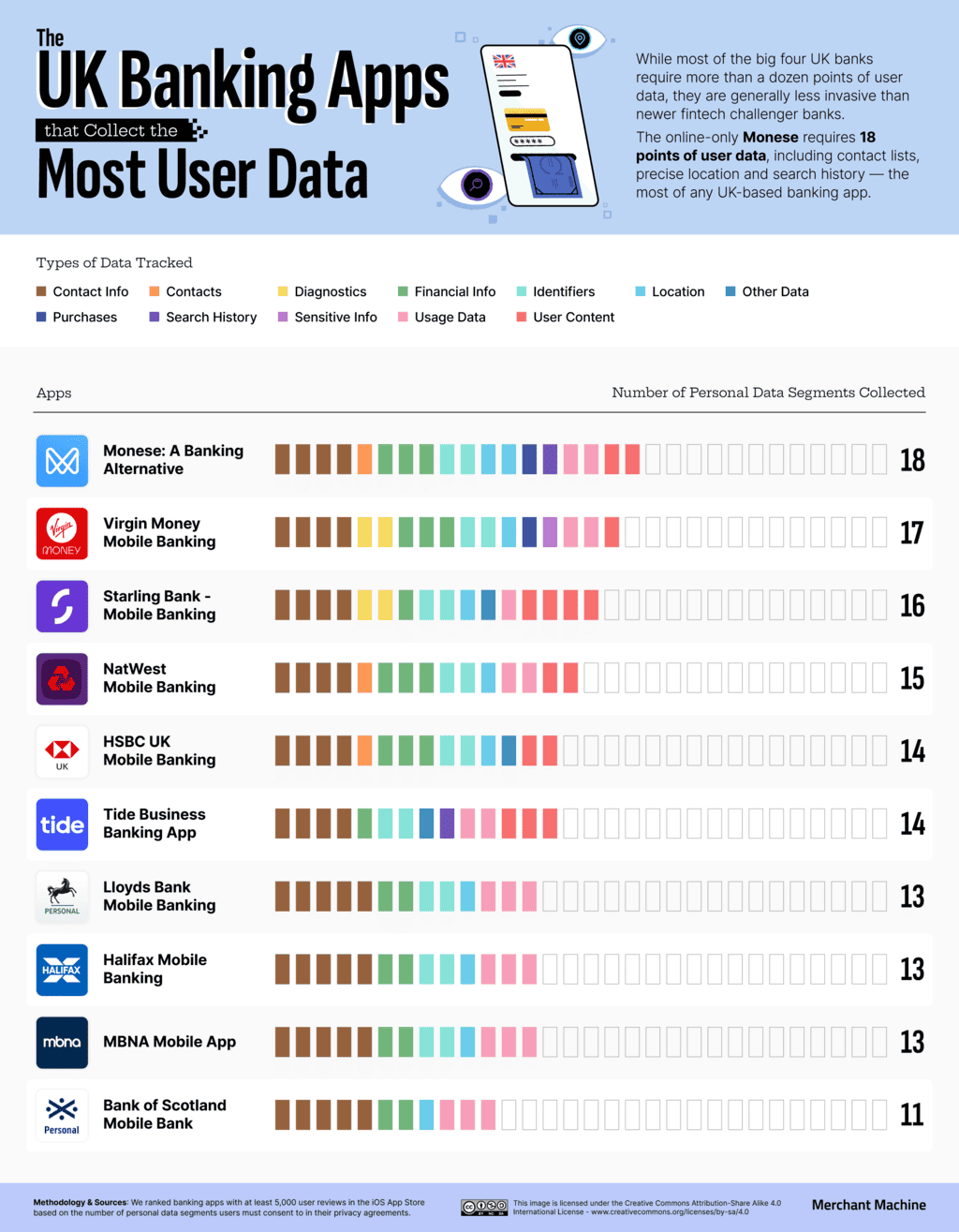 Click here to see the image in full size
The UK's banking apps are relatively discreet with the amount of personal data they require, compared to the other finance apps in our study. But there are some big names among those that require the most types of data from their users. Monese is a virtual bank that makes it easier for UK expats to bank in Europe and vice versa. However, it asks for 18 categories of data from its users, more than any other UK banking app. Better-known Virgin asks the second-most; Virgin also got the lowest score in a recent survey of online and app banking security.
Klarna is King of Buy Now, Data Now, Pay Later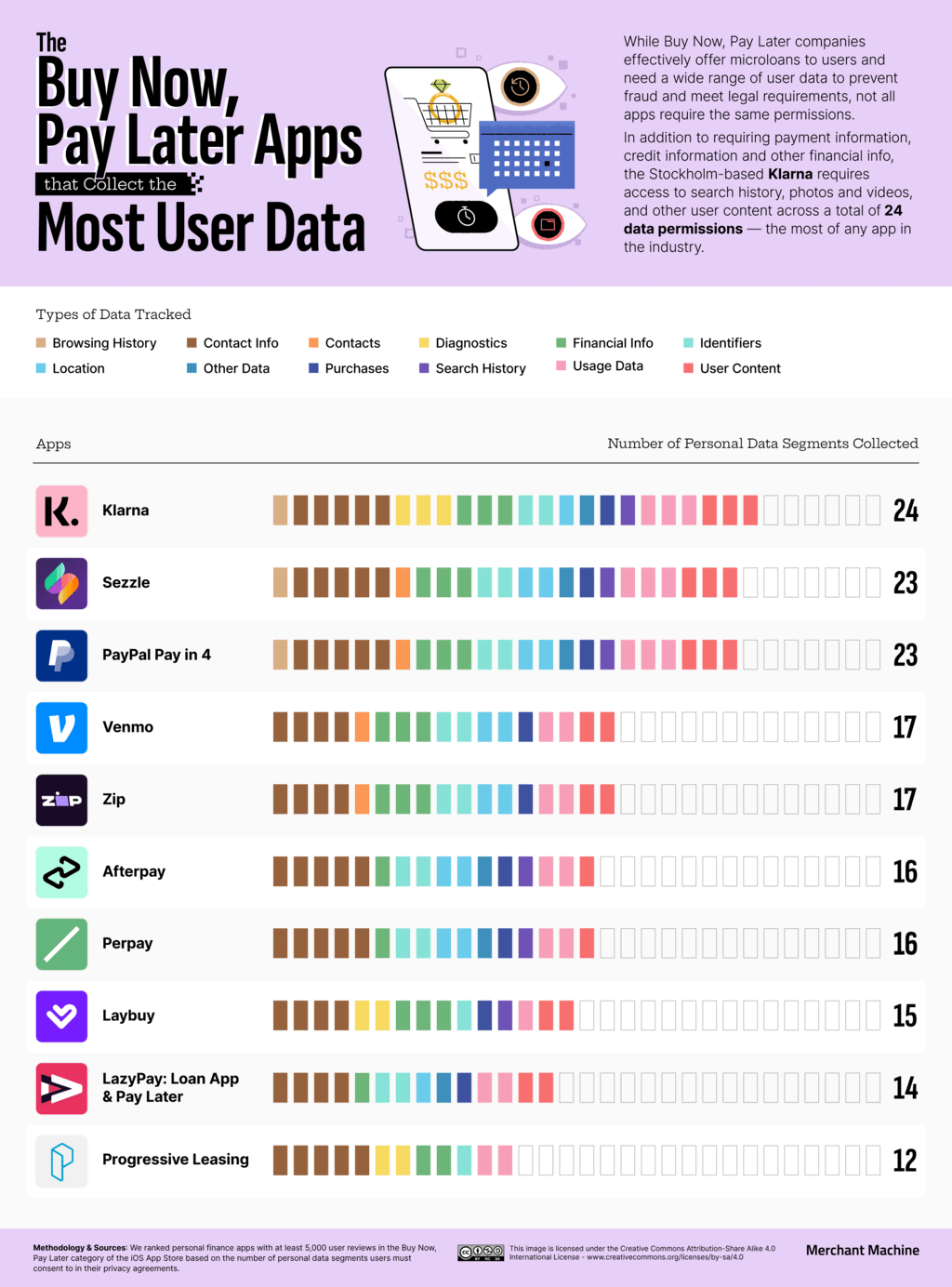 Click here to see the image in full size
Buy now, pay later service Klarna has become a phenomenon in recent years, with around 150 million active users buying products from around 500,000 merchants worldwide. Users repay Klarna the sale price over a period of months, while it is the merchant who pays the fees. However, the company's valuation has taken a massive dent as credit defaults have kicked in, regulators have taken a closer interest in this type of service, and consumer groups have warned against mounting debts. Klarna's access to users' shopping journeys is a piece of valuable marketing information, but with the loans and spending habits so intricately connected with your credit score, it pays to think twice before handing over some 24 types of personal data to the company.
J.P. Morgan and Robinhood Are the Most Invasive Investment Apps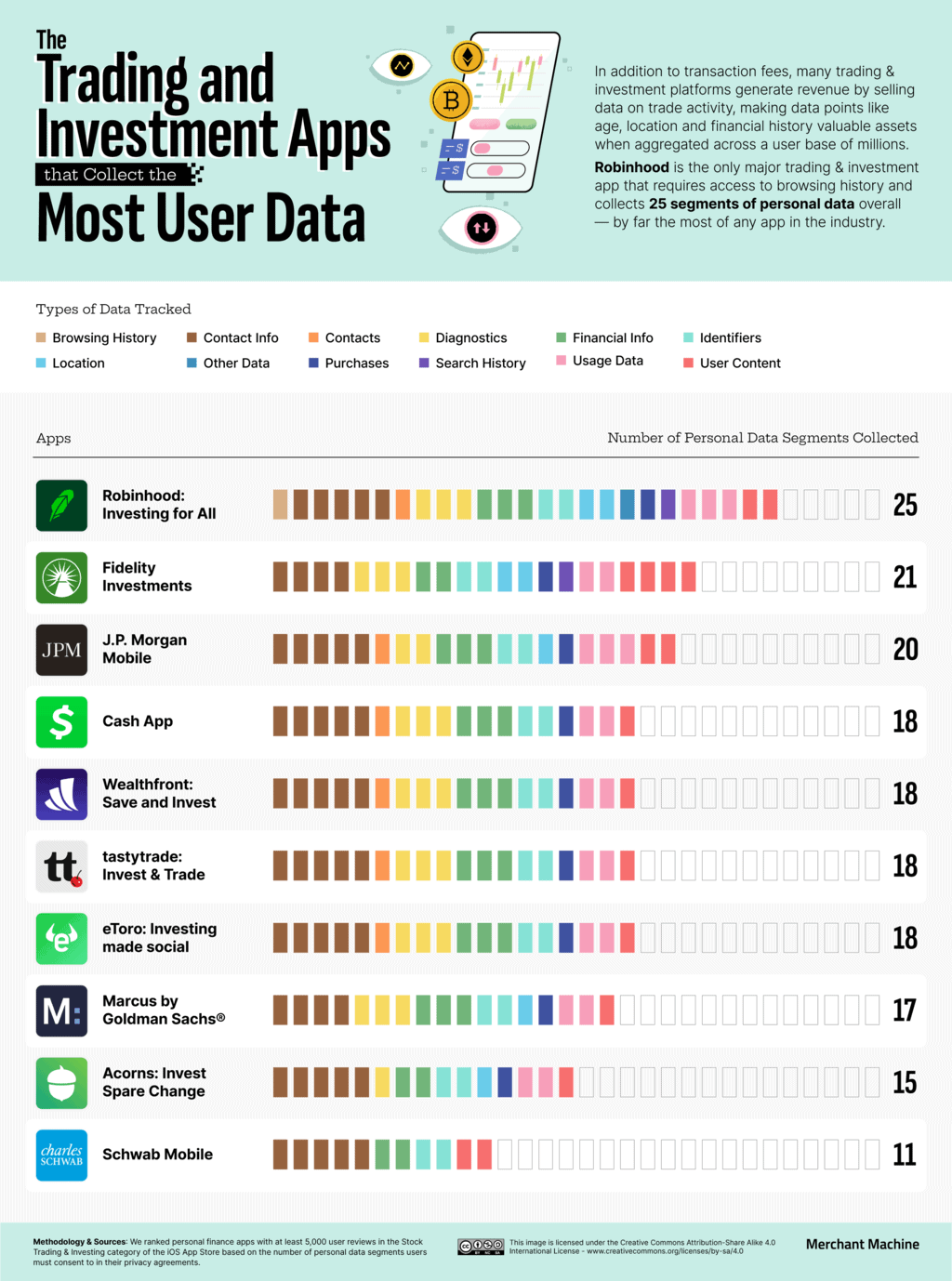 Click here to see the image in full size
Robinhood is leaps ahead in its harvesting of personal data. It is the most data-hungry app, not just in the Trading & Investment category but out of all the personal finance apps that we surveyed. But there's a bigger name in third place. J.P. Morgan, which includes the retail and consumer banking arm Chase, is America's largest bank. The company does not have the best record with personal data, having been fined $200 million in 2021 for allowing employees to use consumer messaging apps for bank business "to circumvent federal record-keeping laws," according to CNBC.
Groupon Among Coupon Apps with Biggest Data Haul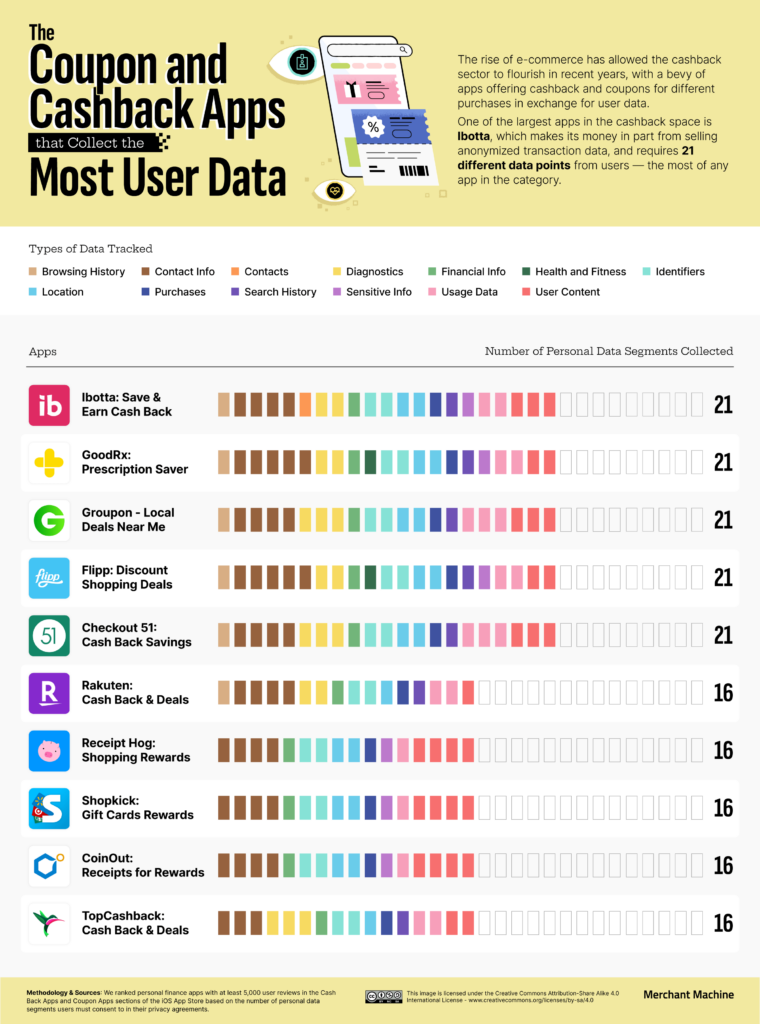 Click here to see the image in full size
Five apps are tied in first place as the Cashback and Coupon apps that require the most data, collecting 21 categories of personal data each. Perhaps the biggest name among them is Groupon. The company that shrugged off a $6 billion offer from Google and boasts 14 million active users has a history of dodgy customer service, with the UK Competition and Markets Authority ordering Groupon to better protect its customers from being exploited by retailers. Since customers' shopping habits are laid bare for Groupon, and retailers can use Groupon as an advertising and marketing service, personal data is a big deal for the company.
Five Money Management Apps Collect 21 Types of Personal Data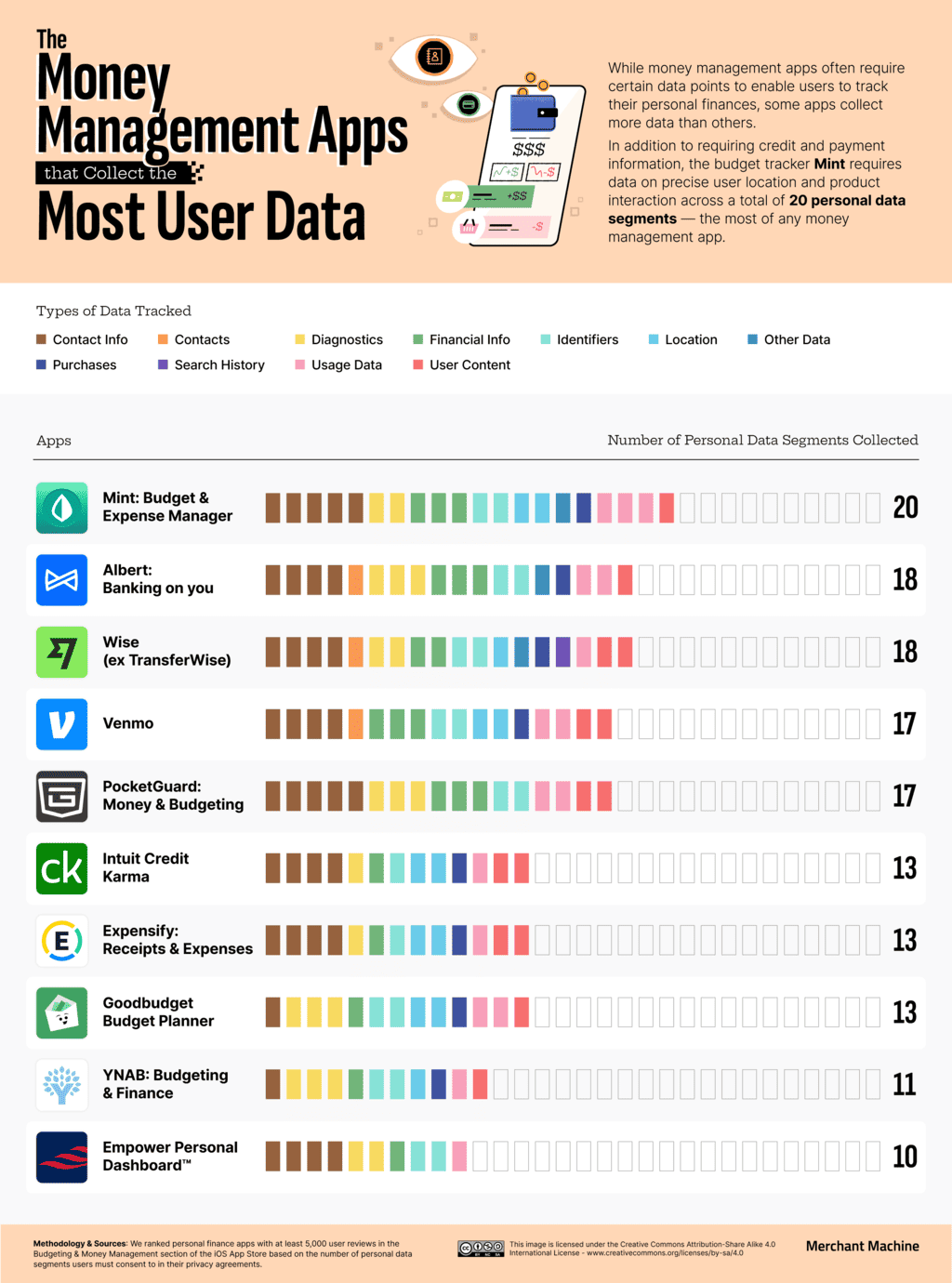 Click here to see the image in full size
There is a big leap between the five money management apps that require the most data and the next five, with Mint, Albert, Wise, Venmo and PocketGuard all requesting 17+ categories. Peer-to-peer payment service Venmo is a particularly odd one, with transaction details public by default unless you change the settings. This idiosyncrasy has enabled snoops to "figure out everything from who won The Bachelor before a season aired to an alleged political sex trafficking investigation," says CNET, while another researcher was actually able to see the dialogue between an arguing couple on the app. Venmo also collects a lot of location data, which may trouble you more or less depending on where you use it: "Venmo-ing someone $20 to cut your lawn is a lot different than sending $60 to your local drug dealer, after all," as Mashable puts it.
Cutting a Deal on Data
It's not possible to opt out of every type of data sharing on most apps, but it is important to be aware of what you're giving away when you consider installing one personal finance app or another and whether it's worth the compromise. Still, there's lots of data that you can hide by heading to your device's settings and switching off access in the Apps or Privacy section.
These apps may help you with your personal accounting — but they're not doing it for free, so sometimes it's the user who has to hold the app provider to account.
METHODOLOGY & SOURCES
To determine the personal finance apps that collect the most personal data from users, we analysed the privacy permissions of 204 apps listed in the iOS App Store in the following categories: Buy Now, Pay Later; Online Banking Apps; Budgeting & Money Management; Stock Trading & Investing; Cash Back Apps; Coupon Apps and Money Transfer Apps. Personal finance apps were ranked based on the number of personal data segments users must consent to in their privacy agreements. Only apps with at least 5,000 user reviews were considered. Personal data segments were standardised across apps to include a maximum of 30 possible data points, bucketed across 14 broad categories of data type. Personal finance apps with the same number of personal data segments collected were ranked higher if they had a higher number of user reviews.
Data for this research was collected and analysed in September 2023.
1. Robinhood. (2023). Robinhood Reports First Quarter 2023 Results. robinhood.com
2. Williams, M. (2021). Robinhood and the CCPA: Selling Your Personal Data to the Rich? cylm.io
3. Klarna (2023). About Klarna. klarna.com
4. Vignesh, R. (2022). Klarna rival from Dubai: BNPL startup Tabby secures $150M, largest funding for fintech in Gulf. techfundingnews.com
5. Whitney, L. (2021). Data privacy is a growing concern for more consumers. Techrepublic.com