Do you ever hear a brand name that makes you pause for a moment of nostalgia? Or cringe at seeing a shop logo or slogan you hadn't thought about for years?
Discovering a store or brand that excites you can be a notable moment. But when the same brand drifts out of your life a few years later, you may not even notice. After all, life moves pretty fast — especially now that our shopping experiences are tied up with the ebb and flow of online life. One moment, you're hanging out in the mall buying baggy trousers and the next, you find yourself in the virtual aisles of M&S buying big pants.
This year marks 18 years of Cyber Mondays and Amazon Prime. With online shopping truly coming of age, we decided to find out which online shops consumers grow into and out of as they grow older. We analysed website visitor data in the UK — the world's third-largest e-commerce market — and the U.S. to see which online stores have the largest proportion of shoppers in each age group.
What We Did
Merchant Machine built a seed list of the most popular UK and U.S. online stores specialising in men's and women's fashion, beauty and cosmetics, furniture, and sportswear. We then analysed visitor data for these sites, taken from web analytics site SimilarWeb. We calculated the percentage of a site's visitors belonging to each age group and ranked the top stores based on their website's percentage share of visitors in that age group.
---
KEY FINDINGS
Shoppers aged 18-24 outnumber other age groups the most at Trapstar in the UK and StockX in the U.S. —demonstrating how streetwear dominates the Gen-Z shopping experience.
IKEA attracts the biggest share of shoppers aged 18-24 among furniture stores in both the UK and the U.S.
Nike is the surest hit for UK sportswear shoppers aged 35-44, while U.S. shoppers of that age dominate at Under Armour.
Women aged 18-24 outnumber older age groups at fast fashion stores in both the UK (Missguided, Nasty Gal) and the U.S. (Forever 21, ASOS).
---
The Most-Visited Online Stores by Each Age Group
Our first charts reveal the shopping websites with the highest proportion of visitors from each age group across every product category. The first covers UK shops, and the second covers U.S. stores. In both cases, fashion and sports sites tend to have the highest proportions of younger visitors, with cosmetics and furniture stores commanding the highest concentration of older visitors.

Click here to see the image in full size
There's a distinctly aspirational trend among UK online shoppers. While streetwear brand Trapstar and budget fast fashion store BoohooMAN have the highest concentration of shoppers aged 18-24, by the time we reach age 35-44, Brits are more likely to be buying luxury goods at Louis Vuitton, Fendi and Givenchy.
Liz Earle has a higher percentage of shoppers aged 55-64 and 65+ than any other UK store. As well as targeting a more mature market, the skincare brand takes special care to look after existing customers: "I have a saying that it takes 30 years to build trust and 30 seconds to destroy it," says Earle herself, "and I think this is never more true than in the fast-paced world we live in today."

Click here to see the image in full size
American youth likewise visit fashion sites at a higher rate than other categories. But while UK 18-24s count fast fashion stores among those they most frequent, the top two spots in the U.S. for this age group are resale sites.
In fact, Generation Z is driving the market for second-hand goods so hard that many traditional retailers are rushing to offer resale goods among their wares. "With more than half of Gen Z saying they're more likely to shop with a brand that offers secondhand alongside new, resale is becoming table stakes for retailers," Thredup president Anthony Marino recently told Vogue Business.
Women's Fashion: From Budget to Luxury to Body-type
The proliferation of online video, virtual fitting rooms and flexible payment and returns options has made women's fashion more than just a viable e-commerce industry but one that thrives. Our research suggests that the brands that women flock to in their twenties soon give way, in their loyalties, to longer-term brand relationships beginning in their thirties and forties.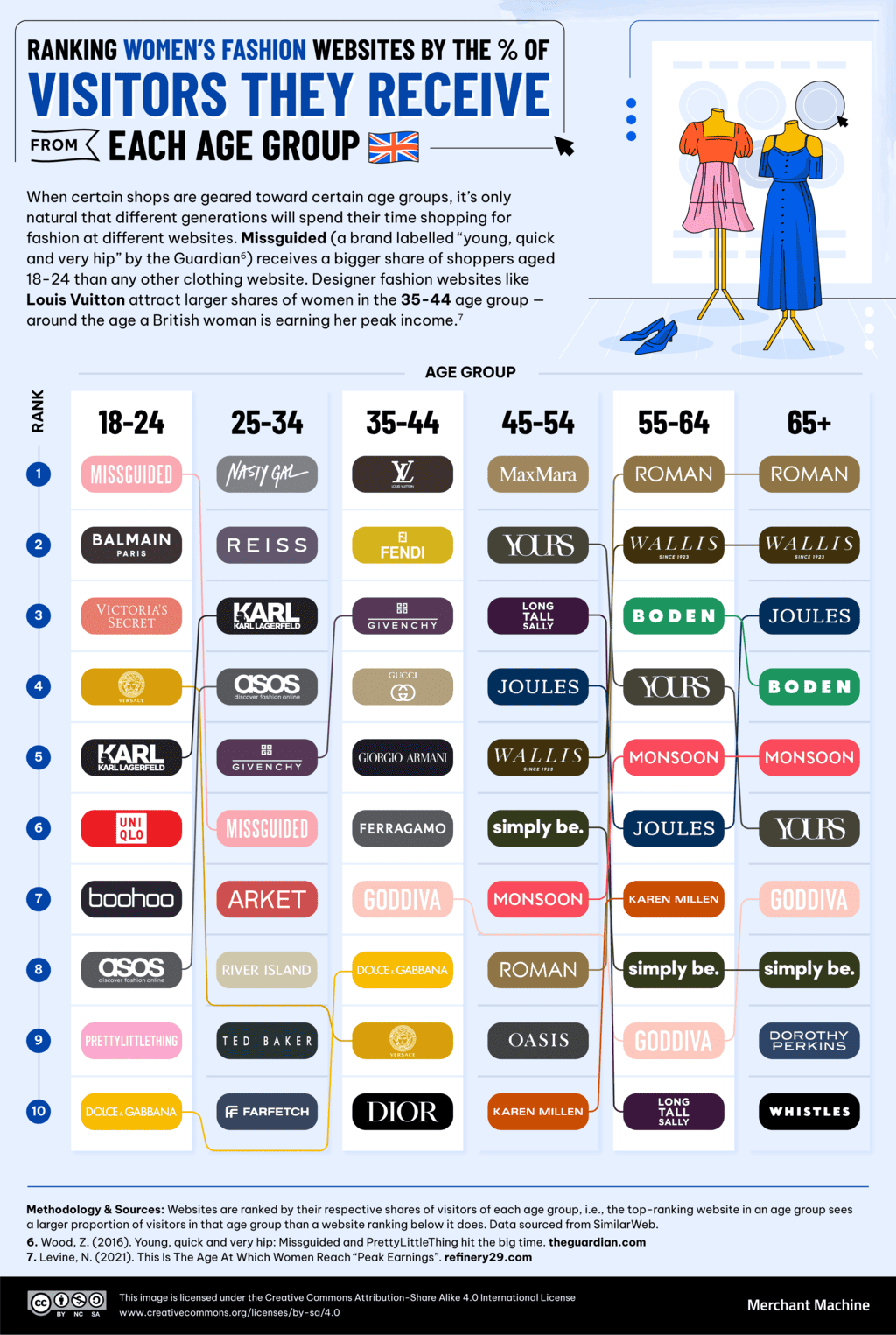 Click here to see the image in full size
The UK's 18-24s visit a mix of budget fast fashion sites and more showy big-name designer labels. Curiously, however, this is the only age group to feature Uniqlo among the sites that it flocks to. While the 25-34 group veers more towards the practical, the 35-44 group is distinctly luxury-leaning.
However, unlike in the U.S., this luxury trend tapers off in the 45-54 age group, when classic high street names and brands catering to particular body types (such as Simplybe and Longtallsally) enter the fray.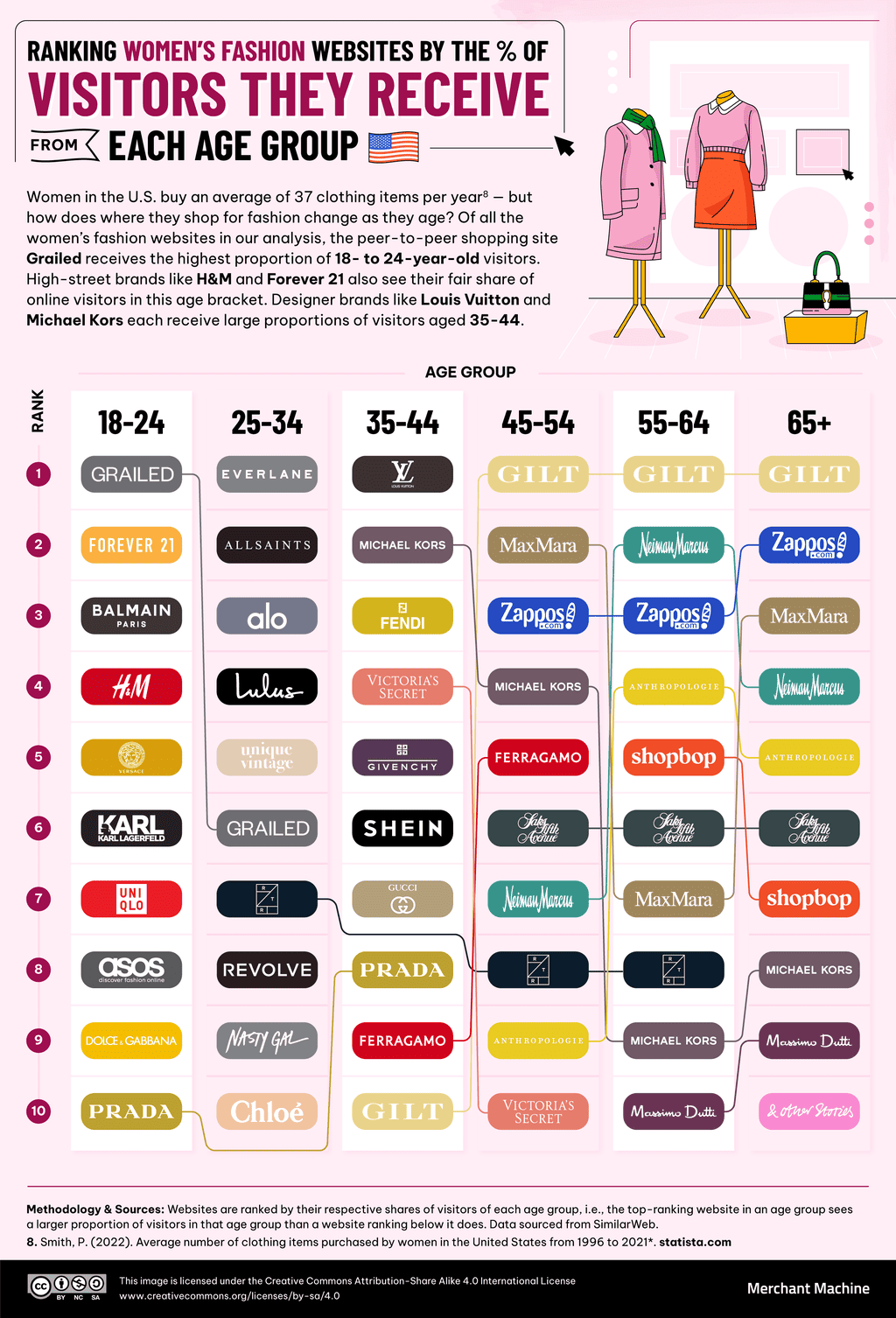 Click here to see the image in full size
In the U.S., the 45-54 age group is most interested in luxury and department store names. But the store that women's fashion shoppers of this age most visit is Gilt — a habit that begins in the 35-44 years but becomes number one from 45-54 until 65+. The store offers significant, limited-time discounts on designer clothes, with sales available to members only. Customer loyalty figures heavily in Gilt's business plan, which may explain why its customers arrive in middle age and stay for life.
Men's Fashion: From Streetwear to Dad Chic
Men have a reputation for finding clothes that suit them when they hit adulthood and then wearing the same clothes for decades. And British men have a notable role model to help them feel okay about this attitude: "I have always believed in trying to keep as many of my clothes and shoes going for as long as possible, through patches and repairs," says King Charles III. "and in this way, I tend to be in fashion once every 25 years."
However, our findings indicate that men start out shopping for streetwear, sportswear and 'cool' staples before slowly branching out into business wear on one hand or no-frills high street dad chic on the other.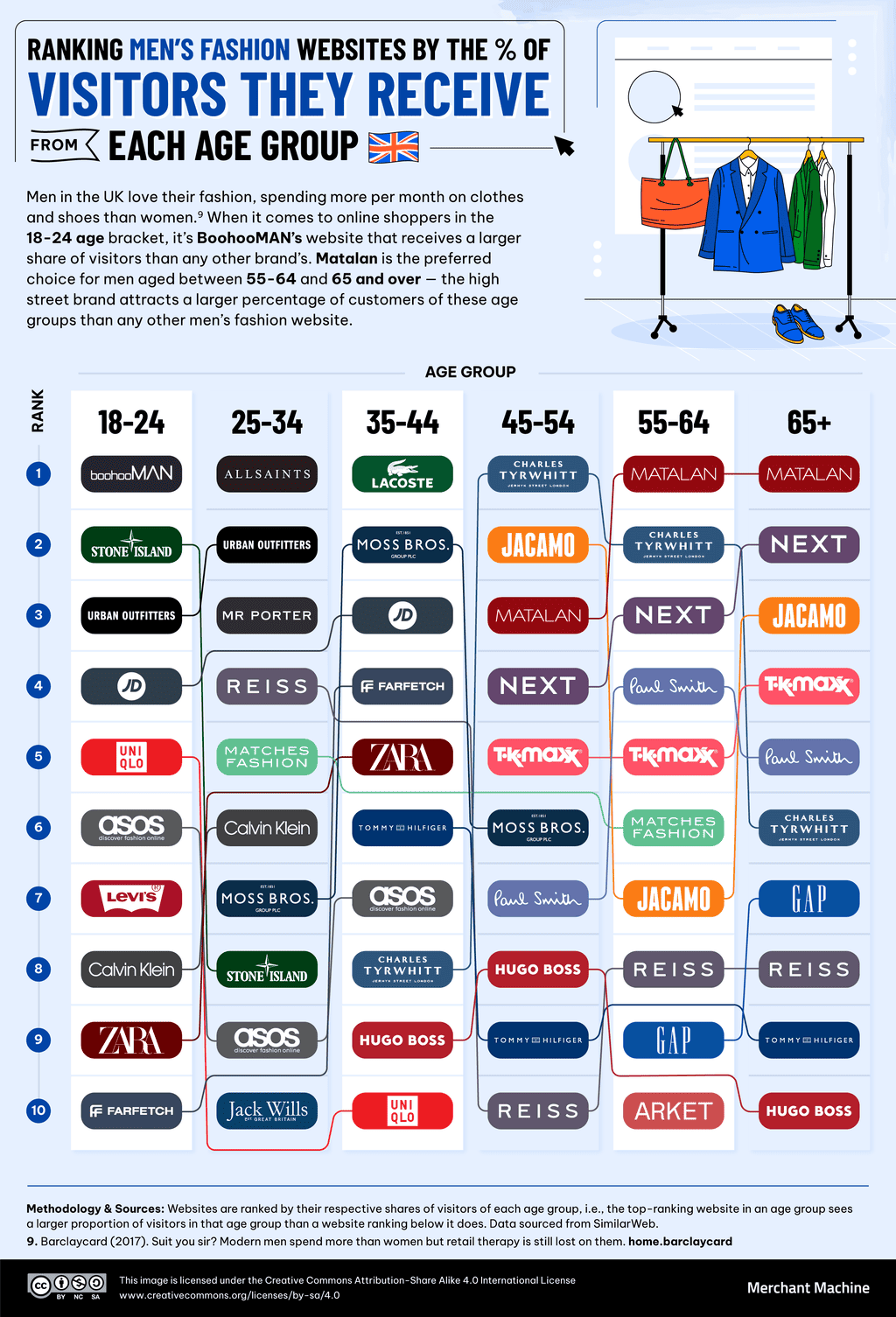 Click here to see the image in full size
In the UK, this journey starts with online-first fast fashion shops such as boohooMAN and ASOS. In the 25-34 group, these stores make room for legacy suit shop Moss (as in Moss Bros.) and the classically leaning fashion store All Saints — where the vintage rock and roll feel may be a gateway to later 'cool' classics such as Lacoste (35-44).
Charles Tyrwhitt, shirt maker and provider of smart and smart-casual menswear, typically enters a man's life during the 35-44 period and becomes a mainstay until retirement age — at which point a man will also covet low-cost basics and reliable, low-risk high street brands.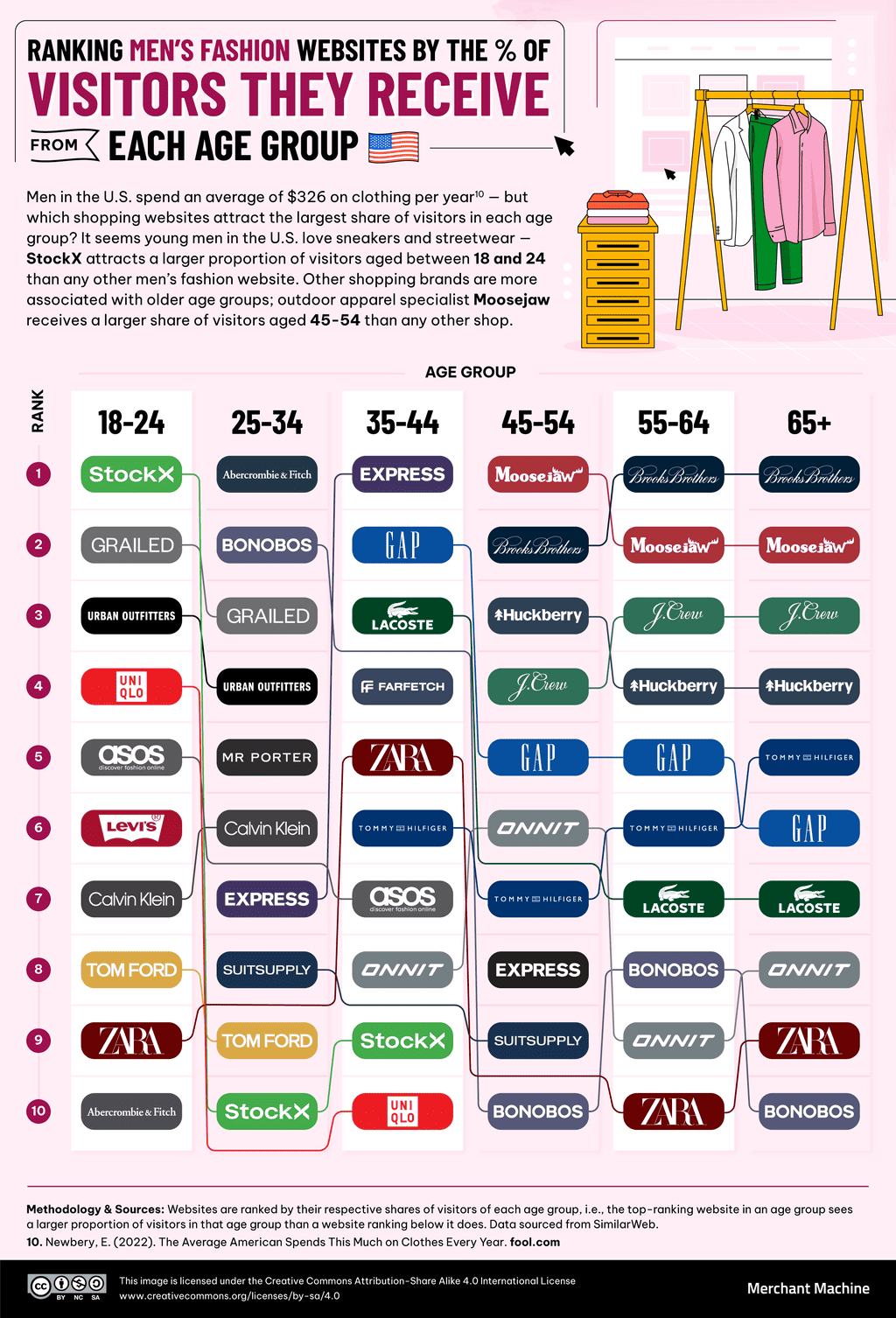 Click here to see the image in full size
In the U.S., men's fashion, like women's fashion, begins with resellers. Online marketplaces Grailed and StockX have the densest population of 18-24-year-olds, and the StockX habit persists until American men reach 35-44. After all, trainers are StockX's main draw, and a deep love for sneakers is a lifetime affair — just ask the company's founder, Josh Luber, whose winning concept grew from his passion for sneakers.
Sportswear: From Sports Fashion to Gorpcore and Performance Gear
Sportswear is having a moment. Thanks to the wholesome outlook of younger generations and a renewed post-pandemic enthusiasm for getting outdoors and active, as well as the increasing profile of a broad range of international sports events, the global sportswear market is expected to almost double to $356 billion by 2032 from a 2022 figure of $185.9 billion.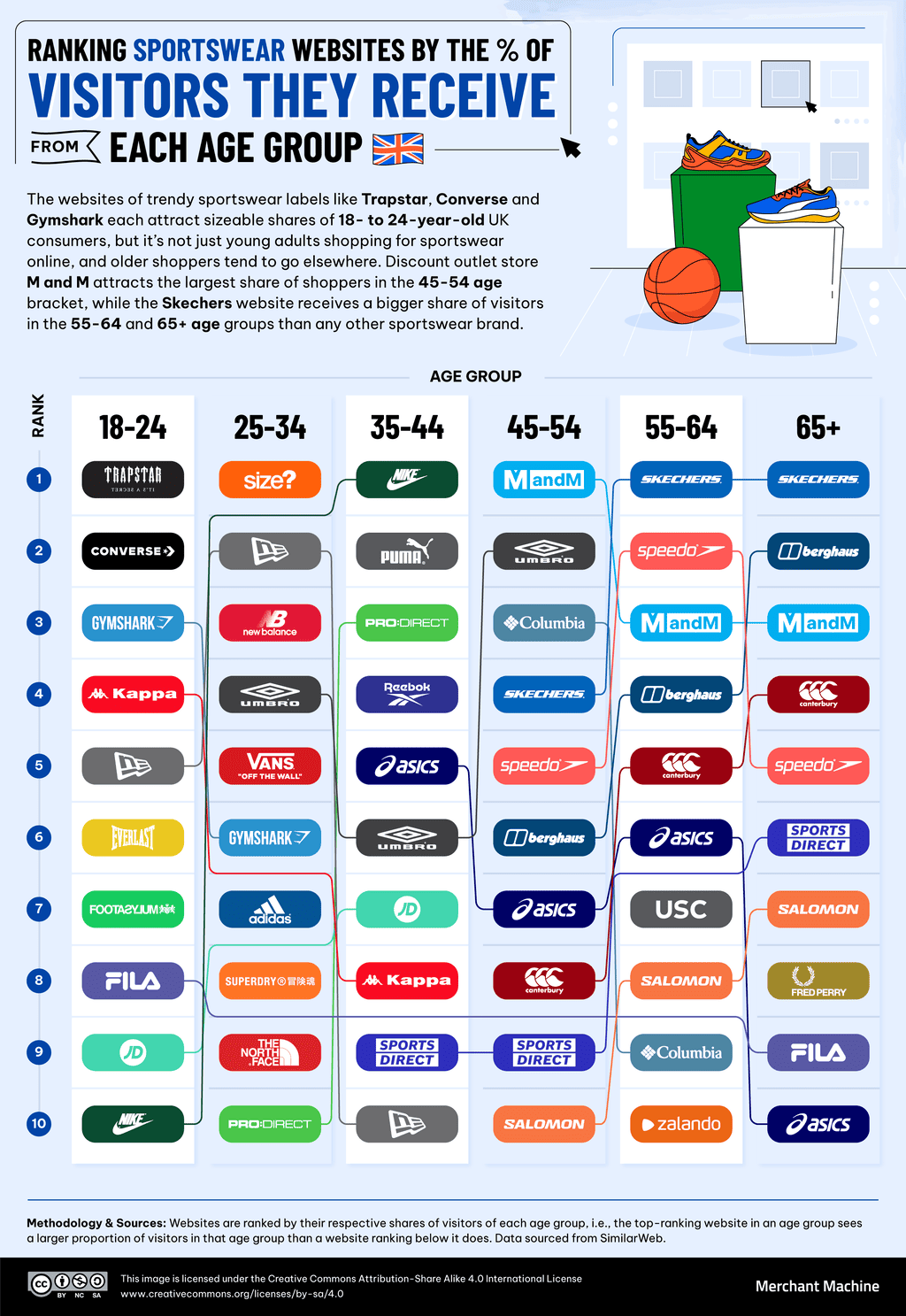 Click here to see the image in full size
In the UK, some sportswear brands are reserved for the youth. Trapstar and Converse are visited disproportionately by 18-24-year-olds, and these stores appear in the top ten of no other age group. By 25-34, the skater kids who bought Converse have moved on to Vans.
The younger groups are characterised by sports fashion, growing into outdoor and performance gear (or is it gorpcore?), such as Berghaus, Salomon, Columbia and Speedo from their forties onwards. Preppy brands such as Canterbury and Fred Perry also gain traction in later years.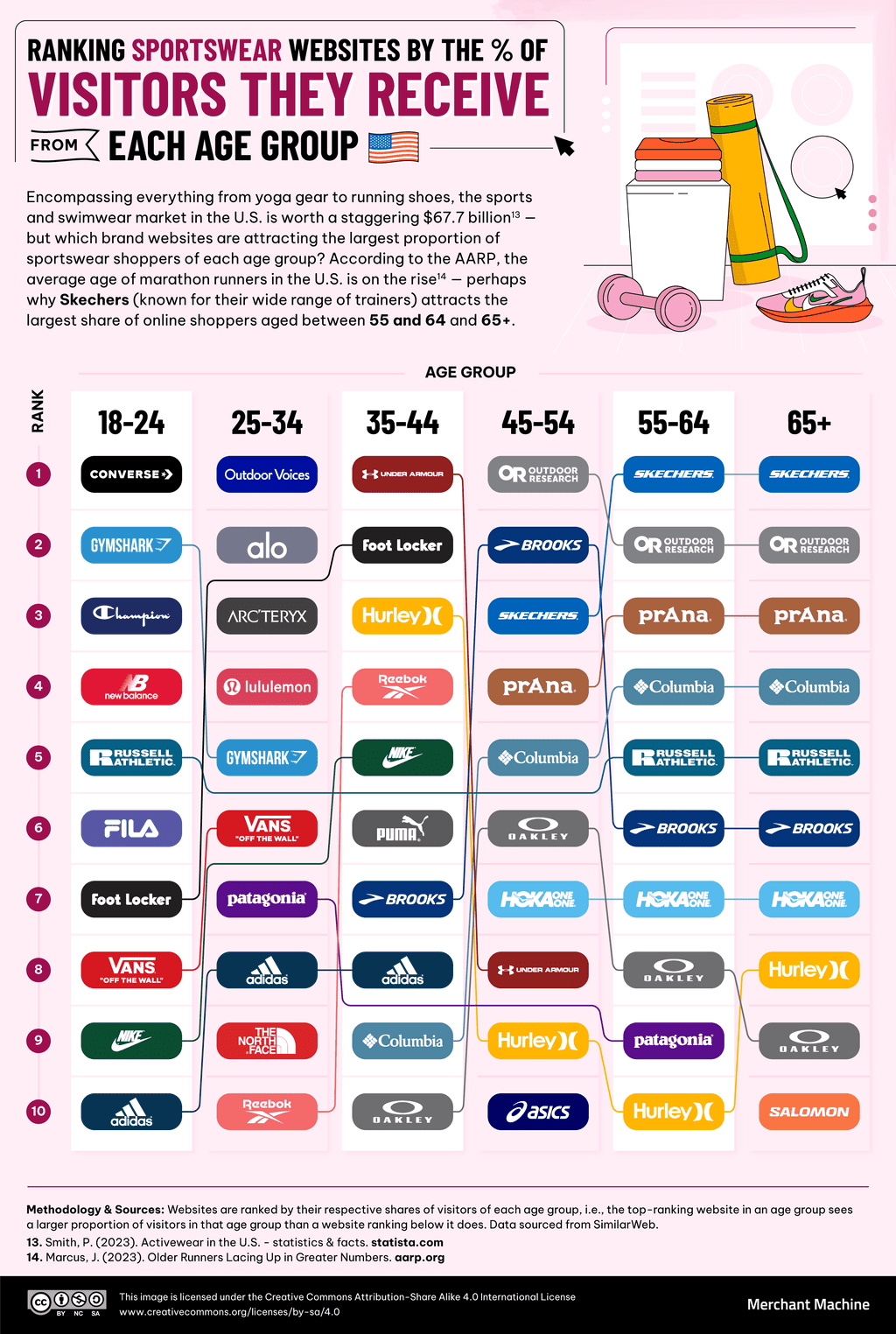 Click here to see the image in full size
Americans reach a watershed moment in their sportswear lives when they reach 35-44. Older U.S. consumers echo their UK counterparts in favouring performance brands — in this case, the likes of Oakley, Hurley and Brooks.
Younger ones favour fitness fashion, including Outdoor Voices, Alo Yoga and Lululemon — a brand initially targeted at a 32-year-old professional single woman on a $100,000 salary who is "engaged, has her own condo, is traveling, fashionable, [and] has an hour and a half to work out a day" — a profile that has seems to have also appealed to aspirational teens.
Beauty & Cosmetics: The Spread of Skincare
Social media has changed the landscape for beauty and cosmetics products over the past decade. Sales of these products rose 49% between 2010 and 2018 alone. Platforms such as Instagram both sell beauty products and, seemingly, require the use of cosmetics as concepts of natural beauty adapt to this new landscape.
Since then, TikTok has helped make the market demographic for these products younger and younger. For example, TikToks for a novelty colour-changing lipstick racked up "over 100 million views and hit 4,000 to 5,000 orders with every 10 million views." The manufacturer's follow-up product is the Acne Light Therapy Patch.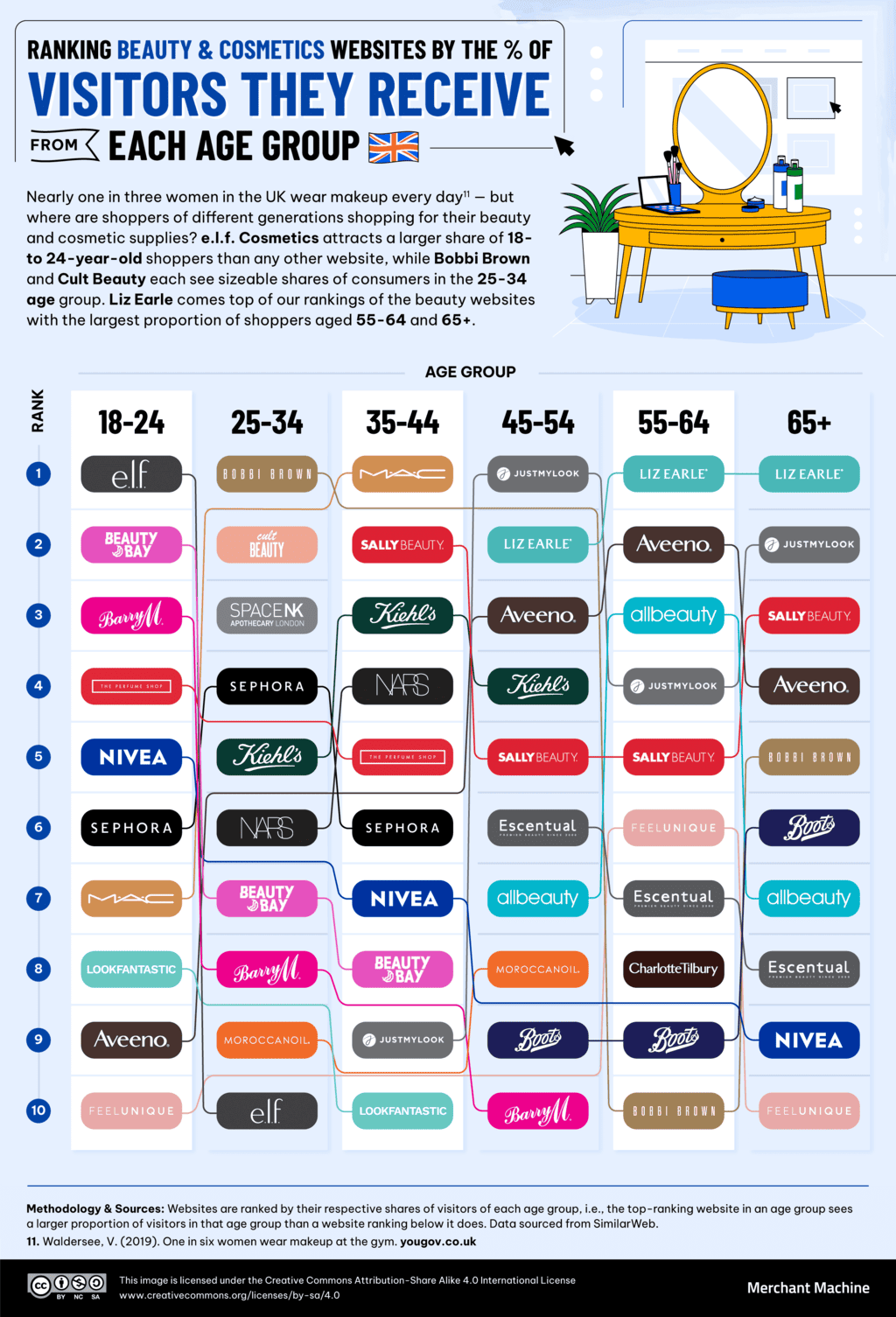 Click here to see the image in full size
In the UK, legacy brands and anti-ageing products enter the fray, beginning with the 45-54 age group, as the websites of Liz Earle and Aveeno gain traction. Meanwhile, e.l.f. Cosmetics is the beauty brand with the highest percentage of 18-24-year-old consumers and has the fourth highest rate for this age group in the U.S.
The brand has become a hit through the friendly marketing of affordable versions of familiar products. But despite the brand's supposed appeal to broader age ranges (exemplified by the recent choice of Jennifer Coolidge as a brand ambassador), there is no other age range in our study where e.l.f. figures.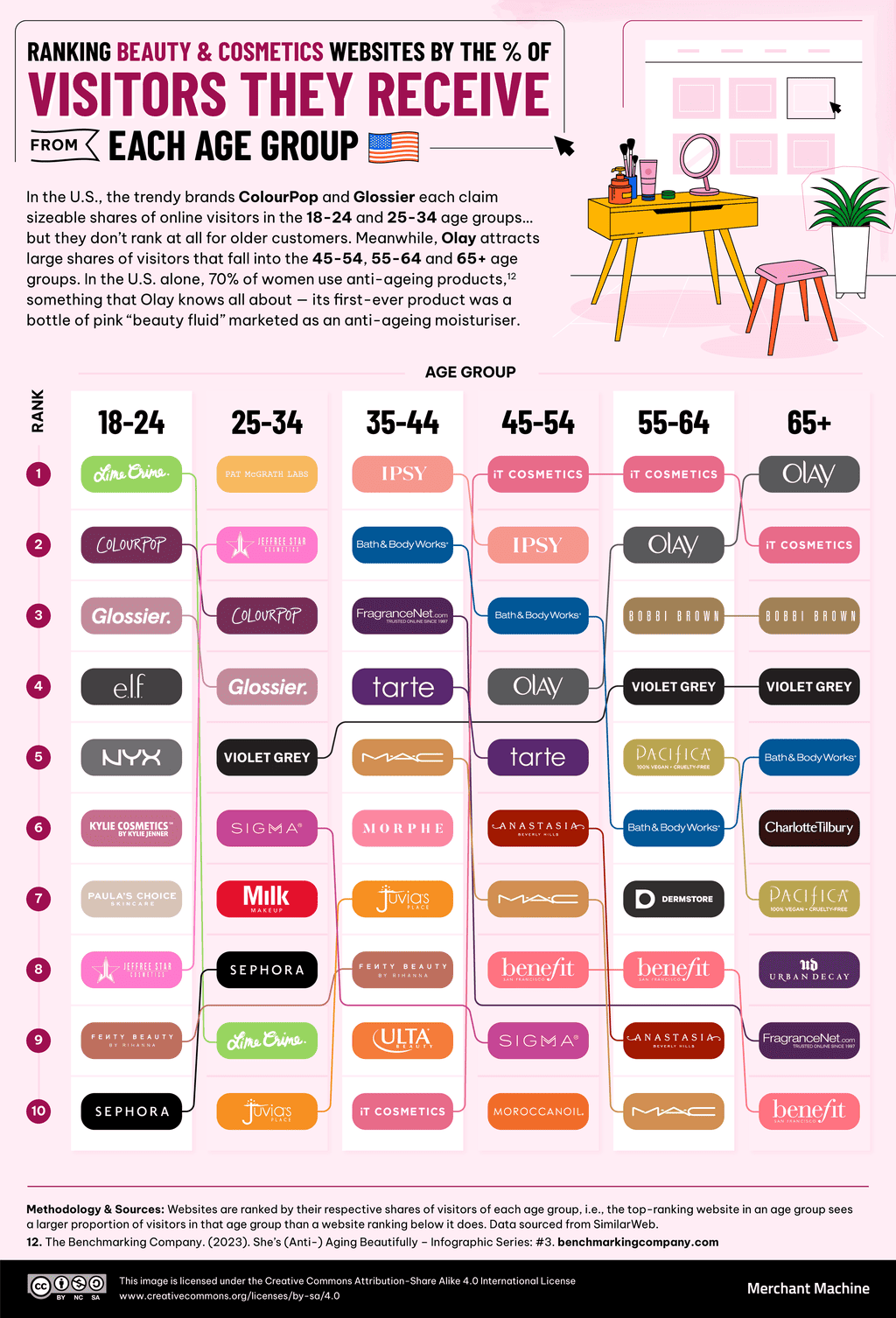 Click here to see the image in full size
In the U.S., youth-oriented brands offering colourful hair dye and makeup dominate among 18-24-year-olds, while perfumes and skincare products come later. But that could be changing. Skincare and even anti-ageing techniques have become a teen concern, with TikTok ad campaigns encouraging youngsters to zap wrinkles before they happen.
"The sooner they can get young girls worried about another thing that might go wrong with their appearance, the more they can sell," explains Renee Engeln, psychology professor and author of Beauty Sick: How the Cultural Obsession With Appearance Hurts Girls and Women. "And if you can start selling anti-aging creams earlier and earlier, it's a way to grow market share and to build loyalty early to your brand."
Furniture: Leaving IKEA for the Oak Era
In an ideal world, you'd buy your first home, fill it with well-built, solid furniture of timeless style, and take it with you wherever you move. But that is neither economically nor culturally viable these days. First-time homemakers are too broke for Graham and Green and mostly too cool for Oakworld. IKEA is where it begins for UK and U.S. 18-24-year-olds alike — and they tend to be done with it by age 44 (UK) or 34 (U.S.).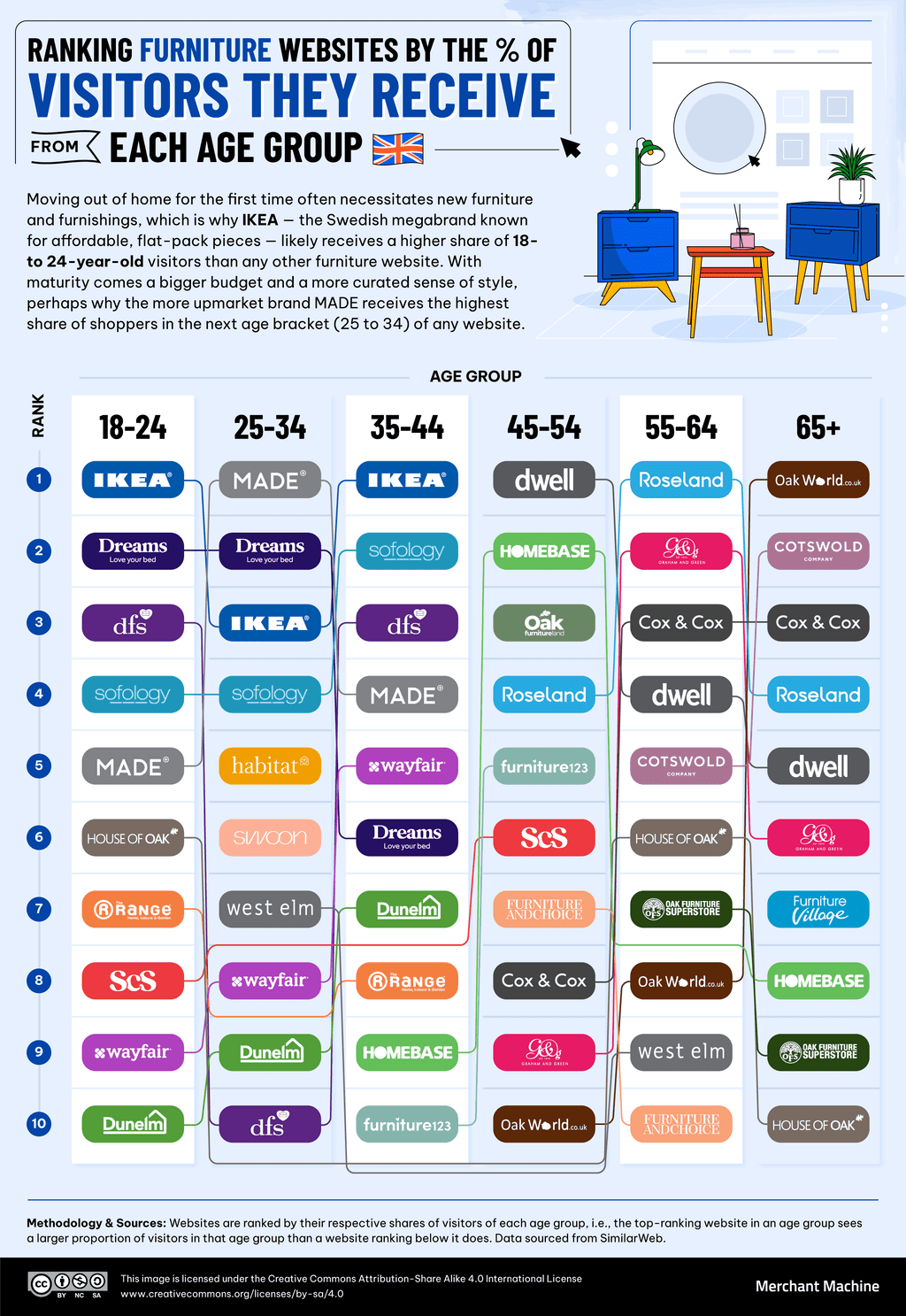 Click here to see the image in full size
In the UK, Habitat and Homebase are big-name stores that bridge the gap between the IKEA years and the long, slow slump into oak furnishings. The more contemporary styles of Made, Wayfair and Sofology are also popular among the younger demographic.
Although the 55-64 group is mad for the pricey but stylish pieces at Dwell, and Homebase offers them a more mature take on the IKEA stylebook, the stats show that we are destined to follow our parents and their parents before them to a place of blocky hardwood furniture.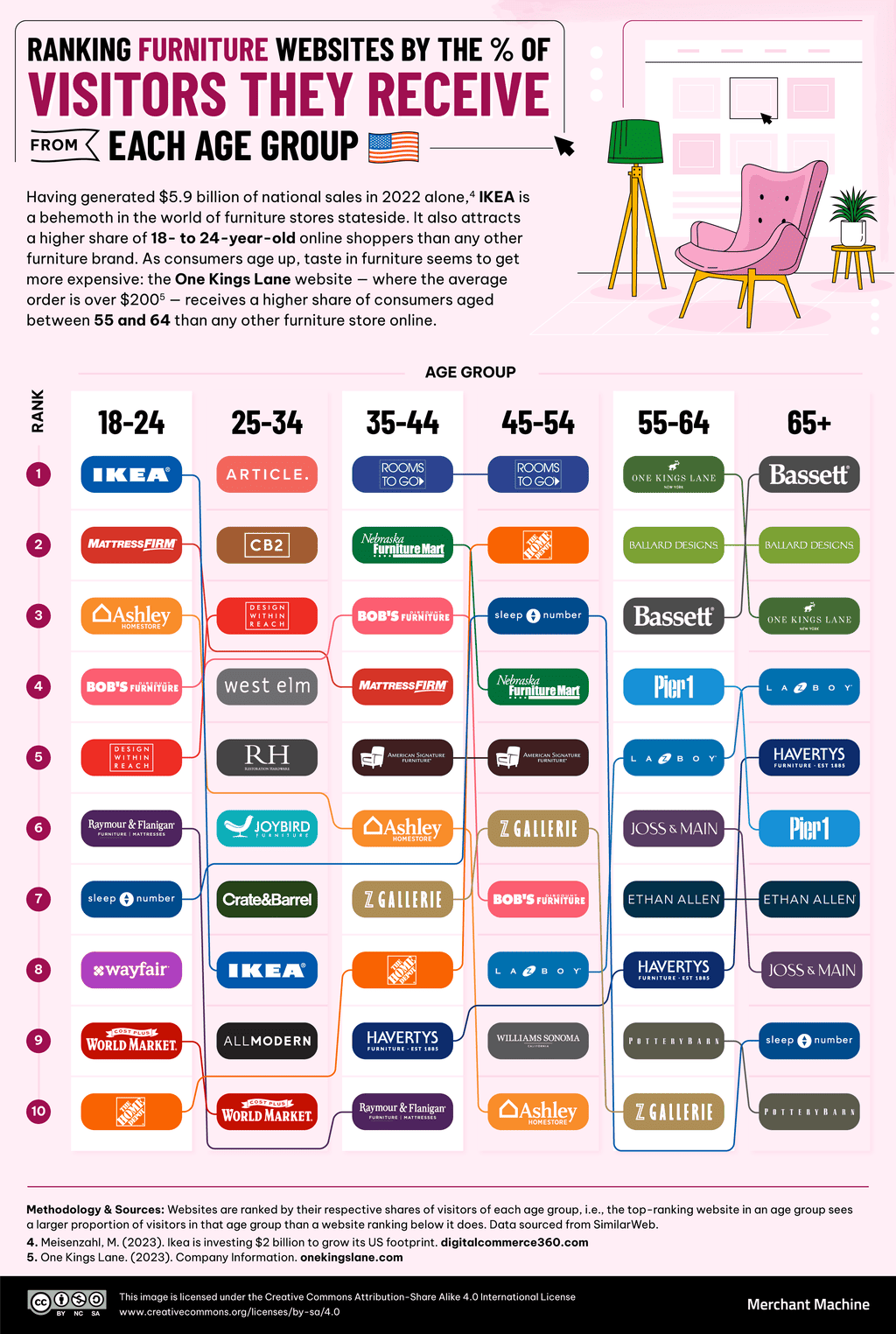 Click here to see the image in full size
For Americans, it's all about that journey to the La-Z-Boy. The iconic recliner brand is disproportionately popular among age groups from 45 and up. Indeed, Americans like to settle into a furniture brand once they reach middle age, with stores such as Bassett Furniture, Ballard Designs and One Kings Lane becoming mainstays in later years. Conversely, the youth like to experiment.
The cutesy retro stylings of Article, Joy Bird and Crate & Barrel are among several that stand out disproportionately for the 25-34 crowd — but which don't figure anywhere else in our results.
Ageing Isn't What It Used To Be
We've seen how social media has impacted the way that younger consumers shop online — and with very different, digital native generations coming through, this time of radical change is far from over. And the youth aren't the only story. In recent years, the 65+ age group has been the fastest-growing online market in Britain, with 65% of this age group making an online purchase in the first year of the pandemic, up from just 48% two years previously.
With online spending gradually falling from its lockdown-era peak, the onus is on merchants to understand and respond to changing habits and demographics. Whether that means fine-tuning age-specific offerings or changing how they market products traditionally confined to limited age groups is up to each business to assess for itself.
Methodology
To explore how shopping tastes change as we age, we first constructed a seed list of the most popular online stores (aggregated from articles and rankings of the most visited shopping websites) for U.S. and UK shoppers across five categories: men's fashion, women's fashion, beauty and cosmetics, furniture and sportswear. We excluded department stores that don't specialise in one category, e.g., Target.
Next, we entered the URL of each store into SimilarWeb, a website specialising in web analytics and data aggregation, entering .co.uk domains for UK rankings where possible. We then recorded the percentage breakdown of a site's visitors belonging to each age group (18-24, 25-34, 35-44, 45-54, 55-64, 65+), enabling us to rank the top shopping websites for an age group based on a website's respective percentage share of visitors in that age group. In other words, a higher-ranking website for an age group receives a larger share of visitors in that age group than a website ranking below it.
This analysis is correct as of September 2023.
Additional Sources
1. Pasquali, M. (2023). Online shopping behavior in the United Kingdom (UK) – statistics & facts. statista.com
2. Vogels, E. (2019). Millennials stand out for their technology use, but older generations also embrace digital life. pewresearch.org
3. Eira, A. (2023). Number of Digital Shoppers in the US 2022/2023: Demographic, Statistics, and Predictions. financesonline.com
4. Meisenzahl, M. (2023). Ikea is investing $2 billion to grow its US footprint. digitalcommerce360.com
5. One Kings Lane. (2023). Company Information. onekingslane.com
6. Wood, Z. (2016). Young, quick and very hip: Missguided and PrettyLittleThing hit the big time. theguardian.com
7. Levine, N. (2021). This Is The Age At Which Women Reach "Peak Earnings". refinery29.com
8.Smith, P. (2022). Average number of clothing items purchased by women in the United States from 1996 to 2021*. statista.com
9.Barclaycard (2017). Suit you sir? Modern men spend more than women but retail therapy is still lost on them. home.barclaycard
10. Newbery, E. (2022). The Average American Spends This Much on Clothes Every Year. fool.com
11. Waldersee, V. (2019). One in six women wear makeup at the gym. yougov.co.uk
12. The Benchmarking Company. (2023). She's (Anti-) Aging Beautifully – Infographic Series: #3. benchmarkingcompany.com
13. Smith, P. (2023). Activewear in the U.S. – statistics & facts. statista.com
14. Marcus, J. (2023). Older Runners Lacing Up in Greater Numbers. aarp.org