The global financial technology sector continues to expand at an unprecedented rate, with $43.6bn of investment into the payments space alone in the first half of 2022, according to KPMG. Contactless technology has been a major contributing factor in the sector's growth. Market data from Juniper Research estimates that more than half (53%) of global card transactions will be made without using the conventional chip and PIN method in the next five years.
Contactless payments are made possible with near-field communication (NFC) technology, and the concept first gained popular usage on Seoul's transport network in the 1990s. By 2003, Transport for London had introduced the highly successful Oyster card scheme to replace paper tickets on its services; this in turn inspired Barclaycard to offer Britain's first contactless bank card for customers in 2007.
Since then, consumers have been feeling more comfortable swiping to purchase goods and services – with a global Mastercard survey revealing that eight in ten customers are happy to do so. But which countries have the highest limits on contactless transactions in 2023? Merchant Machine has analysed the global payments landscape to find out.
What We Did
Using a range of up-to-date and accurate sources, from international bank websites to government policy reports, we researched the transaction limit for a single purchase on a contactless credit or debit card. We found 131 countries in total, including two – Ecuador and the United States of America – that have no transaction limit.
Key Findings
Venezuela has the highest transaction limit of any country in the world, with a limit of

 

5000 Bs. Or

$272.02 (£225.59).

Five of the ten highest limits in the world are in Asia, with consumers in Japan benefiting from the highest transactions ($151.08 or £125.29) on one card tap.
The UK ($120.65 or £100) has one of the highest card limits in the world and the largest in Europe.
Two countries – Ecuador and the United States – have unlimited card limits.
Contactless Card Limits, Mapped
Governments around the world accelerated the use of contactless technology during the Covid-19 pandemic, as a means of ensuring social distancing and preventing the spread of the virus. Data from the Bank of International Settlements shows that non-cash transactions surged in every major economy during 2020.
In the UK, one-third of transactions were made this way in 2021. This was fuelled by then-Chancellor Rishi Sunak increasing the payments limit from £30 ($36) to £45 ($54) and then to £100 ($120.65) to encourage safe spending for consumers. Today, Britain has one of the highest contactless payment limits in the world. You can see how each of the 131 countries adopting the technology fares when setting restrictions on payments. We've also broken down the data by continent. Read on to find out more.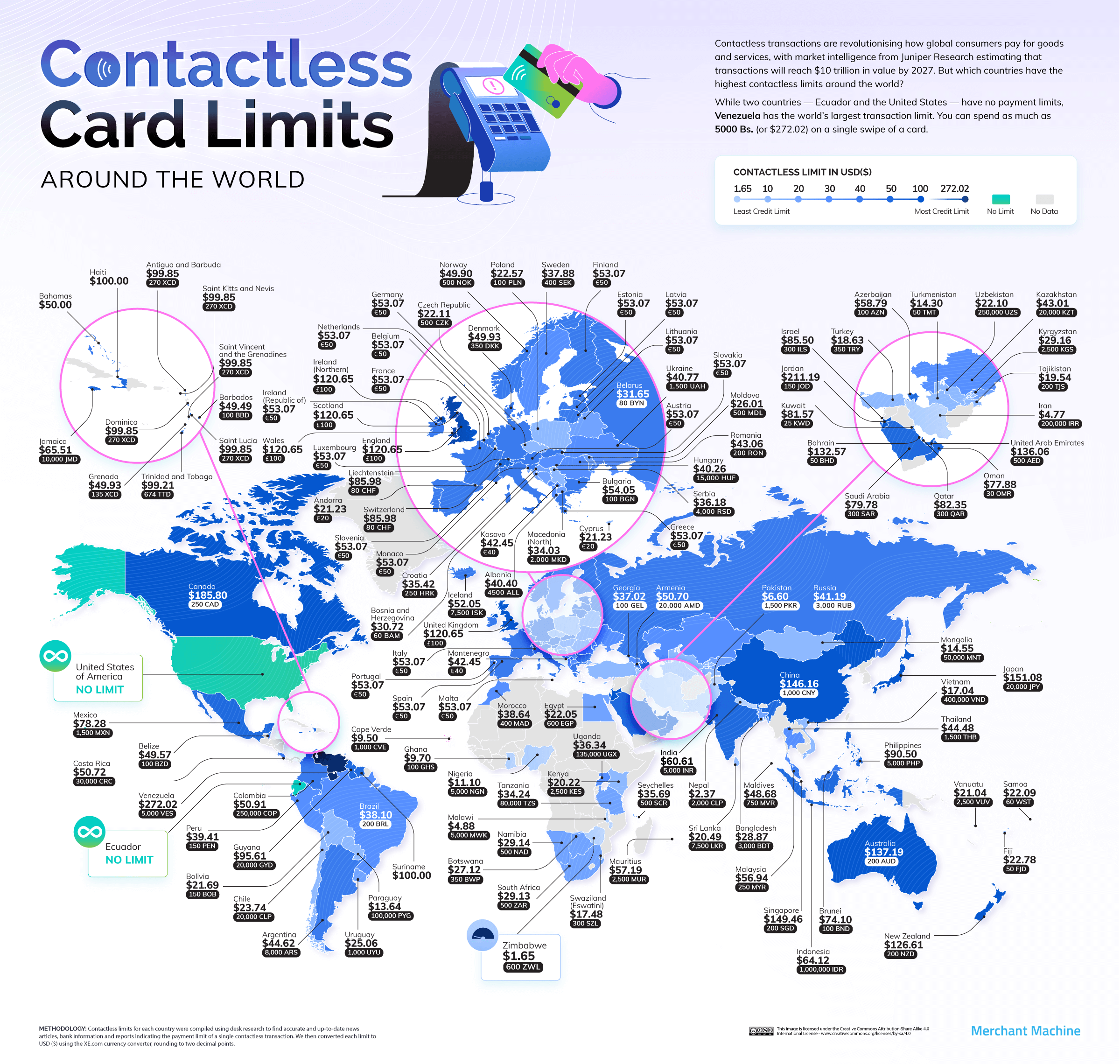 Click here to see the image in full size
Britain Leads the Way in Europe's Contactless Payment Limits
The four-wave icon has become ever-present on UK debit and credit cards. Major payments merchants like Mastercard have accommodated increased contactless spending limits in Europe, taking measures during 2020 to boost consumer activity during the Covid-19 pandemic. Though countries like Romania and Bulgaria still largely trade in cash, the continent is starting to embrace a cashless society, with just 3% of transactions in Norway made using bank notes, according to inepro.
Despite widespread trust among Scandinavian countries towards their governments and banks, the UK has Europe's most generous contactless limit – set at £100 ($120.65) per transaction in 2023. According to UK Finance, 9.6 billion card payments were made in 2020 without chip and PIN – up 12% from the previous year. Contactless now accounts for a quarter of all transactions in the country, with smartphone compatibility a major factor in consumer choices.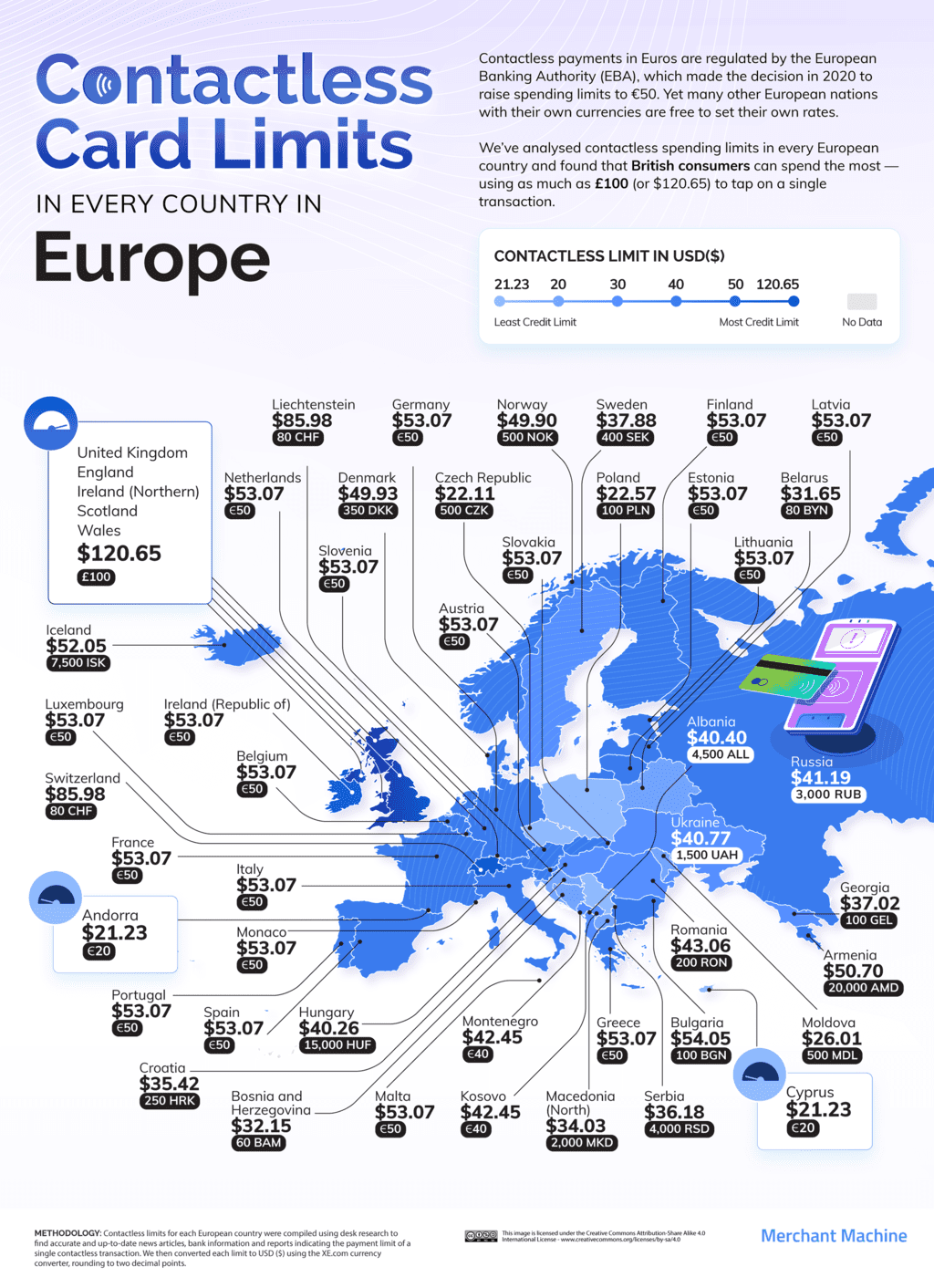 Click here to see the image in full size
Within the European Union, payment limits are regulated by the European Banking Authority (EBA), which recommended an increase during the Covid-19 pandemic to €50 ($53) to aid social distancing for merchants. More recently, European lawmakers have launched legal proceedings against Apple for breaching competition law through its NFC technology on its Apple Pay service.
Canada Boasts Highest Contactless Limit in the West
A report from ResearchandMarkets.com estimates that the contactless payments market will reach a value of $2,679.9 billion by 2030. Despite being seen as behind the curve from the rest of the world on financial technology, North America is catching up, with the continent in possession of the largest share of Visa's 300 million NFC-enabled credit and debit cards.
While most countries adopt a transaction limit to protect customers from fraud, the United States is one of two countries where there are no such restrictions. Instead, merchants can place a discretionary cap on payments, meaning that the practical limit is $10,000 for Visa, Mastercard, Discover, American Express, and JCB – the maximum of a standard credit card. However, apps like Google Pay and Apple Pay support up to $50,000 – meaning customers should exercise caution when purchasing.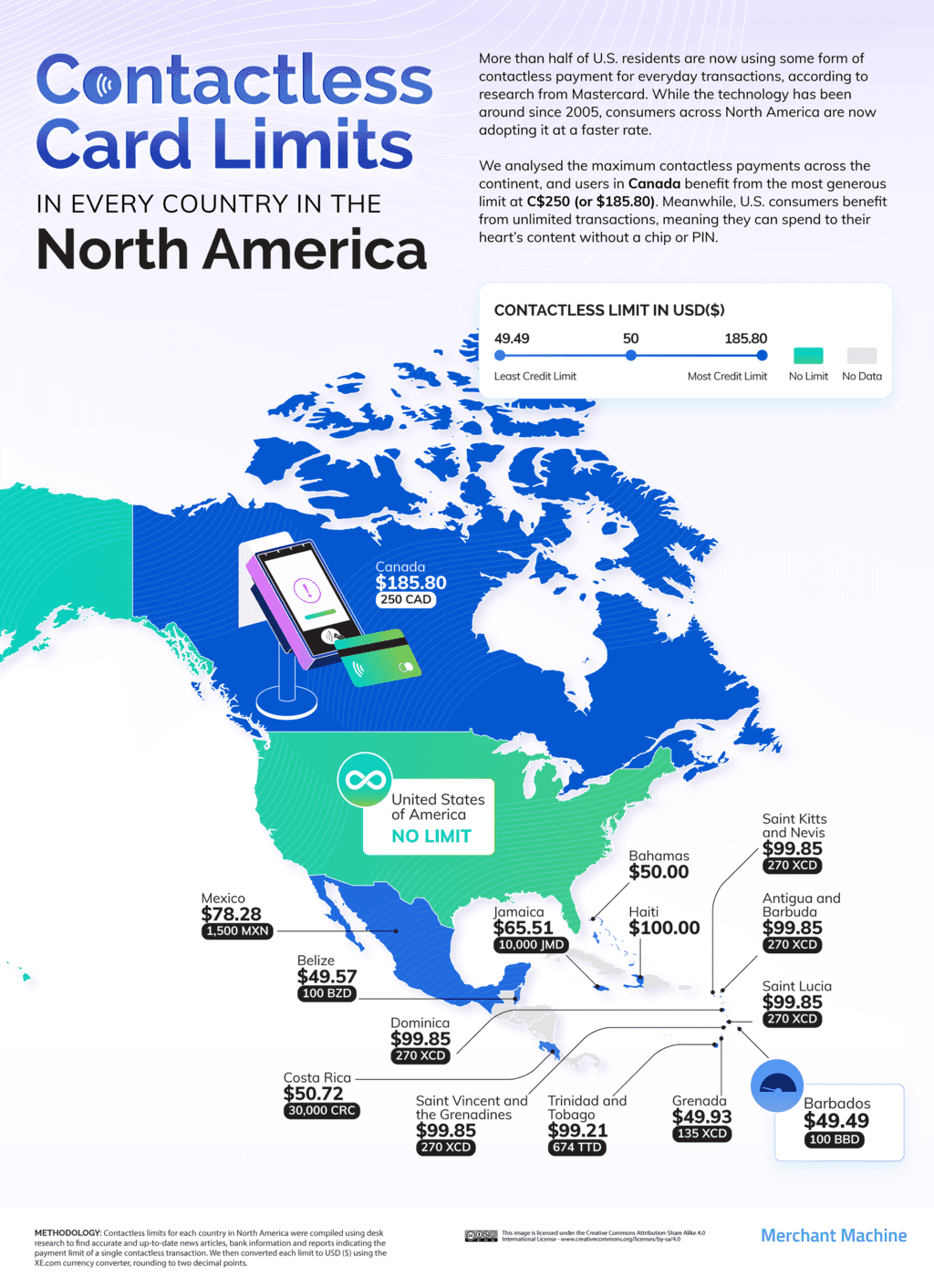 Click here to see the image in full size
Aside from the U.S., our research shows that Canada has the highest contactless transaction limits in North America, with consumers permitted to spend as much as C$250 ($185.80 or £154.09) on a single payment. Major merchants Visa and Mastercard worked with the Canadian government to raise the cap from $C100 ($74 or £62) during the Covid-19 pandemic, giving consumers more choice in how they pay for goods and services.
Ecuador is One of Two Limitless Countries for Contactless
In 2019, Mastercard reported that the number of NFC-enabled credit and debit cards in Latin America had tripled, with their data showing that 35% of people had increased their spending using contactless since the start of the Covid-19 pandemic. Visa's analytics also reveals that around 35% of card payments on the continent are now completed without chip and PIN – with Chile reporting the highest usage at 84%.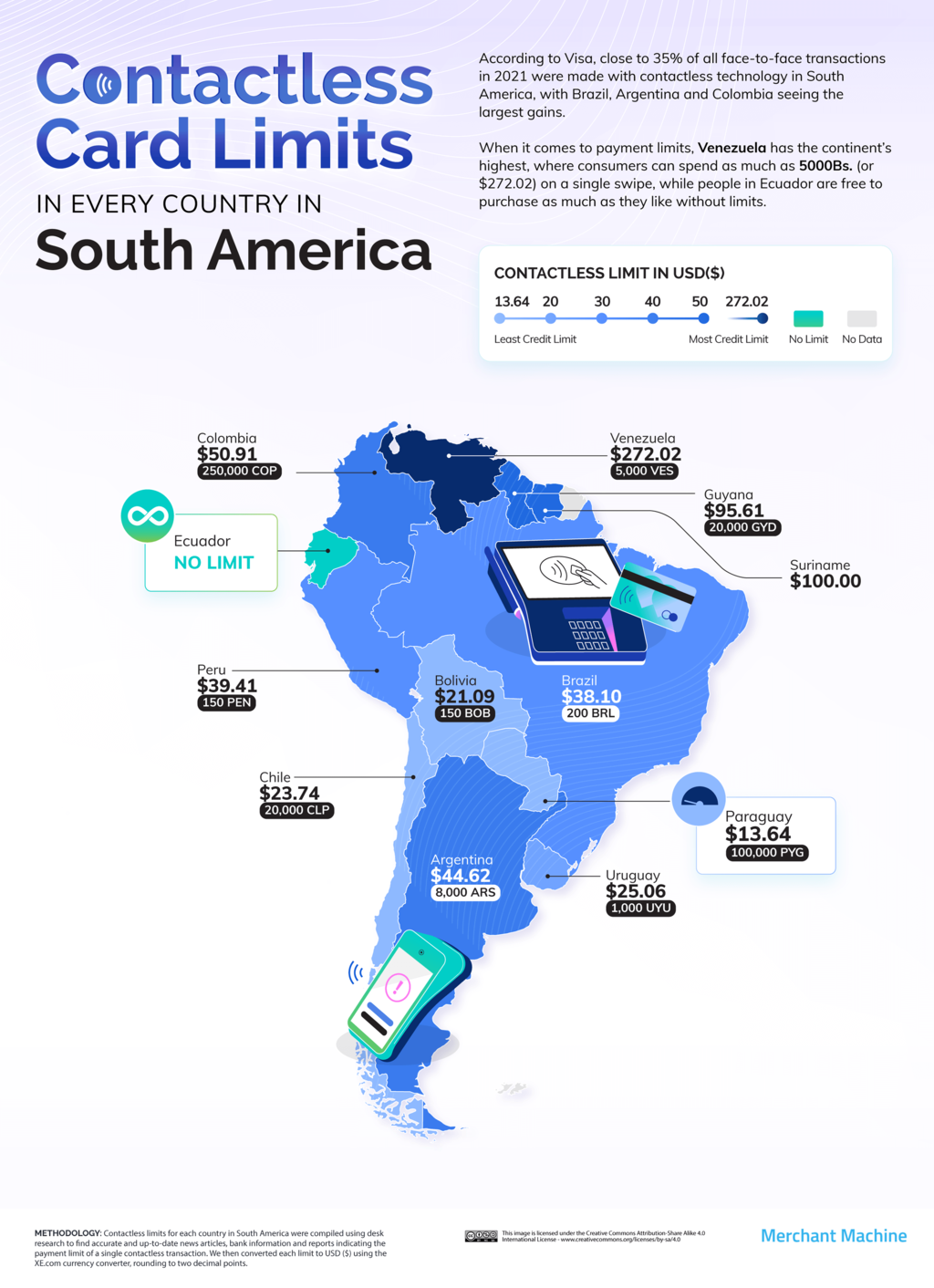 Click here to see the image in full size
However, when it comes to payment limits, two South American countries stand out above the rest. Firstly, Ecuador is just one of two countries not to set price restrictions, giving discretion to merchants. In 2014, Ecuador's central bank introduced a mobile payments system facilitated by NFC technology to support 40% of nationals who do not have bank accounts. However, it was withdrawn in 2018 after numerous issues around surveillance, security, and reliability of the technology.
Meanwhile, the highest card limit can be found in Venezuela, at 5000 Bs. ($272.02 or £225.59).. The country is attempting to pull itself out of the worst economic crisis in its history, with 50% of Venezuelans in poverty. Private lenders have attempted to boost spending with $1 credit card limits, yet the poorest 10% live on just $8 per month, making the country's digital economy effectively limitless.
Three Middle Eastern Nations Have Contactless Limit Above £100
The Middle East is one of the world's fastest-growing regions for fintech, with the industry tripling in size during the first half of 2022. A major contributor is the dominance of the payments sector, which is expected to grow by 15% in the next three years. Despite a reputation as a cash-driven economy, a McKinsey report found that 58% of consumers in the Middle East expressed a strong preference for digital payments over bank notes.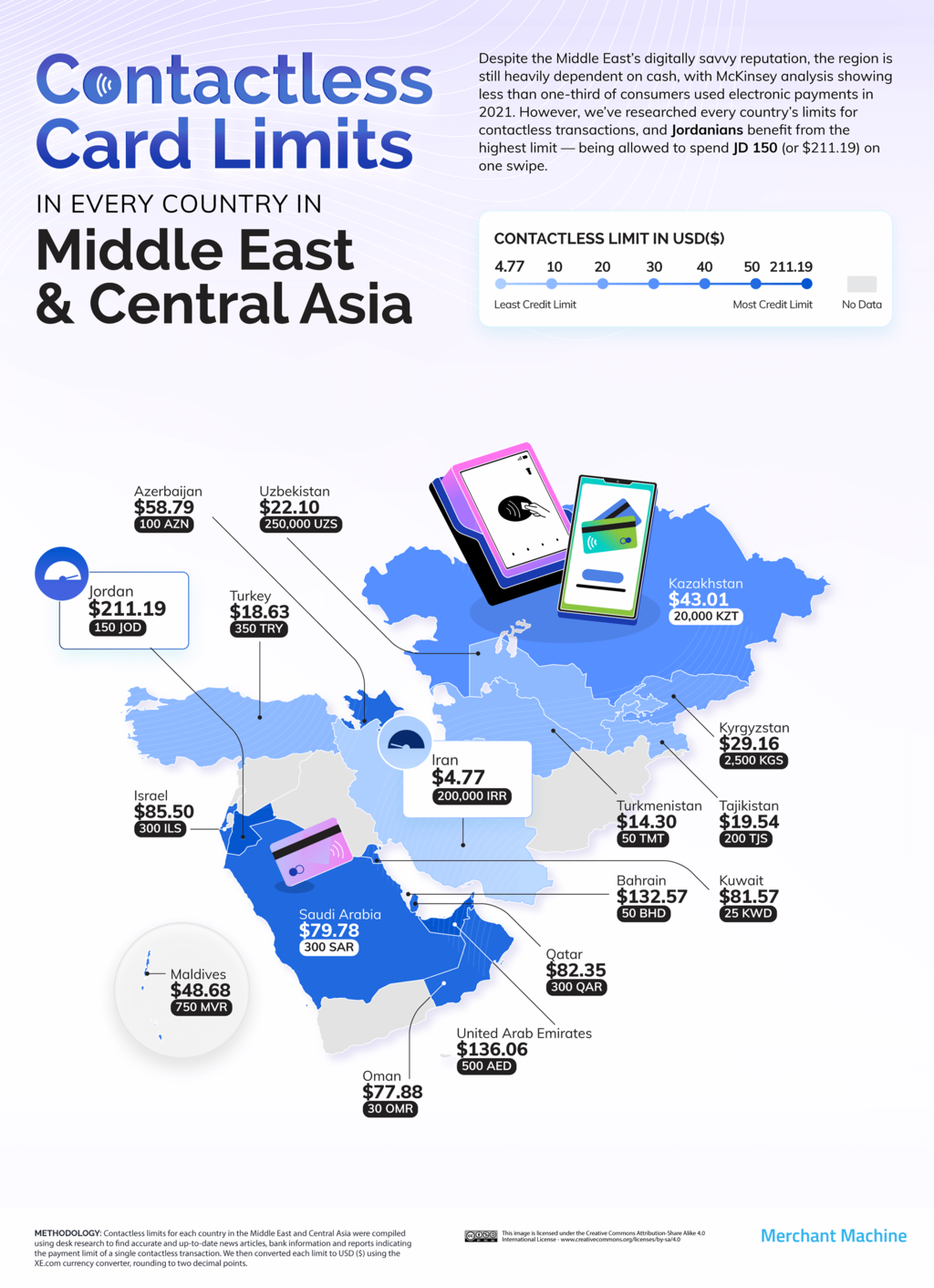 Click here to see the image in full size
Our research shows that the region has three of the ten highest contactless transaction limits anywhere in the world, giving shoppers more freedom over their purchases. Jordan (JD 150, $211.19 or £175.14) leads the way, boosted by the country's emerging fintech hub. In late 2021, Mastercard became the first merchant to launch a biometric card, rolling out the technology in collaboration with Jordan Kuwait Bank.
Japan Leads Asia's Economies with $151 Contactless Limit
The Covid-19 pandemic badly affected Asia's economy. According to the Asian Development Bank, 9.3 million jobs were lost in Southeast Asia alone in 2021, plunging nearly five million people into poverty. Yet the region is uniquely placed to spearhead an economic recovery through its transition to a high-tech economy. A global report from PwC found that the Asia-Pacific region will lead the shift towards digital payments, with a 109% growth in cashless transactions by 2021. The region is already the largest contributor to global payments revenue, generating $900 billion in 2019.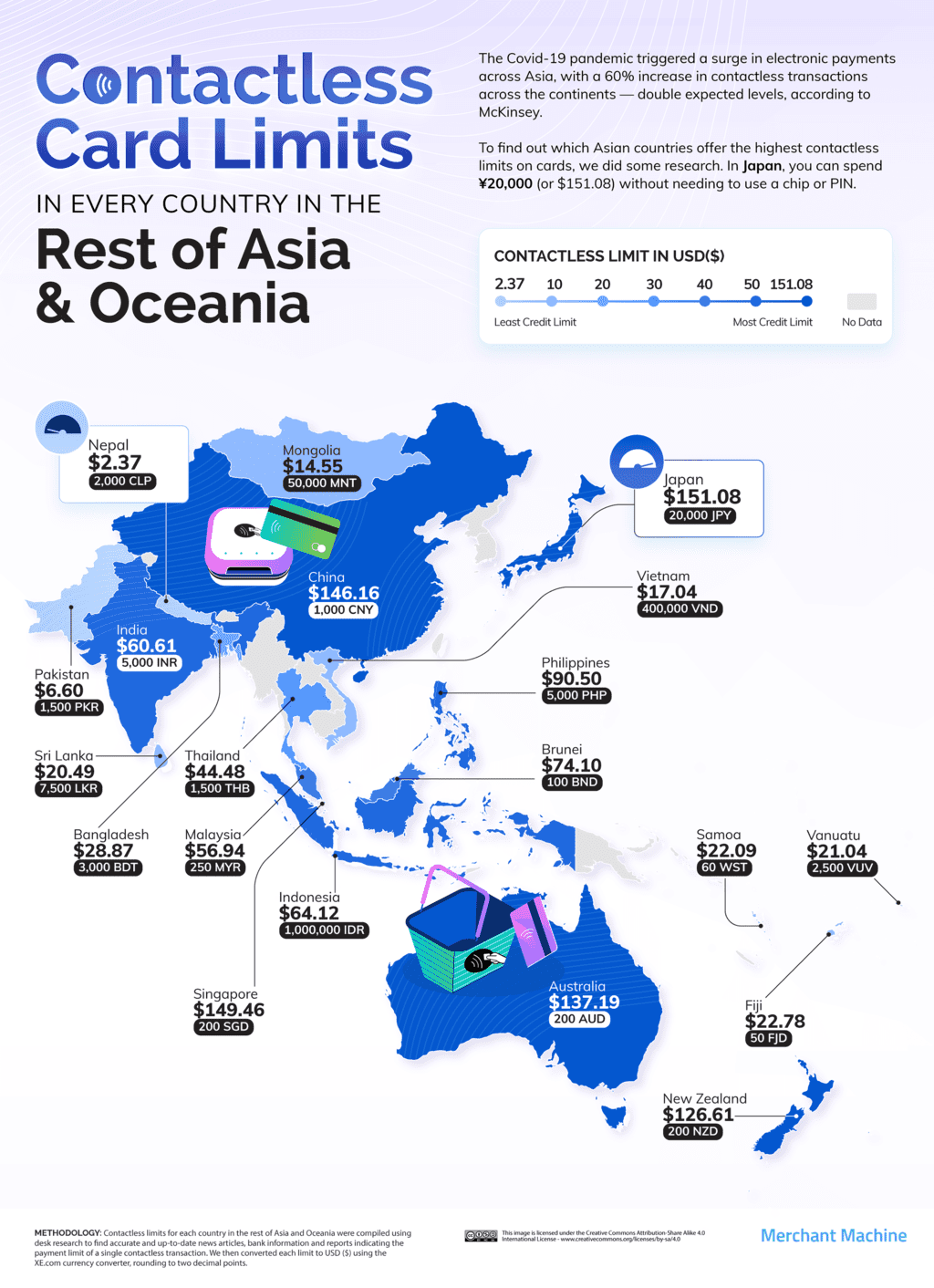 Click here to see the image in full size
Five Asia-Pacific countries currently have a contactless limit of over £100, with the most generous found in Japan (¥20,000, $151.08 or £125.29) and Singapore (S$200, $148 or £124). Three in five Singapore residents transitioned to cashless payments during the Covid-19 pandemic and the island's digitally-savvy population makes it ideally placed to benefit from NFC technology.
China (¥1000, $146.16 or £121.21) has a similarly high threshold for contactless transactions. While much of the world has focused on contactless cards, China has seen widespread adoption of digital wallets. The world's second-largest economy is a world leader in this space, with around 64% of its population utilising mobile payments in 2021.
Mauritius Tops Africa's Emerging Economies for Highest Contactless Limit
Africa has some of the world's fastest-growing economies when it comes to digital payments. While non-cash transactions have risen at a rate of 13% between 2018 and 2021, McKinsey reports  25% year-on-year growth in Africa's biggest emerging markets – Morocco, Nigeria and South Africa. Many African governments encouraged a shift to mobile and contactless payments during the Covid-19 pandemic, with Kenya recording a record-high $55 billion in mobile transactions in 2021.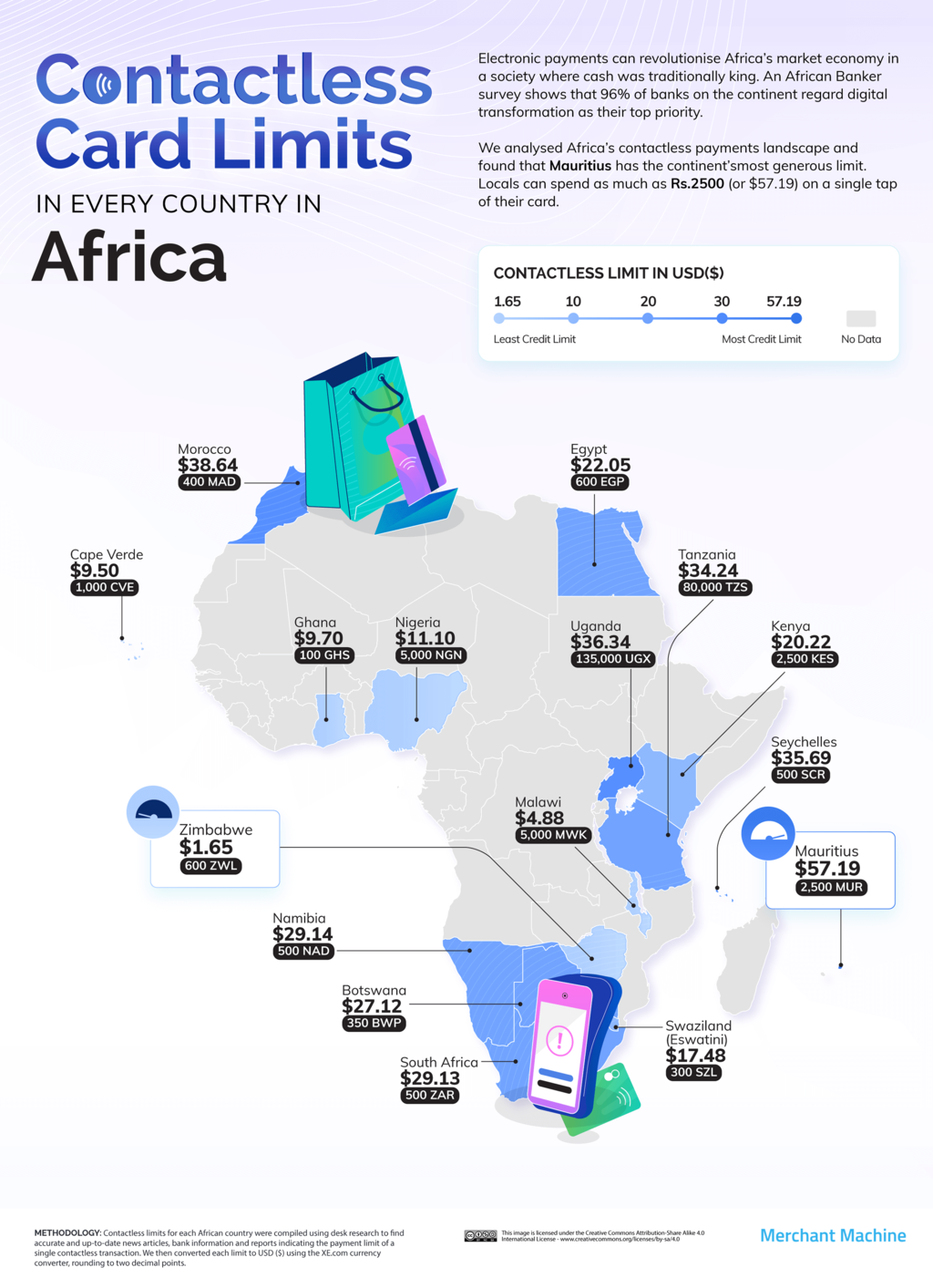 Click here to see the image in full size
However, Mauritius boasts the highest contactless transaction limit in Africa, with consumers able to spend up to Rs.2500 ($57.19 or £47.43) on a single payment. Mastercard first introduced the technology to the island in 2016, in association with Mauritius Central Bank. In a post-Covid world, Mauritius is reshaping its economy towards digital payments, with a fourfold increase in non-cash transactions on the island in 2021.
The Future of Contactless Commerce
The Covid-19 pandemic brought about many fundamental changes to our society, and the rapid acceleration of contactless payments has revolutionised how people spend their money. Our research has found that 11 countries set transaction limits of $120 (£100) or above, with the UK leading Europe with its consumer-friendly approach. You can see our full dataset below, with a full breakdown of the global sources used in this research.
While merchants like Mastercard and Visa and tech giants Google and Apple continue to advance technology to give consumers more spending options, the payments industry powering the contactless economy continues to grow at an astonishing rate and is expected to be worth $20 trillion by 2026.
Governments regulate merchants to place single transaction limits that protect customers from fraud, but the answer is coming loud and clear from customers that their preference is contactless. A PYMNTS and American Express survey found that 57% of consumers are actively choosing to shop at places with a wider range of digital payment options.
The UK is among the best-placed economies to embrace a cashless society fully, with 135 million contactless cards in circulation across the country. As global markets continue to recover from the turmoil of the Covid-19 pandemic, digital payments continue to outstrip cash and boost economic activity.
Methodology
To find the contactless card limit for each country, we used desk research to find accurate and up-to-date news articles, bank information and reports indicating the payment limit of a single contactless transaction. This gave us a list of 131 countries in total.
We then converted each country's contactless limit to GBP (£) and USD ($) using the XE.com currency converter, rounding to two decimal points.
Some countries were excluded from the research if we couldn't find reliable sources of their contactless limit or if the country does not yet support contactless payments.
The data and conversions were collected in November 2022.