With travel and nightlife finally opening up again after a long period of lockdown, the opportunity to have incredible nights out abroad is back on the table. 
Whether it's your hen weekend or you're simply a traveller looking to make memories, exploring local nightlife will guarantee a great time.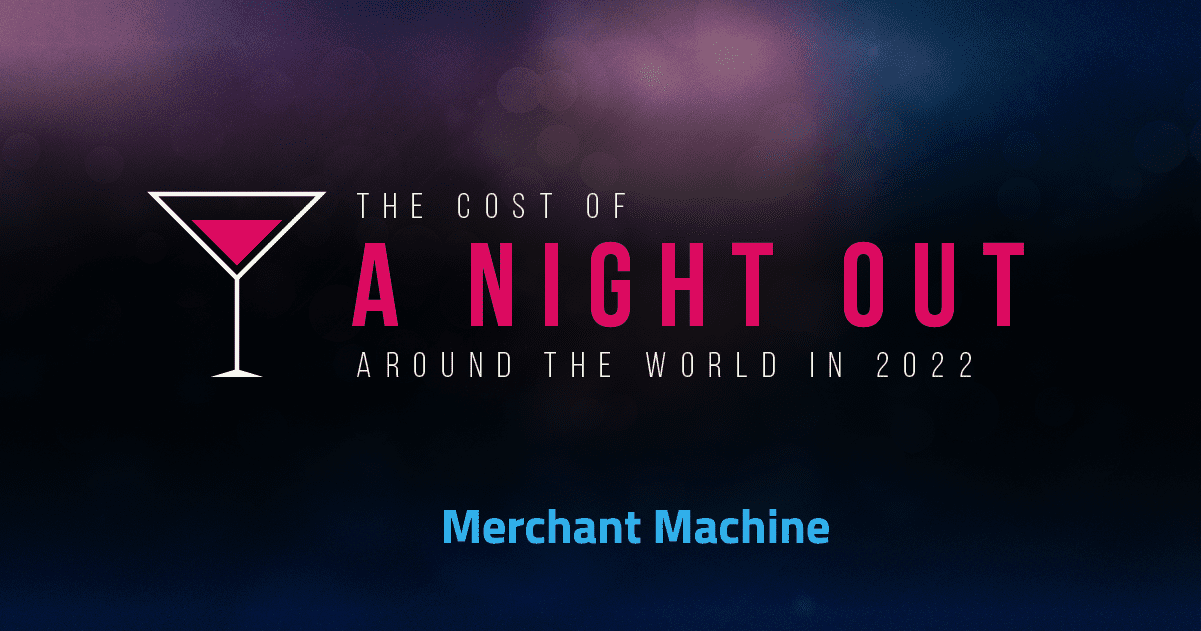 However, between the cost of travelling to your dream nightlife destination and the price of having a good time while you're there, a night out abroad can set you back a pretty penny. There's a lot to consider when choosing a location – the entertainment options available, the cost of accommodation, taxi tariffs… 
With this in mind, Merchant Machine has investigated the best cities for a night out by looking at a range of metrics across 37 cities. We analysed the number of entertainment activities and bars and pubs available, the average cost of a meal at an inexpensive restaurant, the cost of a hotel room and the price of a taxi on a night out.
Each city was then awarded an index score out of 10, with a higher score indicating better value for a night out.
The 10 cheapest cities for a night out
If you're wanting to make some savings by choosing the cheapest destination for a night out, the following top 10 cities – ranked from the highest to lowest cost of a night out – are for you…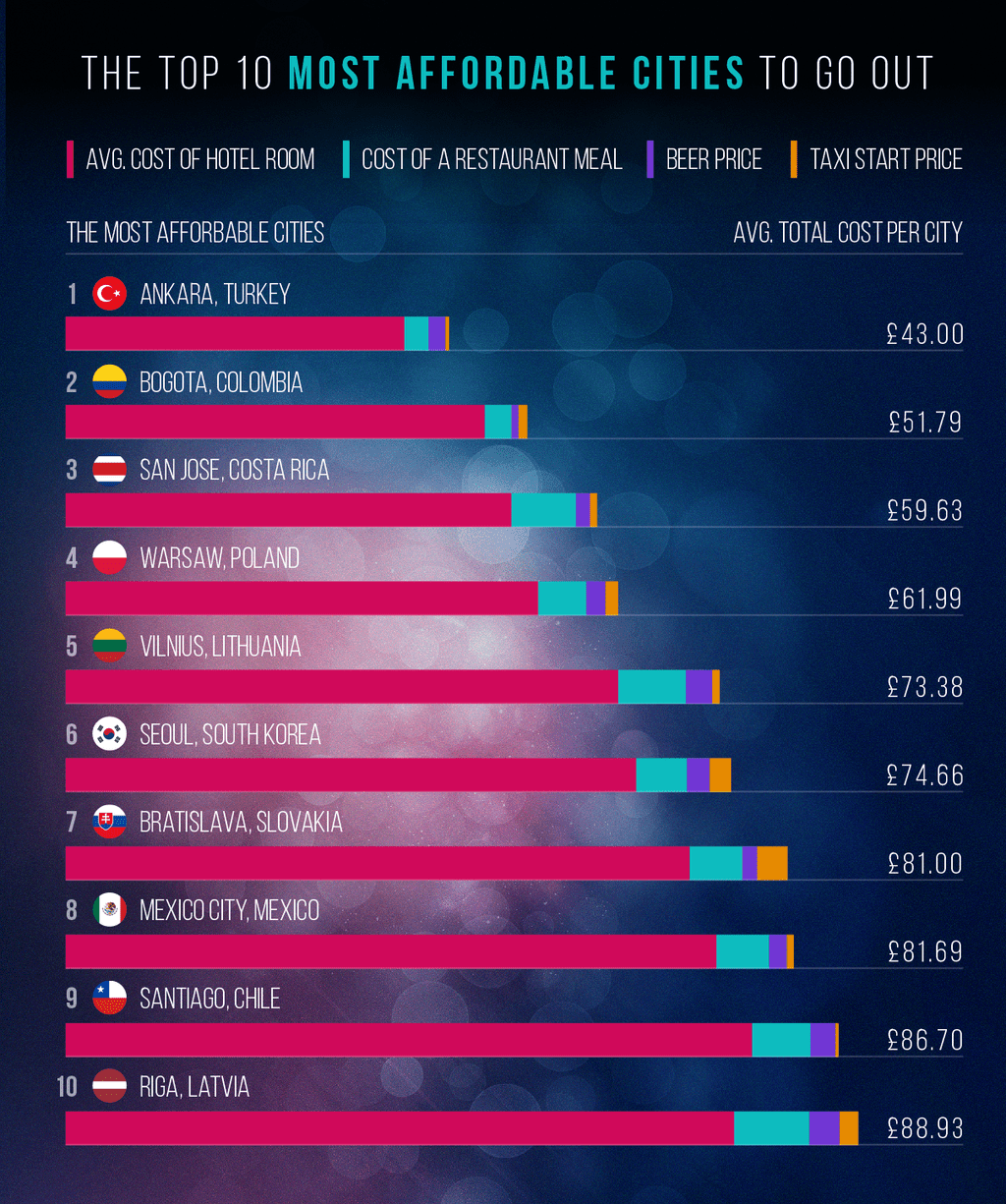 Ankara, Turkey ranks as the number one cheapest destination for a night out. The average total cost of a fun nightlife experience here is only £43, with the majority of that going towards a hotel room. 
The average cost of a meal and minimum taxi fare are particularly low in Ankara, at £2.70 and £0.41 respectively. The low taxi fare is perfect for travellers who want to save their legs for dancing rather than walking between the many bars and clubs Ankara has to offer.
Latin America is reputed to have a vibrant and exciting nightlife scene, and with an average total cost of a night out below £60, Botoga and San Jose – in second and third place – are another great budget-friendly option with plenty to offer. The South American cities of Santiago, Chile and Mexico City, Mexico also feature in the top 10.
If you'd like to stay a little closer to home, cheap European cities include Warsaw, Vilnius and Bratislava. But if you want to venture a little further out, Seoul in South Korea is another great option, with an average total cost of £74.66. Seoul has a thriving club scene, as well as its many famous noraebangs: private karaoke rooms where you can belt out your favourite K-pop tunes to your heart's content.
The 10 most expensive cities for a night out
On the other end of the spectrum, if you are looking for an inexpensive night out here are the top ten cities to avoid.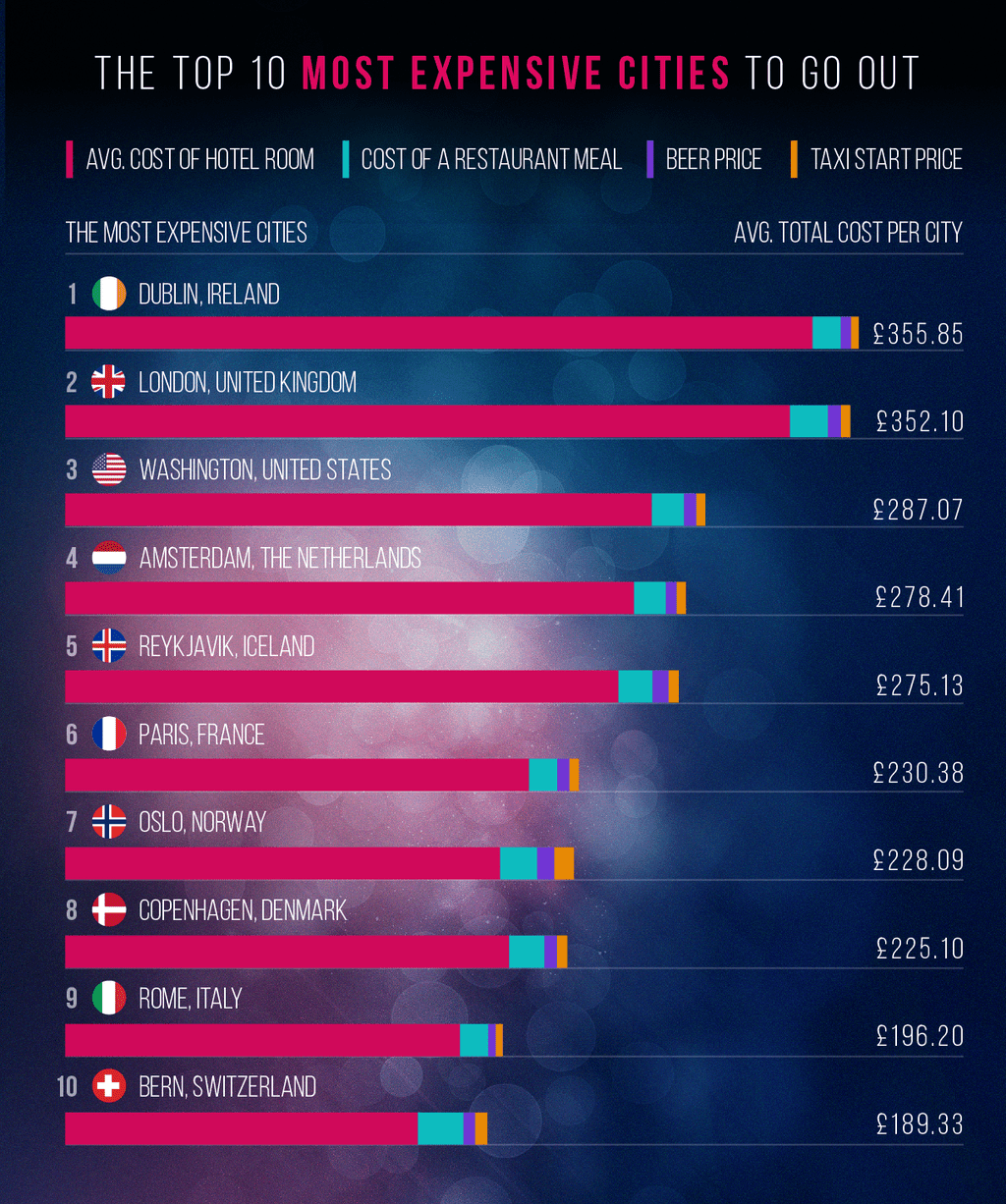 These 10 countries are the most expensive out of all 37 we analysed, with Dublin ranking as the most expensive of all. 
The average total cost of a night out in Dublin is £355.85, with London coming in just behind at £352.85. Most of this cost is due to the high price of a hotel room in these cities, so you may be able to save money by staying in alternative accommodation such as a hostel. 
Washington, USA is the third most expensive city, with European cities making up the rest of the top 10. If you're wanting a cheap nightlife-focused break in Europe, you may want to avoid Amsterdam, Reykjavik, Paris, Oslo, Copenhagen, Rome and Bern!
The top 5 best-value cities for a night out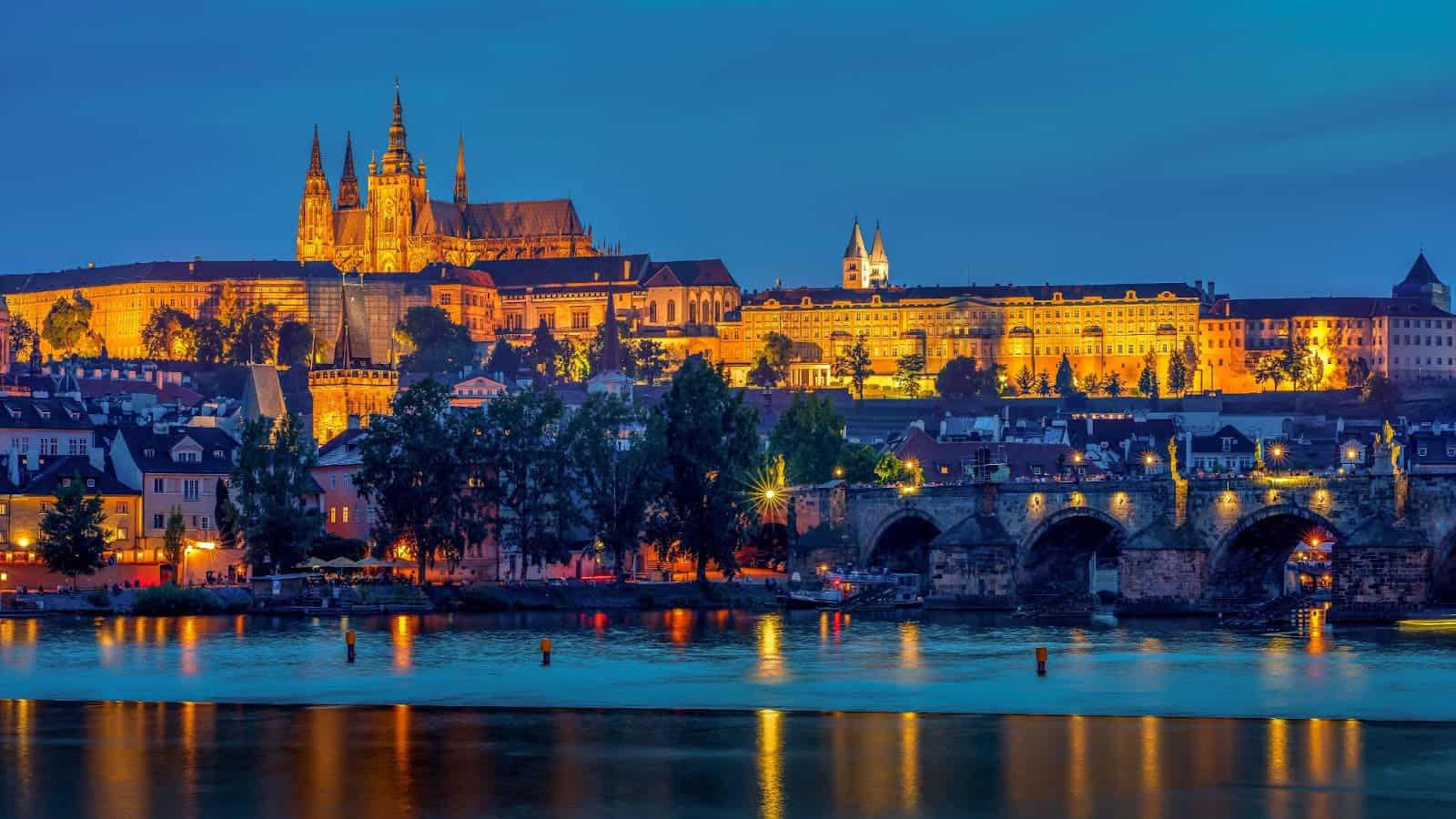 Our top 5 best value locations include four European cities and one city in South America.
Below is an infographic of the top 5 cities for a night out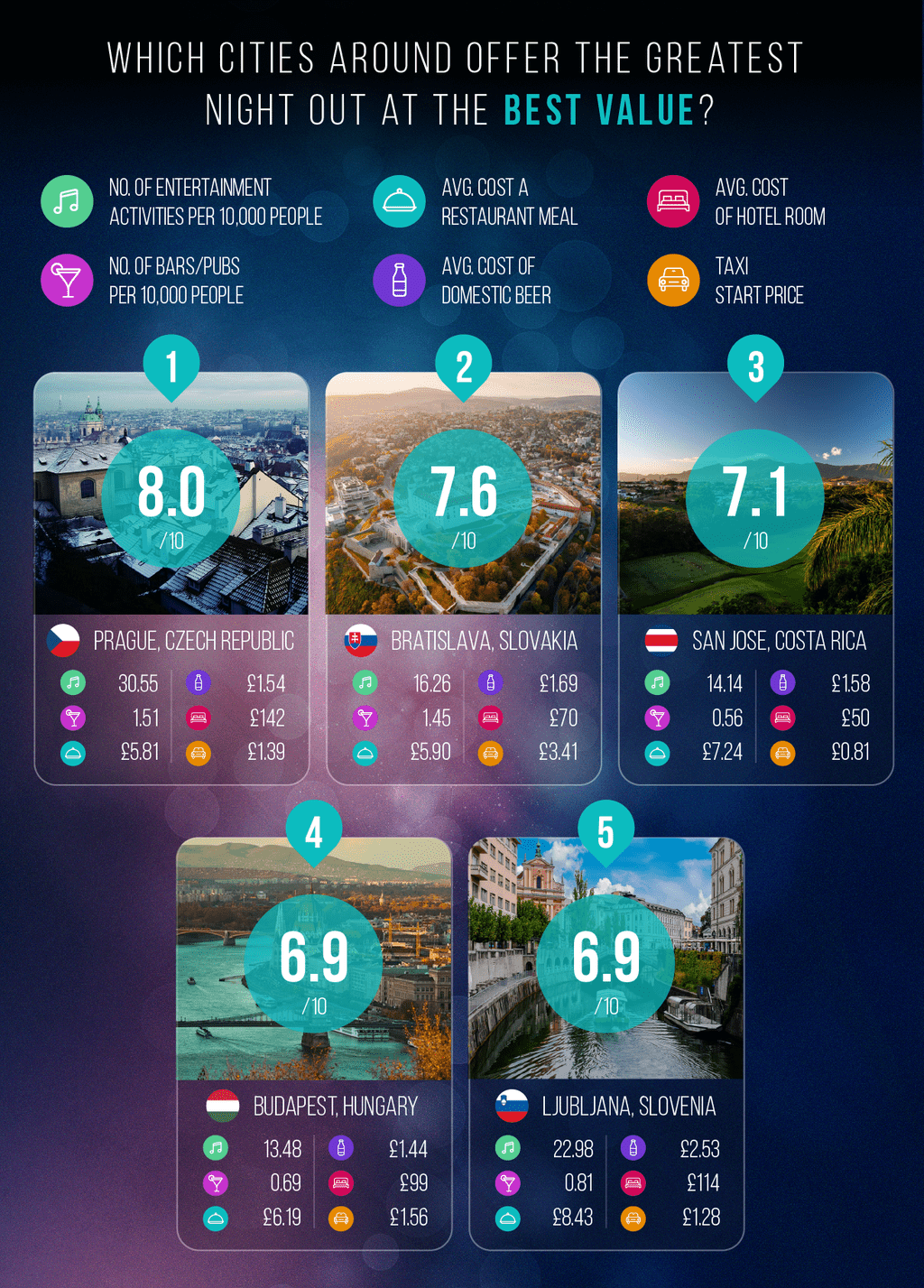 European cities top the list
Our research revealed that Prague, the capital of the Czech Republic, offers the best overall value for a night out. Prague has a wealth of entertainment options available at 30.55 per 10,000 people, as well as plenty of pubs and bars to choose from. Nightlife in Prague is varied and exciting with options to suit everyone, whether you're looking for a night of debauchery or something a little more reserved.
Prague also has inexpensive costs, with a meal costing on average just £5.81 and a cheap minimum taxi fare of £1.39. The cost of a hotel room is a little high at an average of £142 a night, however low costs elsewhere and the range of entertainment available makes up for this. 
Second on the top 10 list is Bratislava, Slovakia. Bratislava also has many activities and bars available, as well as very decent costs that are only a little higher than in Prague. Plus, the cost of a hotel room is lower in Bratislava at just £70 a night.
Two other European cities made the top 5 list, proving that British travellers don't need to travel far to find their dream nightlife destination. Budapest and Ljubljana offer very affordable prices and plenty of entertainment options to keep you busy! 
South American cities offer good value for hotels and travel
Number three on the list is San Jose, Costa Rica, which offers particularly excellent value for a hotel room (£50) and taxi travel – the minimum taxi fare is only £0.81, which is the cheapest out of all the top 5. 
The 5 worst-value cities for a night out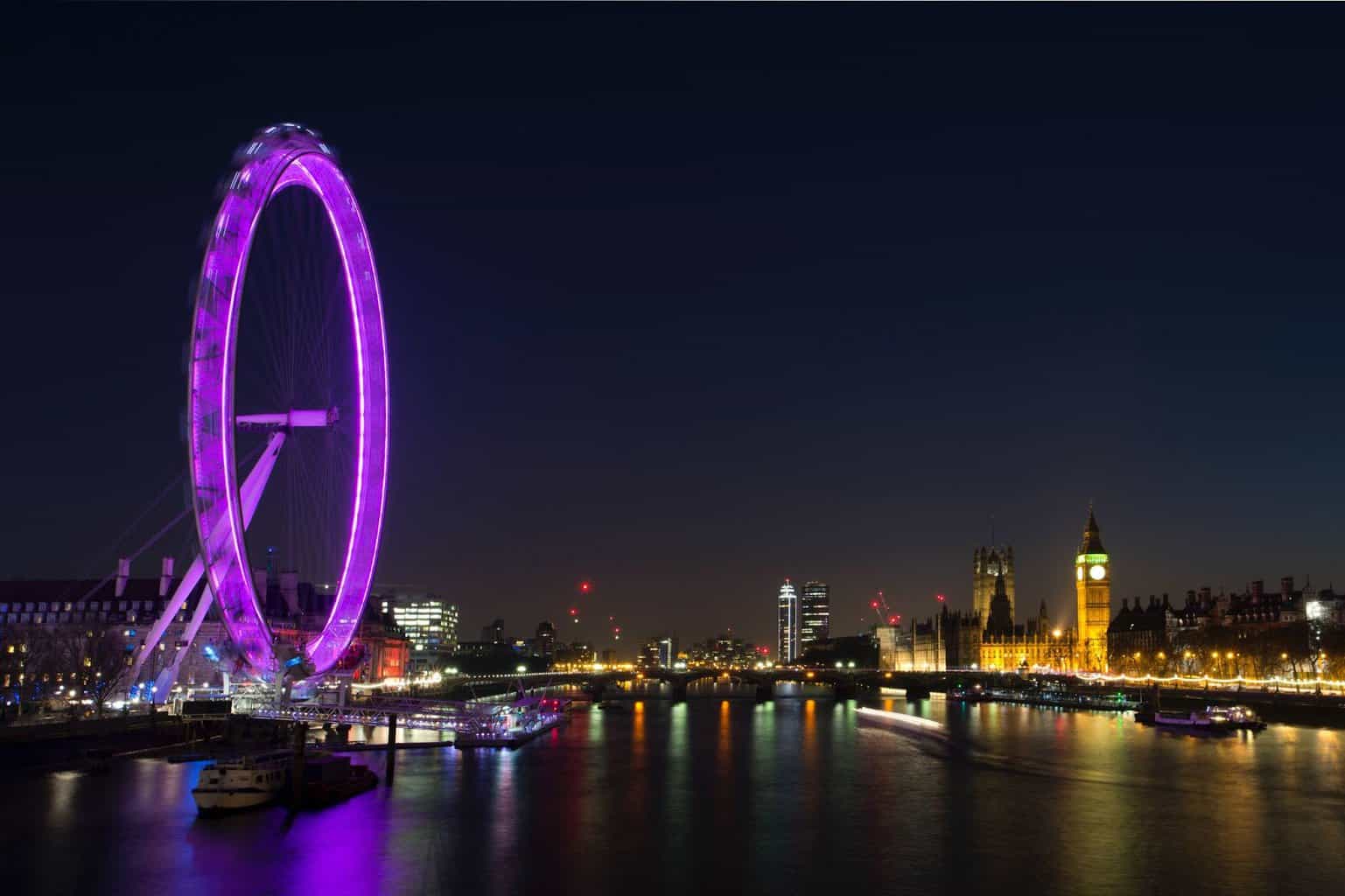 The worst city for a night out according to our research is Oslo, Norway. The number of entertainment options available in Oslo is fairly low, and it has pretty high prices overall. 
Half a litre of domestic beer costs £7.68, which is the highest cost out of all the cities we analysed, and the minimum taxi fare is also the highest at £8.82.
Here is an infographic of 5 cities offering the worst value for a night out.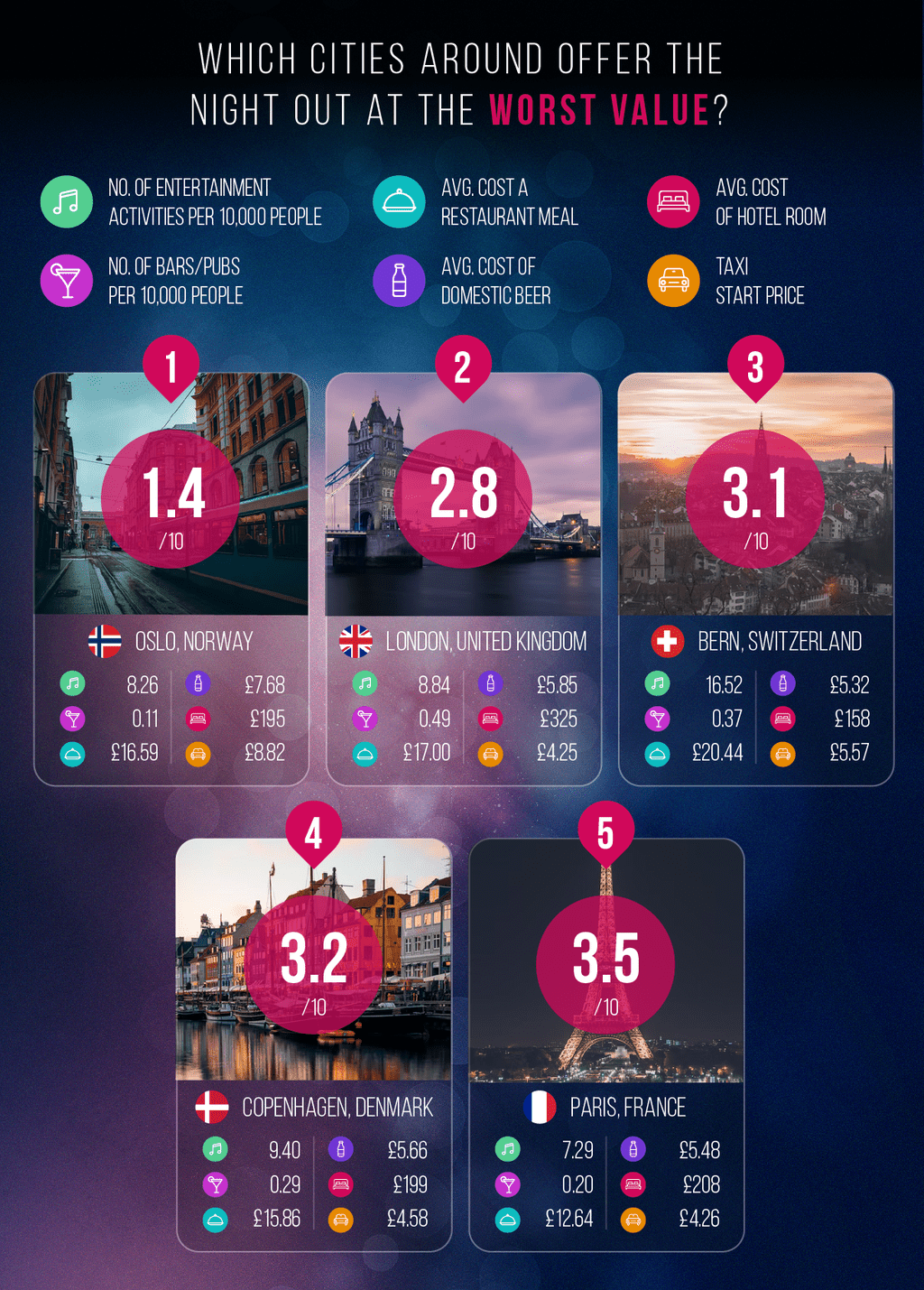 Unfortunately for UK residents, London ranks as the second worst city for a night out. So if you were hoping to save money by sticking close to home, think again! 
London has a particularly high average hotel room cost of £325 a night, so visitors can expect to fork out a lot of money for a place to stay following a night out. 
The European capitals of Bern, Copenhagen and, Paris also made the list of worst cities for a night out. Bern does particularly badly for costs, with the highest cost for a meal at £20.44 and the third highest minimum taxi fare after Oslo and Helsinki.
Money-saving tips for your night out
Whichever city you decide to visit, here are our top five money-saving tips to guarantee a great night out without breaking the bank. 
Avoid eating out

– Eating out at a restaurant before heading to a bar is tempting, but you'll save a lot of money by cooking for yourself and eating at home before going out. If you're staying in a hotel room and can't cook, try and find pre-prepared food at a local supermarket.

Book activities in advance

– When booking somewhere to stay after your night out, or a local attraction for evening entertainment, you will usually be able to save money by booking in advance. If you leave it to the last minute, you're almost guaranteed to see an increase in prices. 

Use public transport or walk where you can

–Using public transport like buses or trains is not only good for the environment – it's good for your wallet too. You could even walk if your destination is close enough to where you're staying, but remember to stick with a group and be safe.

Avoid peak holiday times – When travelling, it's always best to avoid peak times such as bank holidays and school breaks. Prices will almost always be higher during this time, so stick to normal weekdays during school term-time if possible.
Split costs – One of the simplest ways to save money when going out is to split the cost between multiple people. Going halves on a hotel room and sharing food will lessen the financial load.
Full list of the 37 cities analysed (in order of best value)
| Rank | City | Number of entertainment activities per 10,000 Capita | Number of bars/pubs per 10,000 Capita | Avg. cost of meal at inexpensive restaurant (£) | Avg. cost of domestic beer in restaurant – 0.5L draft (£) | Avg. cost of a hotel room per night (£) | Minimum Taxi Fare (£) | Index score (higher = better) |
| --- | --- | --- | --- | --- | --- | --- | --- | --- |
| 1 | Prague, Czech Republic | 30.55 | 1.51 | £5.81 | £1.54 | £142.00 | £1.39 | 8.03 |
| 2 | Bratislava, Slovakia | 16.26 | 1.45 | £5.90 | £1.69 | £70.00 | £3.41 | 7.62 |
| 3 | San Jose, Costa Rica | 14.14 | 0.56 | £7.24 | £1.58 | £50.00 | £0.81 | 7.13 |
| 4 | Budapest, Hungary | 13.48 | 0.69 | £6.19 | £1.44 | £99.00 | £1.56 | 6.99 |
| 5 | Ljubljana, Slovenia | 22.98 | 0.81 | £8.43 | £2.53 | £114.00 | £1.28 | 6.87 |
| 6 | Bogota, Colombia | 1.23 | 0.05 | £3.00 | £0.80 | £47.00 | £0.99 | 6.84 |
| 7 | Ankara, Turkey | 1.06 | 0.06 | £2.70 | £1.89 | £38.00 | £0.41 | 6.78 |
| 8 | Tokyo, Japan | 3.22 | 1.28 | £6.16 | £3.51 | £88.00 | £2.79 | 6.75 |
| 9 | Vilnius, Lithuania | 11.85 | 0.59 | £7.58 | £2.95 | £62.00 | £0.85 | 6.72 |
| 10 | Warsaw, Poland | 7.67 | 0.35 | £5.39 | £2.15 | £53.00 | £1.45 | 6.68 |
| 11 | Seoul, South Korea | 2.55 | 0.65 | £5.70 | £2.54 | £64.00 | £2.42 | 6.53 |
| 12 | Wellington, New Zealand | 21.06 | 1.21 | £10.31 | £5.15 | £95.00 | £1.95 | 6.48 |
| 13 | Tallinn, Estonia | 17.94 | 0.89 | £10.11 | £3.79 | £80.00 | £2.13 | 6.45 |
| 14 | Riga, Latvia | 14.27 | 0.53 | £8.43 | £3.37 | £75.00 | £2.13 | 6.25 |
| 15 | Mexico City, Mexico | 0.83 | 0.03 | £5.92 | £1.97 | £73.00 | £0.80 | 6.21 |
| 16 | Santiago, Chile | 2.5 | 0.15 | £6.56 | £2.81 | £77.00 | £0.33 | 6.2 |
| 17 | Luxembourg City, Luxembourg | 19.19 | 1.2 | £16.01 | £4.21 | £124.00 | £2.77 | 5.87 |
| 18 | Lisbon, Portugal | 10.09 | 0.28 | £8.43 | £1.69 | £143.00 | £3.11 | 5.76 |
| 19 | Rome, Italy | 13.84 | 1.08 | £12.64 | £3.37 | £177.00 | £3.19 | 5.74 |
| 20 | Madrid, Spain | 5.19 | 0.39 | £10.91 | £2.53 | £109.00 | £2.77 | 5.6 |
| 21 | Vienna, Austria | 10.36 | 0.46 | £10.95 | £3.37 | £92.00 | £3.41 | 5.57 |
| 22 | Berlin, Germany | 9.35 | 0.26 | £8.43 | £3.37 | £108.00 | £3.41 | 5.47 |
| 23 | Athens, Greece | 7.28 | 0.38 | £10.53 | £3.37 | £115.00 | £2.98 | 5.41 |
| 24 | Brussels, Belgium | 6.03 | 0.41 | £12.64 | £3.61 | £84.00 | £4.24 | 5.12 |
| 25 | Reykjavik, Iceland | 67.94 | 0.76 | £15.29 | £7.34 | £248.00 | £4.50 | 4.95 |
| 26 | Amsterdam, The Netherlands | 26.05 | 0.82 | £14.32 | £4.83 | £255.00 | £4.26 | 4.71 |
| 27 | Stockholm, Sweden | 5.66 | 0.33 | £10.55 | £5.68 | £121.00 | £3.86 | 4.63 |
| 28 | Canberra, Australia | 10.25 | 0.37 | £13.10 | £5.69 | £141.00 | £3.01 | 4.61 |
| 29 | Dublin, Ireland | 14.94 | 0.78 | £12.64 | £4.80 | £335.00 | £3.41 | 4.32 |
| 30 | Helsinki, Finland | 7.7 | 0.35 | £10.11 | £5.90 | £125.00 | £5.88 | 4.32 |
| 31 | Jerusalem, Israel | 11.94 | 0.1 | £14.33 | £6.69 | £114.00 | £2.84 | 4.22 |
| 32 | Washington, United States | 17.53 | 0.52 | £14.42 | £5.61 | £263.00 | £4.04 | 4.03 |
| 33 | Paris, France | 7.29 | 0.2 | £12.64 | £5.48 | £208.00 | £4.26 | 3.9 |
| 34 | Copenhagen, Denmark | 9.4 | 0.29 | £15.86 | £5.66 | £199.00 | £4.58 | 3.72 |
| 35 | Bern, Switzerland | 16.52 | 0.37 | £20.44 | £5.32 | £158.00 | £5.57 | 3.68 |
| 36 | London, United Kingdom | 8.84 | 0.49 | £17.00 | £5.85 | £325.00 | £4.25 | 3.19 |
| 37 | Oslo, Norway | 8.26 | 0.11 | £16.59 | £7.68 | £195.00 | £8.82 | 2.28 |
Sources & Methodology