Independent retailers are an essential part of the fabric of a commercial economy. The U.S. Chamber of Commerce estimates that around 31.7 million small businesses are active, accounting for 99.9% of America's registered companies. Yet retail giants dominate the country's retail landscape, with the 100 largest chain stores earning a combined $2.6 trillion in sales in 2021, according to research from the National Retail Federation.
While profits soared during the Covid-19 pandemic for consumer giants such as Amazon, independent retailers struggled. A third of small businesses closed during 2020 and 2021. The Biden administration, tasked with economic recovery from the pandemic, pledged more than $400 billion of economic relief to help the country's small retailers.
So why are the independent stores so significant? Not only do you support your city's ability to fund public services, but you also support an individual's livelihood and passion. Research shows that almost half (48%) of every penny you spend in them gets redistributed into the local economy, compared with just 13% for a major chain, according to the American Independent Business Alliance.
With the post-pandemic business boom now in full swing, which of America's cities have the highest proportion of independent stores, and in which locations do chain brands dominate the commercial landscape? Merchant Machine has analysed where more than 20,000 independent stores and chain stores are located across the U.S. to find out.
How We Conducted This Study
To find out which states and cities have the highest proportion of independent retailers, we analysed Google Maps data for 175 U.S. cities. We then pulled a sample of 20,000 retail stores across clothing, shoes, hardware and department store categories.
We defined chain stores as those with more than three establishments to calculate the split of chain and independent stores by state and city.
Key Findings
Detroit (81.5%) has the highest proportion of independent stores in America.
Michigan (73.5%) is the U.S. state with the largest proportion of independent stores.
Columbia, Maryland, has 73% of its retail occupation taken up by chain stores, the most in America.
Of the 20 largest U.S. cities, Los Angeles, California (69.4%), has the highest proportion of independent stores, while chains are most abundant in San Jose, California (57.4%).
Independent Stores Thrive in Michigan and Hawaii
So where in America are independent stores thriving? With almost three-quarters (73.5%) of retail outlets in the state belonging to small businesses, Michigan has the strongest preference for the 'mom-and-pop' store — a term traditionally used for family-owned retail but expanded to include independent stores generally.
The state's governor Gretchen Whitmer is a major advocate for small businesses, endorsing the 'Support Local' campaign to encourage shoppers to support independent retailers within Michigan. A study by the Michigan Retailers Association in 2022 found that a 10% shift away from major out-of-state businesses to local stores would create 16,000 jobs and add $1.2bn to Michigan's economy.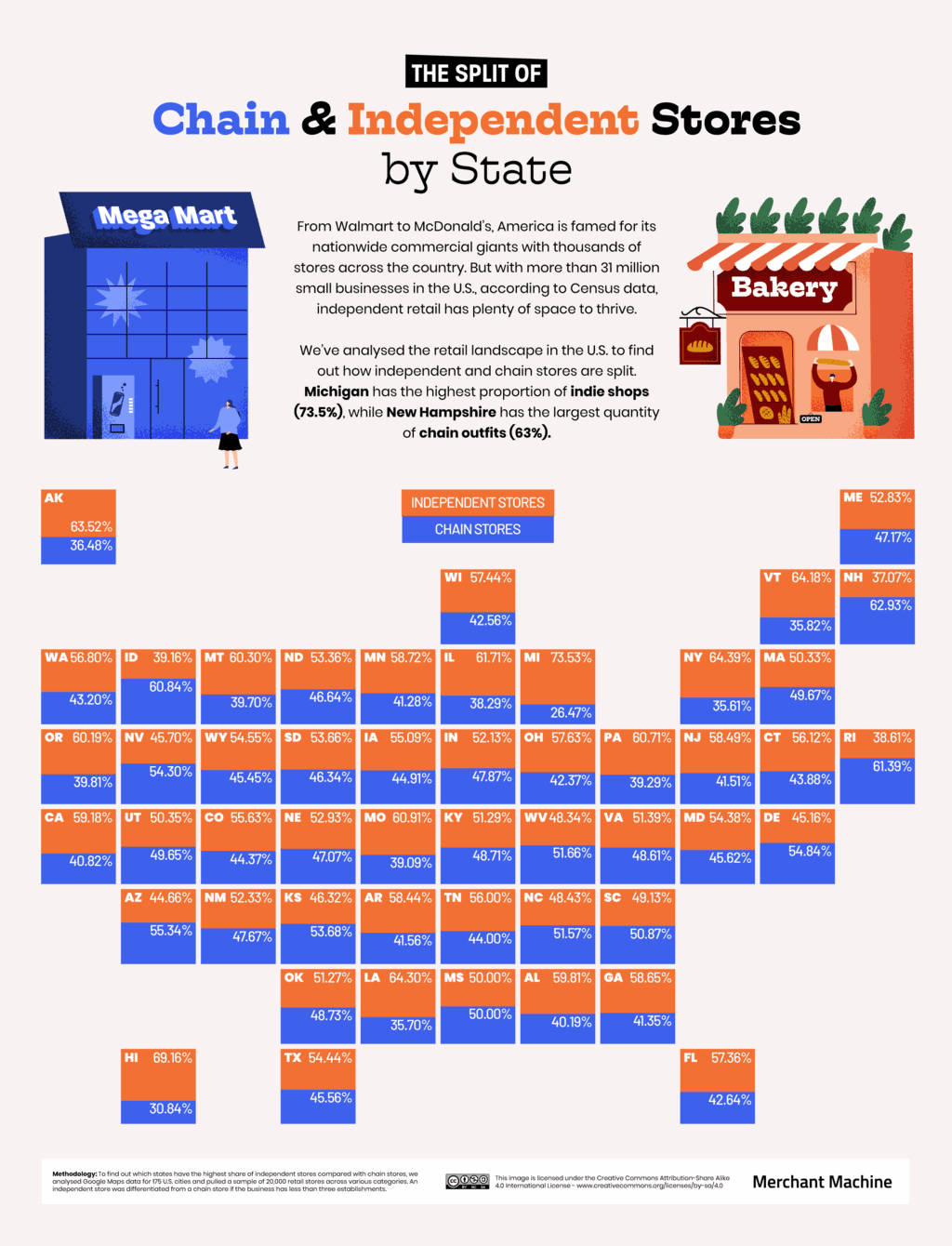 Click here to see the image in full size
Hawaii has America's second-highest proportion of independent retailers, with 69.1% of stores owned by small organisations. The Aloha State is one of the most challenging in the country to sustain a business, with the highest tax burden in the U.S. and a pandemic-induced tourism decline that feeds its economy, causing a strain on independent retail. Oahu's Chamber of Commerce responded with a $10m grant programme for small businesses on the island affected by the disruption caused by Covid-19.
81% of Detroit Retailers are Independent as Chain Stores Shun Motor City
Michigan's enthusiasm for independent retail is felt most strongly in Detroit, where 81% of stores have less than three chains — the highest proportion of any U.S. city.
The Motor City has struggled for years to attract major chain stores, with reports as far back as 2009 highlighting the city's lack of big-name grocery stores. While this creates a larger market for independent retail, it has also led to city-wide inflation on everyday items, putting further pressure  on the city's family-owned grocers.
Detroit's independent retailers struggled badly from the loss of customers during the Covid-19 pandemic, as major employers like Ford and General Motors closed offices. However, the city's Chamber of Commerce is optimistic that footfall will return in 2023 and boost the city's independent retail once again.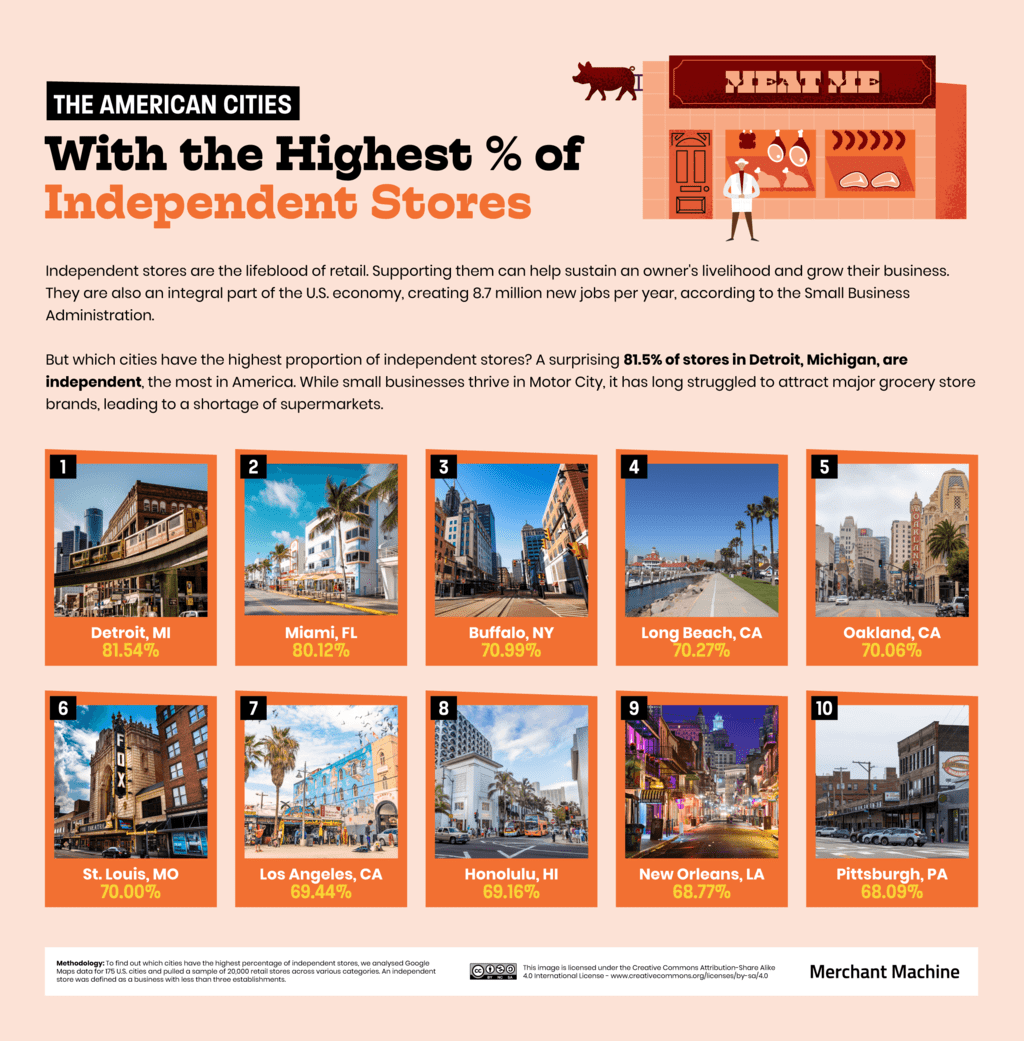 Click here to see the image in full size
Miami is another major city with a strong independent retail scene. 80.1% of its stores are small businesses, amid a trend of company establishment. Florida saw a record 637,000 new business applications in 2022, accounting for 12% of all new companies in the U.S., while establishments in Miami-Dade county jumped 27% in 2021. Miami is also one of four major metropolitan areas where demand for retail space grew in 2022, and its popular South Beach and Coral Gables districts are havens for artisan sellers.
Chain Stores Dominate Columbia, Maryland
America's largest chain retail brands need no introduction. Walmart is still king of the industry and topped the Fortune 500 rankings in 2022. Amazon, despite primarily trading as an e-commerce brand, has almost 600 stores in the U.S., consisting mostly of Whole Foods supermarkets. Dollar General is the country's most populous retailer and a staple of rural America, with more than 17,000 stores nationwide.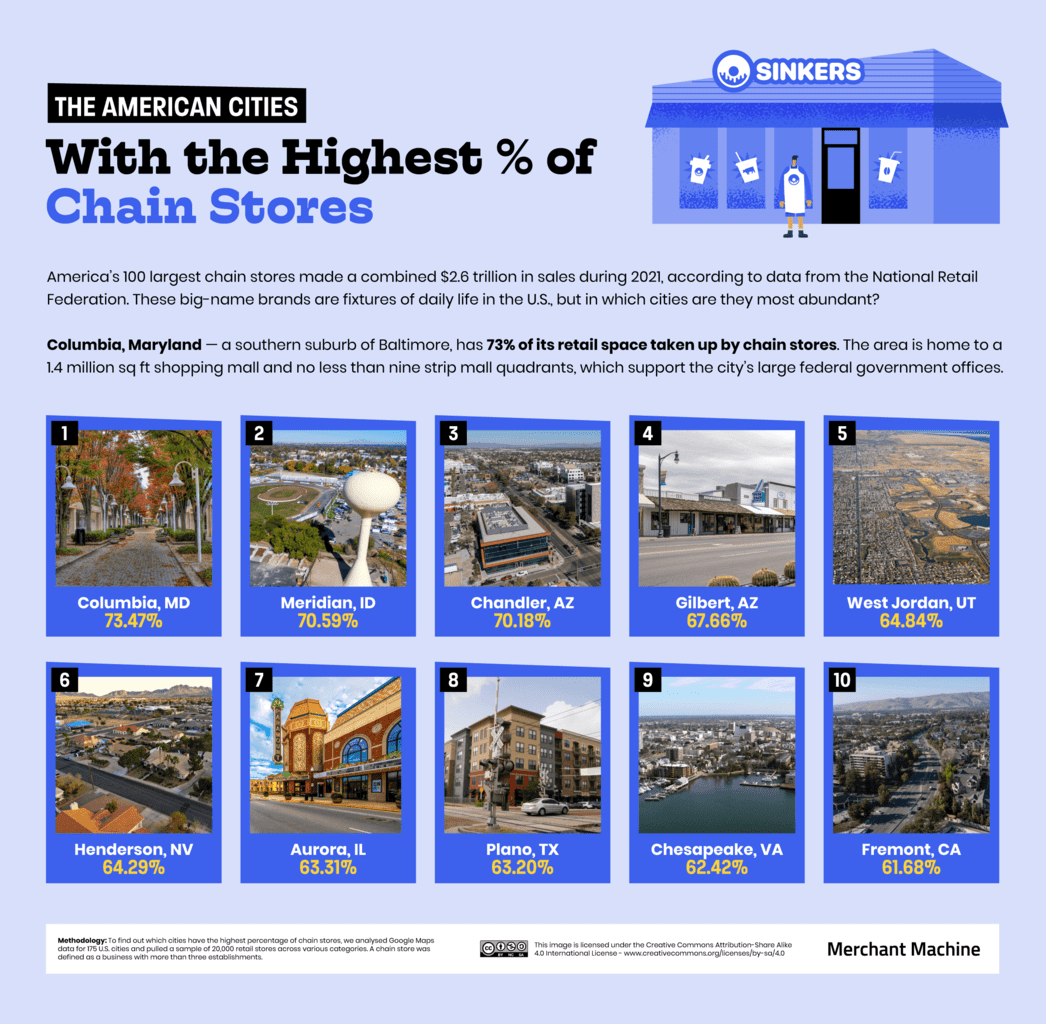 Click here to see the image in full size
When we think of big-brand stores in the U.S., we typically think of large, open-air strip malls. According to the New York Times, there were more than 65,000 of them located across the country in 2013. In our analysis of cities with the highest proportion of chain stores, Columbia, Maryland, stood out, with 73.5% of 'big-box' retail in the area.
Located 20 miles southwest of Baltimore, the city was designed as a planned community to meet housing demand in the metropolitan area in the 1950s and 1960s. Columbia boasts a 200-store shopping mall,where JC Penney, Nordstrom and Macy's are anchor brands, as well as six major strip malls, which dominate the city's retail landscape.
Independent Retail a Majority in America's Largest Cities
From New York's Fifth Avenue to Rodeo Drive in Los Angeles, some of America's largest cities are a shopper's paradise. Such is their popularity that both locations (along with Miami) are listed among the Top 30 Global Retail Cities index created by Savills. When it comes to independent stores, however, our research shows that they are in the majority in 18 of the 20 largest population centres in the U.S., with Los Angeles (69.4%) boasting the highest proportion of independent retailers.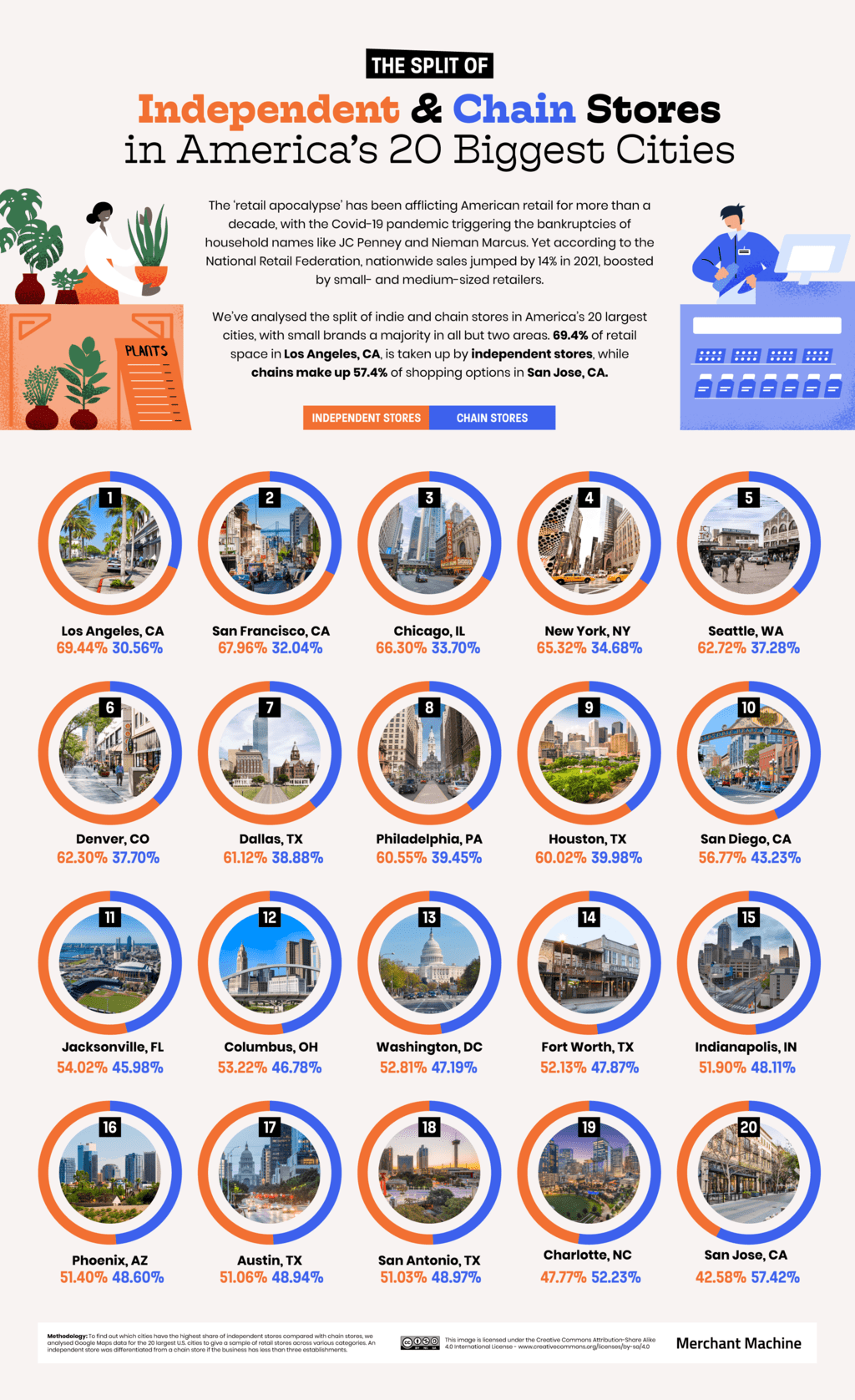 Click here to see the image in full size
The City of Angels is home to 675 mini-malls and 24 million square feet of retail space, according to a report by the Los Angeles Conservancy. The city helped to popularise 'mini-malls' during the second half of the 20th century. As car ownership surged in the 1920s and 1930s, so too did the appetite for drive-in retail. By the 1980s, Southern California had become known as the 'mini-mall capital of the world,' with shopping centres particularly thriving as a result of independent stores in the city's Asian and Latin American communities.
San Francisco also favours independent retail, with 67.9% of stores in the city belonging to small business owners. Its city planning regulations are strict on chain stores, only allowing them to establish after a public hearing and consent from city hall. Yet its retail scene is thriving, with store owners occupying 350,000 square feet of new retail space in 2021 — the most in the city for a decade. The city's trendy upscale neighbourhoods are home to San Francisco's best boutique stores, including Hayes Street, which TimeOut magazine rates as one of the world's coolest streets.
Is Independent Retail Thriving in America?
The dream of owning your own storefront is alluring for people up and down the country. According to a survey from Digital.com, two in five U.S. citizens intend to start a business in 2023. Americans across the political compass also agree that freedom of establishment is a cornerstone of society.
Census Bureau also shows that new business applications hit record highs in 2021, a direct response to the restrictions of the Covid-19 pandemic.
From the humble 'mom-and-pop' store to trendy one-off fashion boutiques, is independent retail thriving in America? You can see our full data set, including a city and state breakdown of independent vs chain stores and the proportion of stores in your area owned by small businesses.
Despite the wide-eyed ambition, the reality of self-establishment is altogether more difficult, especially following a global pandemic and economic uncertainty. Among concerns is the increasing shift towards online retail, with e-commerce in the U.S. topping $1 trillion in 2022. Covid-19 only exacerbated a growing trend of store closures and major retail bankruptcies during the 2010s, known as the 'retail apocalypse.'
Yet there are positive signs for independent retailers. An Intuit survey shows that 70% of Americans are willing to shop small to help out their local economy, and 40% are willing to reduce their reliance on retail giants like Amazon, whose profits surged during the pandemic. Independent retailers are thriving in the grocery industry, accounting for a third of the sector's total sales and 1.2% of domestic GDP, according to the National Grocers Association.
Political activism in favour of independent retail is growing, too, with the Institute of Local Self-Reliance seeking to influence Washington to support law changes to boost economic activity for small retailers against the monopoly of national giants. As Amazon and Walmart continue to battle for supremacy in domestic retail, small independent traders should not be overlooked in America's commercial story.
The Method Behind The Study
To find out which states and cities have the highest percentage of independent stores, we analysed Google Maps data for 175 U.S. cities. We then pulled a sample of 20,000 retail stores across clothing, shoes, hardware and department store categories. To calculate the split of chain and independent stores by state/city, we defined chain stores as those with more than three establishments.
To find the location of each store, we obtained sets of coordinates within the boundaries of each of the U.S. cities. Then we used Google Maps API to obtain stores that were laid out within a radius of each of these coordinates. The radius used for each city was variable and depended on the area and density of the population of the city. Additionally, we filtered stores without user reviews or permanently closed.
The data is correct as of April 2023.