Most businesses will need financial backing if they are to be successful. Investment can transform an ambitious startup idea into a viable product, allowing the company to upscale and grow. It also injects billions into national economies, improving a country's financial health. As an example,  business investment accounted for 10% of the UK's GDP in 2022.
However, attracting funding isn't easy. Fans of Dragon's Den or Shark Tank will understand that investors are usually unwilling to get their chequebooks out unless a proposal is rock solid. Venture capital (VC) — rarest of all funds, has historically been awarded to less than 1% of companies in the U.S., according to the Harvard Business Review. In 2022, global VC funding dropped by 32% amid global economic uncertainty, increasing the difficulty for aspiring entrepreneurs.
Despite this, 2021 was a record year for business funding. An increasing number of British startups are turning to incubators and business accelerators for support — which has doubled in the last five years, while funding for unicorns (startups worth over $1bn) tripled in the U.S. during 2021.
But where in the UK and U.S. are business founders most likely to secure the funding that can put their company on the path to commercial success? Merchant Machine has analysed Crunchbase data to calculate the total number and average value of funding rounds in 70 UK cities, 100 U.S. cities and every U.S. state.
Key Findings
Oxford has seen the highest average investment levels (£8.46m) and highest investment growth (+£6.5m) of any major UK city.
Businesses in Irving, Texas, saw $100m of funding in 2022, 10 times more on average than San Francisco.
Fremont, California, raised $12.3m more on average in 2022 than in 2017 — making it the fastest growing investment community in the U.S.; New York second with $9.5m growth.
New York ($10.2m) and California ($7.9m) saw the highest average investments in the U.S. in 2022.
Nine states, including Virginia and Minnesota, saw a decline in average funding rounds between 2017 and 2022.
Large Investments in the UK — Oxford Boasts UK's Highest Average Funding
Despite Britain's exit from the European Union still weighing on its economy, the UK retains a stellar investment community and is considered to be one of the ten best countries in the world to do business in. However, the UK has an unbalanced economy, with the overwhelming majority of funding concentrated in London and the South East. A 2023 report by IPPR North found that the North of England receives among the lowest investment levels of any advanced economy in the world. However, when it comes to large-scale funding rounds, where in the UK are investors most likely to spend?
Our research shows that in 2022, Oxford attracted the highest median fund sizes of anywhere in the UK — with businesses in receipt of £8.46m per round on average. This figure is nearly double that of its university rival Cambridge (£4.35m). Both Oxford and Cambridge universities have established successful startup incubators which support aspiring entrepreneurs during their studies and increase their chances of attracting funding for their ideas.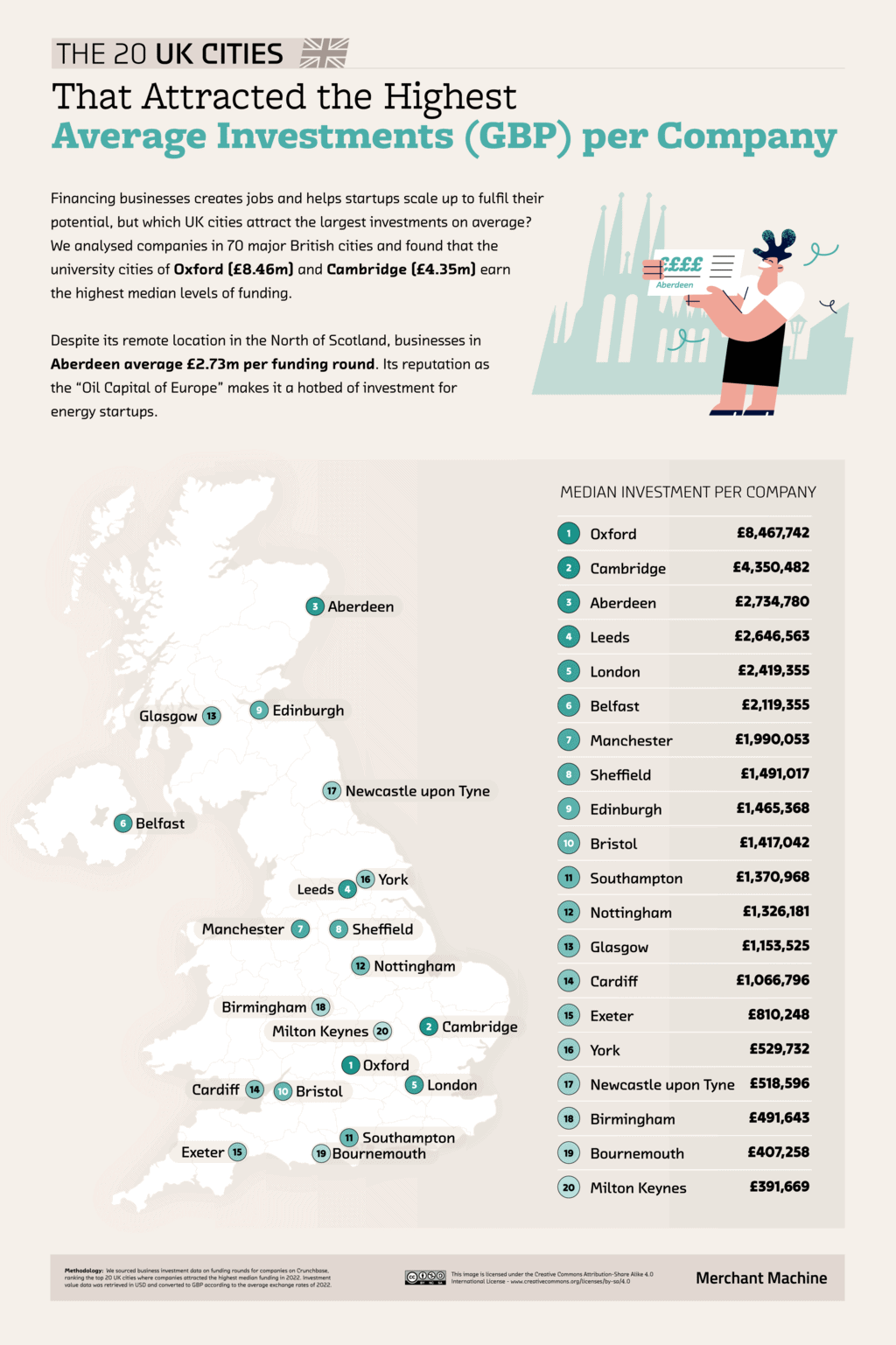 Click here to see the image in full size
Away from 'Oxbridge,' Aberdeen attracted the UK's third-highest fund averages in 2022, with a median of £2.73m going to businesses in the area. Scotland's third-largest city is considered to be a major investment hub for energy and life science businesses, thanks to its proximity to the North Sea and Scotland's major oil rig infrastructure. The city also attracted a £400m investment in its harbour, making it the largest shipping port in Scotland.
London Attracts 75% of Investment for Businesses in Britain's Major Cities
When it comes to overall investment, London still dominates, accounting for three-quarters of funding rounds in the country's 20 largest cities. According to Dealroom, an impressive $19.8bn worth of VC funding was raised in the capital in 2022, despite unfavourable economic conditions. Its reputation as a hub for financial and tech startups means that it continues to stand out to investors as a world-leading investment hub, and deals included an £820m sum towards payments firm Checkouts.com, making it Britain's most valuable fintech business.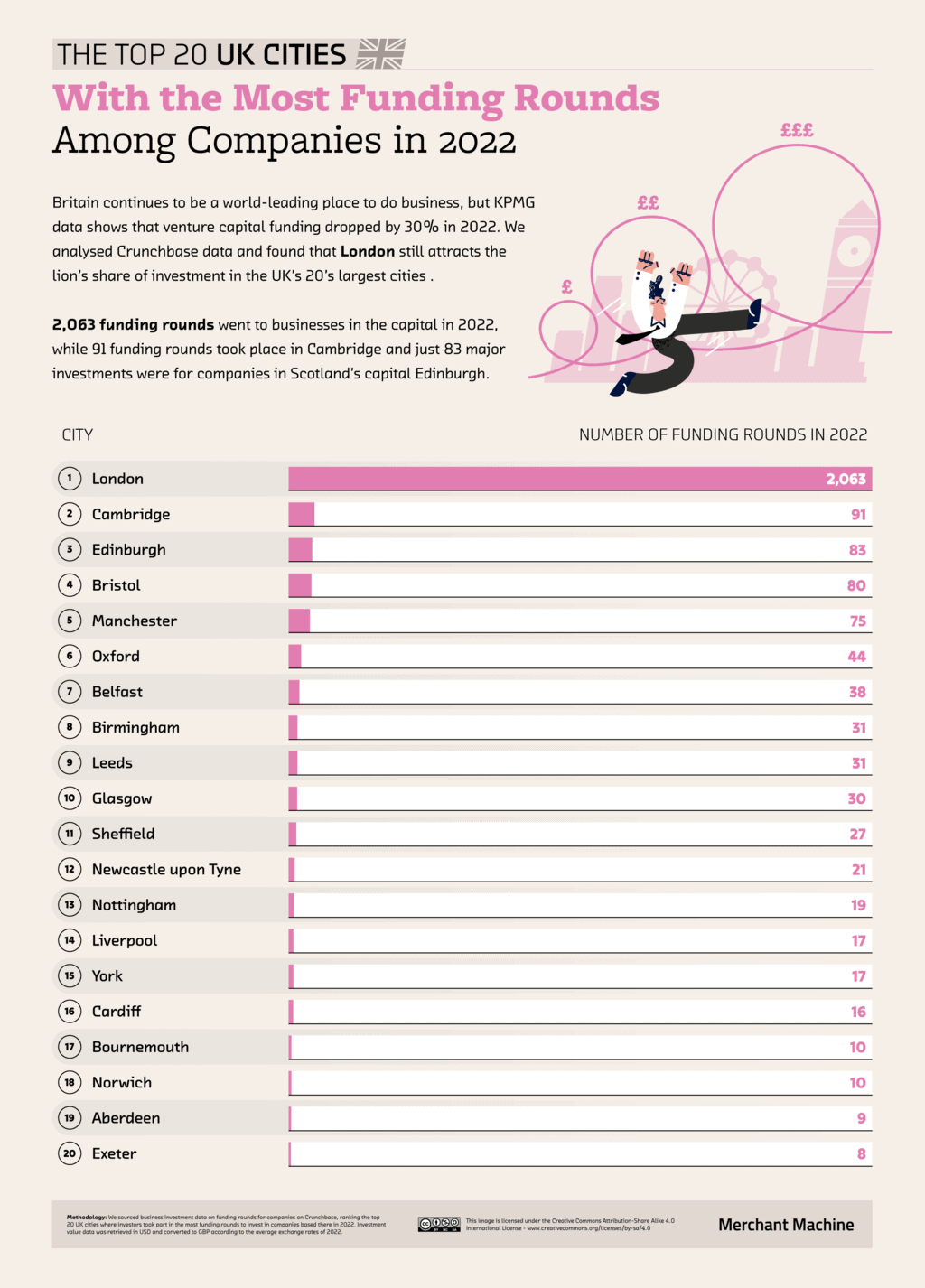 Click here to see the image in full size
Despite firms in Manchester raising a record £532m worth of funding in 2022, our research shows that just 75 large investments took place in the city. £110m went towards electric vehicle charging infrastructure provider Be.EV, which was backed by Octopus Energy to install more than 1,000 plugs across the North of England. While Manchester's business boom is a success story for the UK's economy, advocacy group Northern Powerhouse Partnership argues that improved transport connectivity and investment in skills training across Northern England could help close the gap between it and the south.
Business Funding in Oxford Grew By £6.5m in Five Years
Oxford's major investments in 2022 also make it the fastest-growing city in the UK for funding rounds. Businesses there raise £6.5m more on average than they did more than 2017, showing that it continues to attract world-leading investment for business in the area. In 2021, Oxford itself attracted more VC funding than any region of the UK, thanks to large-scale investment in drug research and biotech firms linked with the Covid-19 vaccine.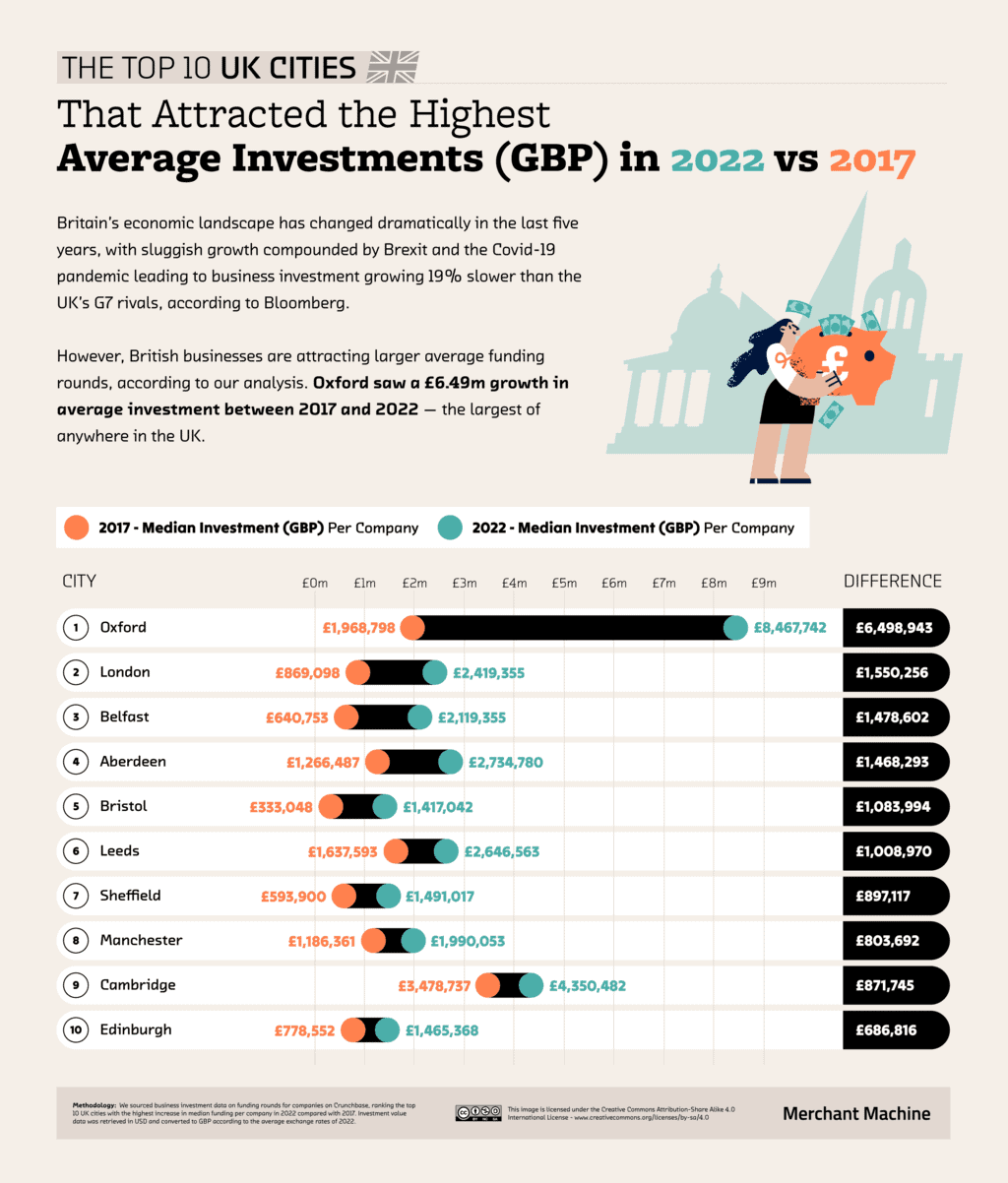 Click here to see the image in full size
Large Investments in the U.S. — Businesses in Irving, TX, Averaged $100m Funding in 2022
Our research shows that Irving, Texas — a city within the Dallas-Fort Worth metropolitan area, attracted $100m, more than five times the level of average investment of any other U.S. city in 2022. This surprisingly high total is partly due to a $7.5bn investment by chemical giant Celanese in rival DuPont's materials business, which was approved by the Securities and Exchange Commission in July 2022. Irving is home to no less than eight Fortune 500 companies, including McKesson and ExxonMobil.
Click here to see the image in full size
The U.S. recovered faster from the economic turmoil of the Covid-19 pandemic than any other G7 nation, and 2021 was a record year for business investment, with the National Venture Capital Association reporting $329.9bn in VC funding across the country's ecosystem throughout the year. Despite a funding slowdown in 2022 as balance was restored to the economic landscape, the U.S. still remains the go-to destination for major business investments.
NYC Attracts Double the Investment of SF Despite Twitter Deal
Overall, New York City attracted the most funding rounds of any U.S. city, with 4,078 deals in 2022. The Big Apple saw double the level of backing of San Francisco, which had 1,844 investments in 2022. One of the city's major deals involved a $1.5bn partnership between Sumitomo Mitsui Trust Holdings — one of Asia's largest asset management firms, and Manhattan-based Apollo Management in July 2022. New York's reputation as a global business hub makes it one of the most desirable cities in the world to do business, and its metropolitan economy would rank 10th largest globally if it were a country in its own right.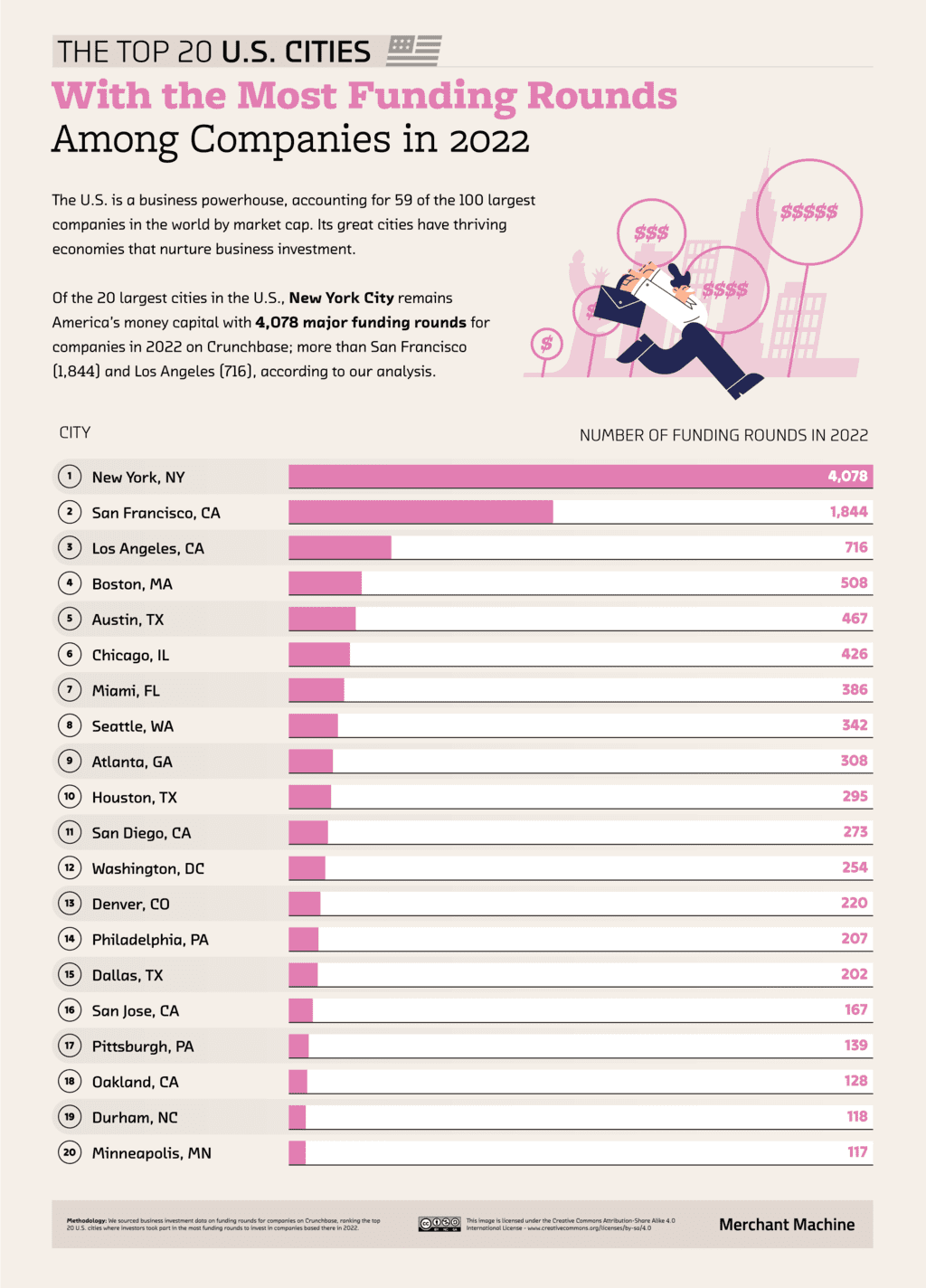 Click here to see the image in full size
Although half as many deals were closed in San Francisco, the Bay Area remains the top destination for tech and innovation investment. In 2022, Elon Musk made headlines following a $7bn investment in San Francisco-based Twitter, which was the city's most lucrative business deal, according to Crunchbase. The takeover was backed by a litany of high-profile investors, including Larry Ellison, Prince al-Waleed bin Talal of Saudi Arabia and VC firms Sequoia Capital and Andreessen Horowitz.
Fremont, CA, is America's Fastest-Growing Investment Hub
Silicon Valley's reputation for rapid growth shows in our research, as three of the four fastest-growing cities in the U.S. for business investment are located within the Bay Area. Surprisingly, Fremont leads the way, with funds $12.3m larger on average in 2022 than they were in 2017. The city has long been associated with the rise of the Bay Area's tech economy, and it was home to Apple's first Macintosh factory until its closure in 1993.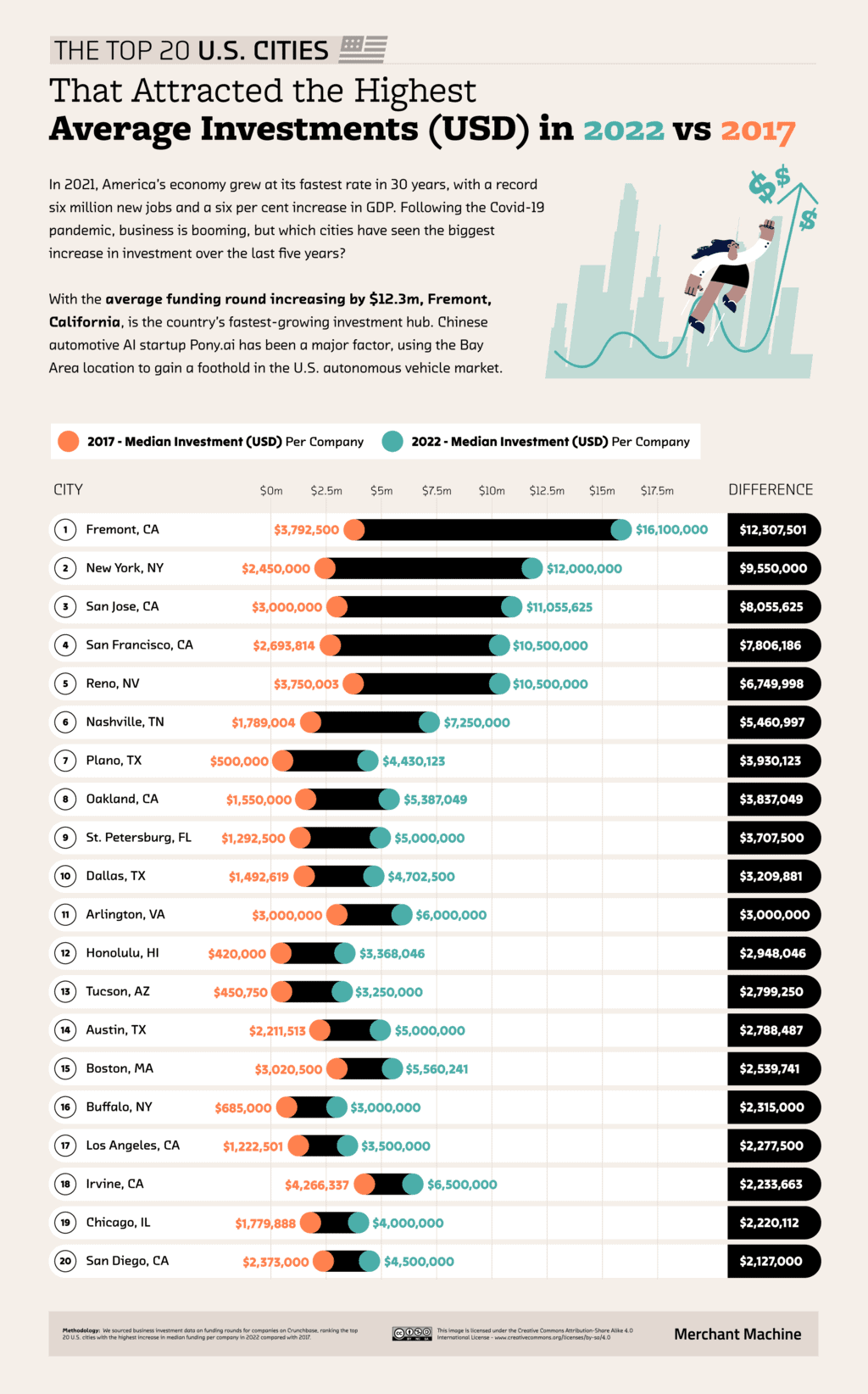 Click here to see the image in full size
More recently, the city has attracted major startups. Online grocery platform Weee! raised $862m through various funding rounds, including a $425m deal in February 2022. Chinese autonomous vehicle manufacturer Pony.ai used Fremont for its U.S. headquarters and was valued at $8.5bn in 2022 with the backing of Toyota and other major investors. Elon Musk also attracted headlines with investment towards his Fremont-based brain chip startup Neuralink, which has raised over $200m to date.
Large Investments in U.S. States — California and New York in Investment League of Their Own
With the predominance of Silicon Valley and Manhattan in U.S. investments, it is a small wonder that California and New York stand out in the rankings when we look at funding rounds by state. However, startups across America found it more of a challenge to attract the same level of investment in 2022 as they did in 2021, with Crunchbase reporting a 63% decline in funding in Q4 of 2022 compared with the previous year.
While New York ($10.2m) and California ($7.9m) attracted the highest median levels of investments in 2022, Massachusetts ($6.9m) was the only other U.S. state where funding round sizes averaged above $5m. Its state capital Boston has traditionally been a major hub for investors, as it benefits from the city's concentration of leading universities — Harvard, MIT, Tufts, etc., VC firms raised $21bn in the city in 2022, investing primarily in the city's specialisms of cybersecurity and life sciences.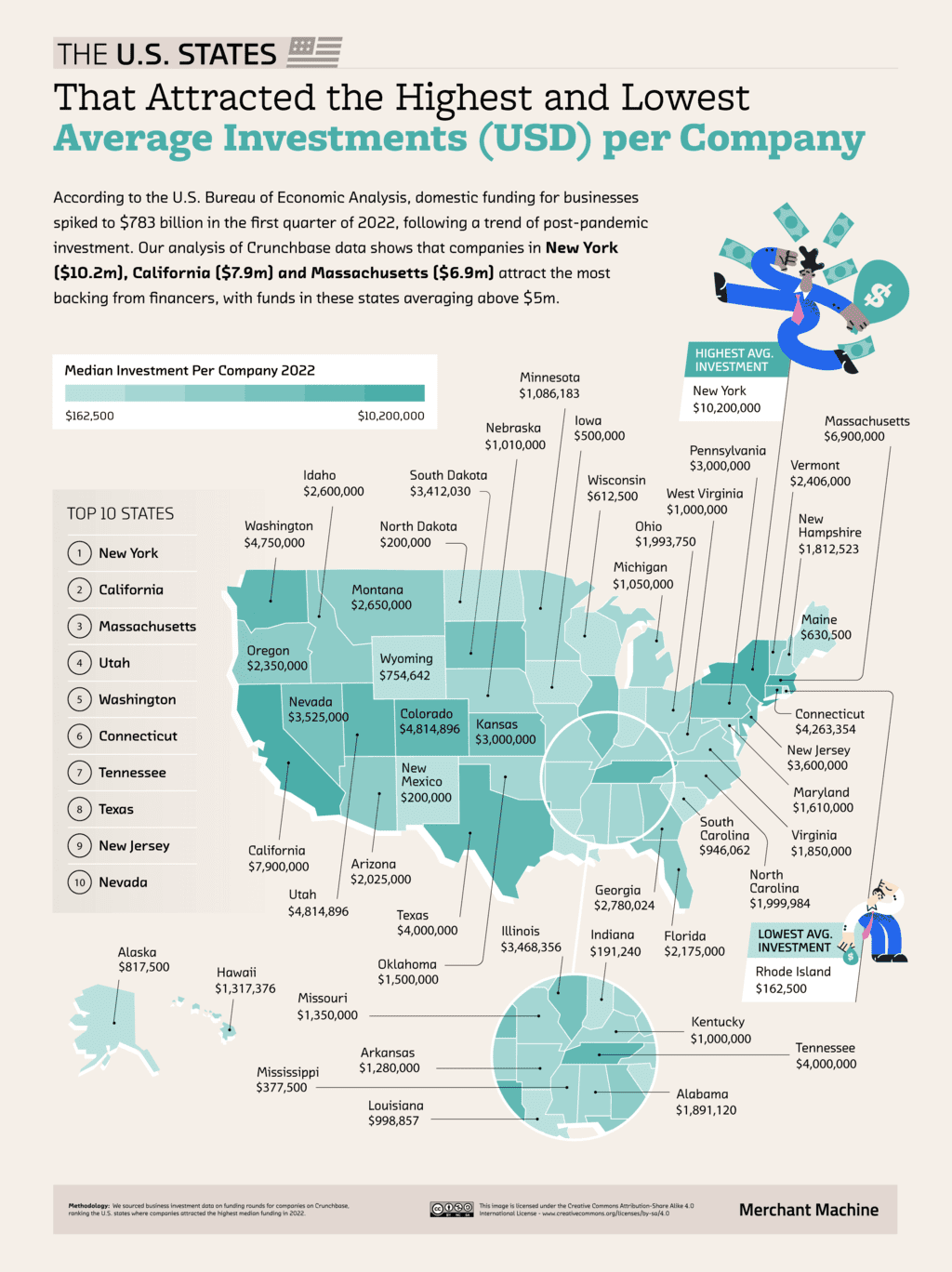 Click here to see the image in full size
Utah averaged the fifth-highest funding levels in the U.S., in part due to the growth of Kickstart Fund — a Utah-based VC firm that invests in promising startups in the state. Deals in the state doubled to $3.4bn in 2021 thanks to favourable investment conditions, and in 2022, fitness startup iFIT raised $355m from private equity firm L Catterton — the largest deal for a Utah business that year.
Domestic Migration Helps Texas and Florida Businesses Compete with NY, Silicon Valley
In terms of overall investments, California saw slightly more deals finalised (5,800) than New York in 2022 (5,268). Placing third is Texas, where 1,330 investments were made to companies in the state, coinciding with Austin's booming growth as a startup hub which saw $4.9bn worth of funding from VCs in the city in 2022. According to Crunchbase, investments in the Lone Star state rose 83% from 2020 to 2021, with an influx of high-earning California natives boosting the talent pool.
Only two other U.S. states saw over 1,000 funding rounds closed on local businesses in the same period Massachusetts (1,315) and Florida (1,004).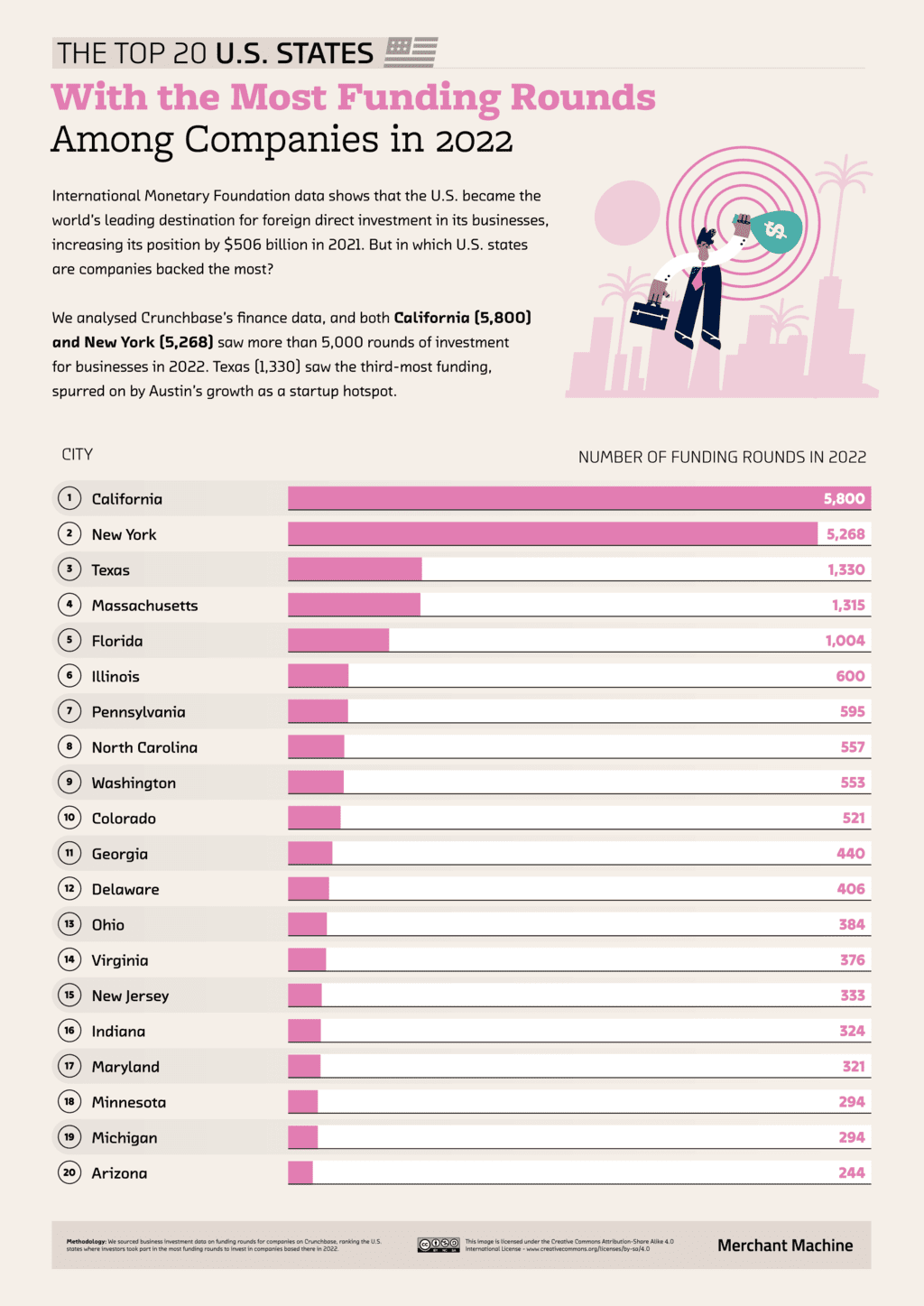 Click here to see the image in full size
Nine U.S. States See Funding Rounds Drop in Five-Year Span
Though business investment has grown overall in America since 2020, our research shows that average funding in nine U.S. states has declined in the last five years, with North Dakota (-$1.3m) the worst affected. 98% of businesses in the state are small businesses, and they have felt the long-term economic effects of the Covid-19 pandemic. North Dakota has also been impacted by labour shortages that have damaged the state's oil and agricultural industries.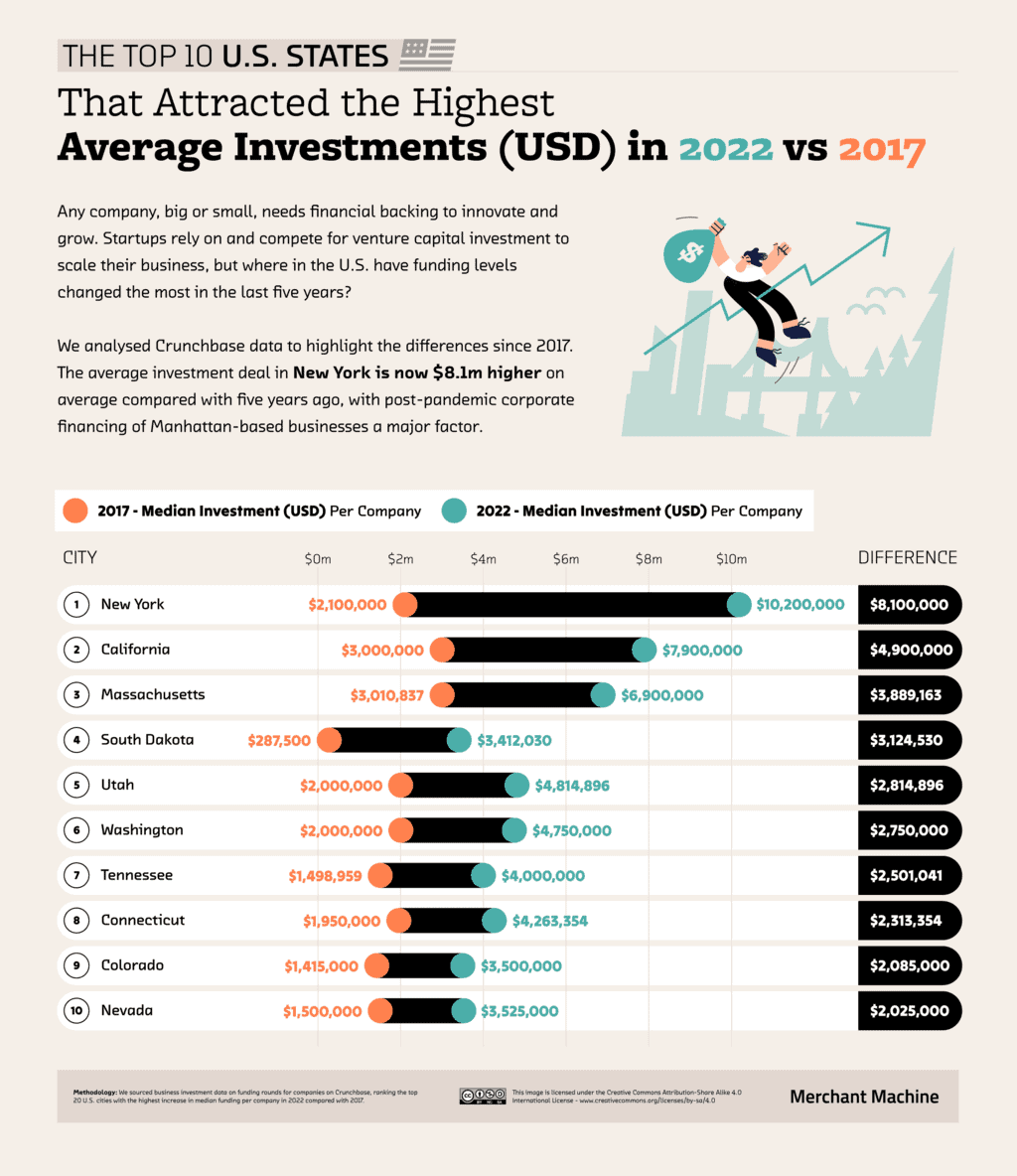 Click here to see the image in full size
By contrast, South Dakota's investment scene is booming, with our data revealing it to be the fourth-fastest growing state for funding rounds in the country. $3.12m more on average per year is going towards businesses there than 2017. One major factor is the growth of natural gas giant Black Hills, which supplies gas and electricity in South Dakota and neighbouring states. It announced in 2022 that capital investment would rise from $250m to $3.5bn following strong financials in 2021.
Major UK and U.S. Investment Hubs Attract Largest Funds, But New Ecosystems Emerge Post-Pandemic
Creating your own business is challenging, but it is a growing trend in our post-pandemic world. Five million new startups burst onto the scene in the U.S. in 2022, along with 810,000 in the UK — an increase of around 20% in both cases in the previous year. Getting your company backed by large-scale financial investment is a different story.
According to Tom Eisenmann, a professor of Business Administration at Harvard Business School, two-thirds of startups fail to deliver a positive return to investors. Despite record spending in 2021, VC investors are sitting on a $290bn 'dry powder' fund, just waiting to throw at the next future unicorn business. Yet founders are continuing to face resistance from an increasingly risk-averse investment sector.
However, our research shows that major cities in the UK and U.S. are flush with funding in spite of the economic upheaval of Covid-19, and emerging startup hubs like Fremont, California and Austin, Texas, are emerging to bolster funding activity. On top of this, the long-established investment hubs of London, New York and the Bay Area continue to attract billions for promising startups. University cities, including Oxford and Cambridge in the UK and Boston, MA, and San Francisco, CA, in the U.S. also perform strongly.
There is no recipe for success when it comes to making it as a successful entrepreneur, but nothing will get you there faster than major backing from a private equity or a venture capital firm.
The Method Behind The Study
We sourced business investment data on funding rounds for companies in 70 UK cities, 100 U.S. cities and every U.S. state from Crunchbase, ranking each location on the following metrics:
The highest median value of funds raised per company in 2022
The highest number of funding rounds where companies successfully raised funds from investors during 2022
The highest difference in median funds raised per company in 2017 vs 2022
For each ranking, we only included UK cities in our final sample, where five or more companies headquartered there were invested in during 2022. We only included U.S. cities in our final sample where 10 or more companies headquartered there were invested in during 2022.
Investment value data was retrieved in USD and converted to GBP according to the average exchange rates of 2022 and 2017.
All data was collected in February 2022.