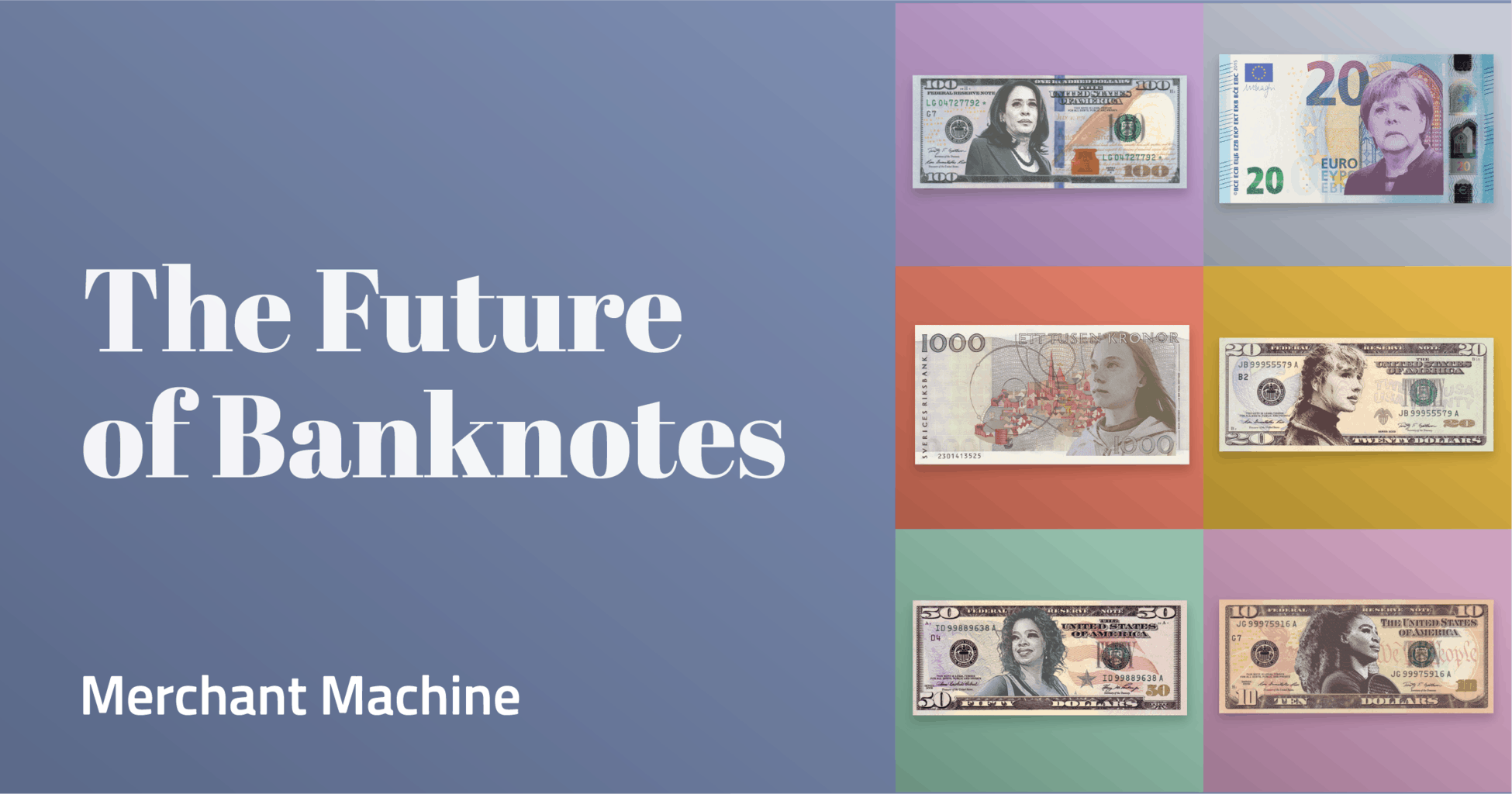 Merchant Machine analysed the top legal tender currencies around the world and propose six of today's most influential women to replace them and create equal banknotes for the future.
Merchant Machine analysed the top legal tender currencies around the world and found that 88% of the world's banknotes feature men over women. This figure then rises to 91% when we exclude the monarch, Queen Elizabeth.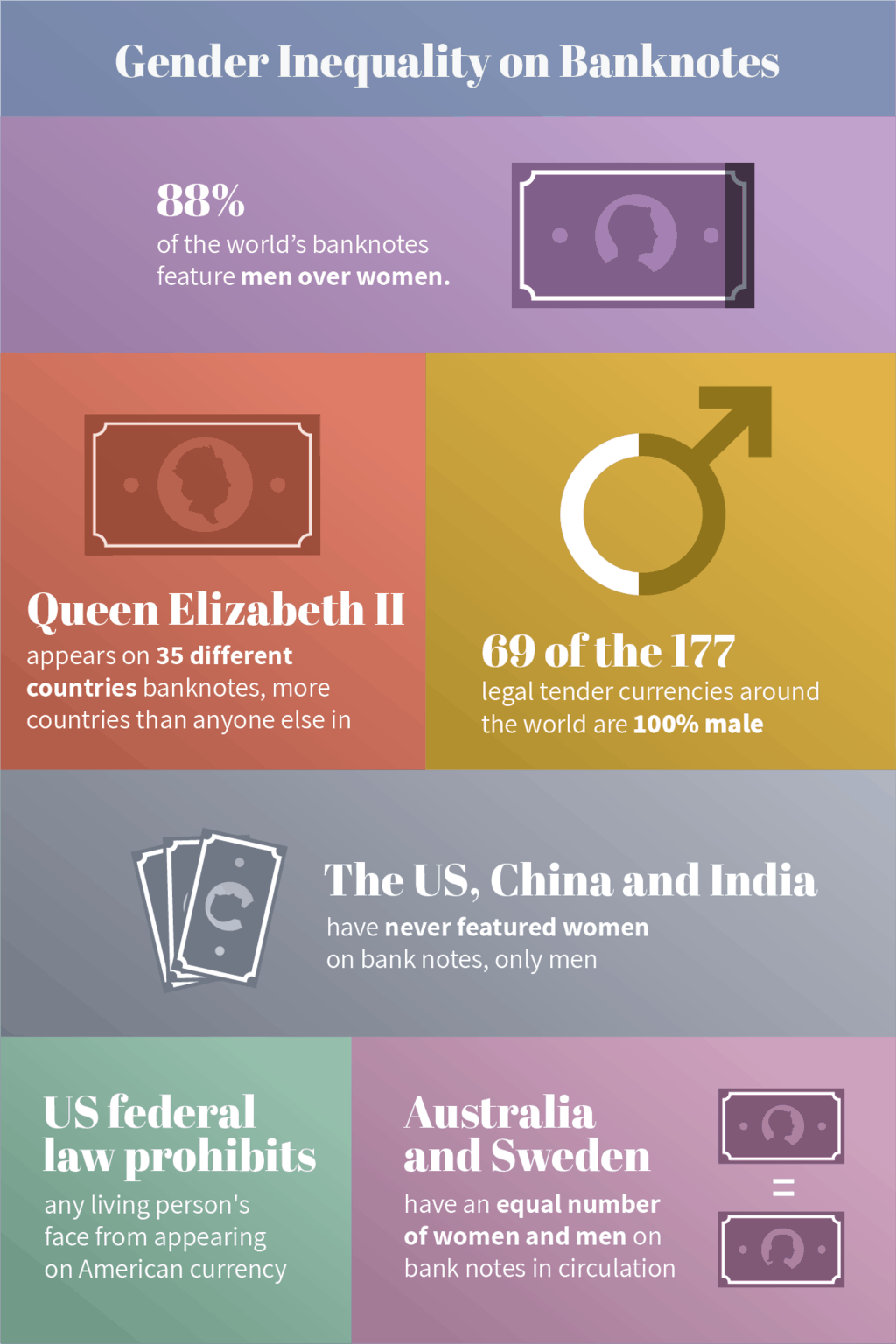 Did you know that…
69 of the 177 legal tender currencies around the world are 100% male

The Danish krone, Swedish krona, and Australian dollar are the only currencies with an equal number of women and men on banknotes

The US dollar, Chinese yuan, and Indian rupee have never featured women on banknotes, only men

Queen Elizabeth II appears on 35 different countries banknotes, more countries than anyone else in history
To counteract this gender disparity, we showcase six of the most influential women of 2020 who we feel are deserving to adorn the future series of banknotes. From leading us through the Covid-19 pandemic, fighting for climate change, dominating the music and athletic spaces and revolutionising the political landscapes, these are the women making modern history.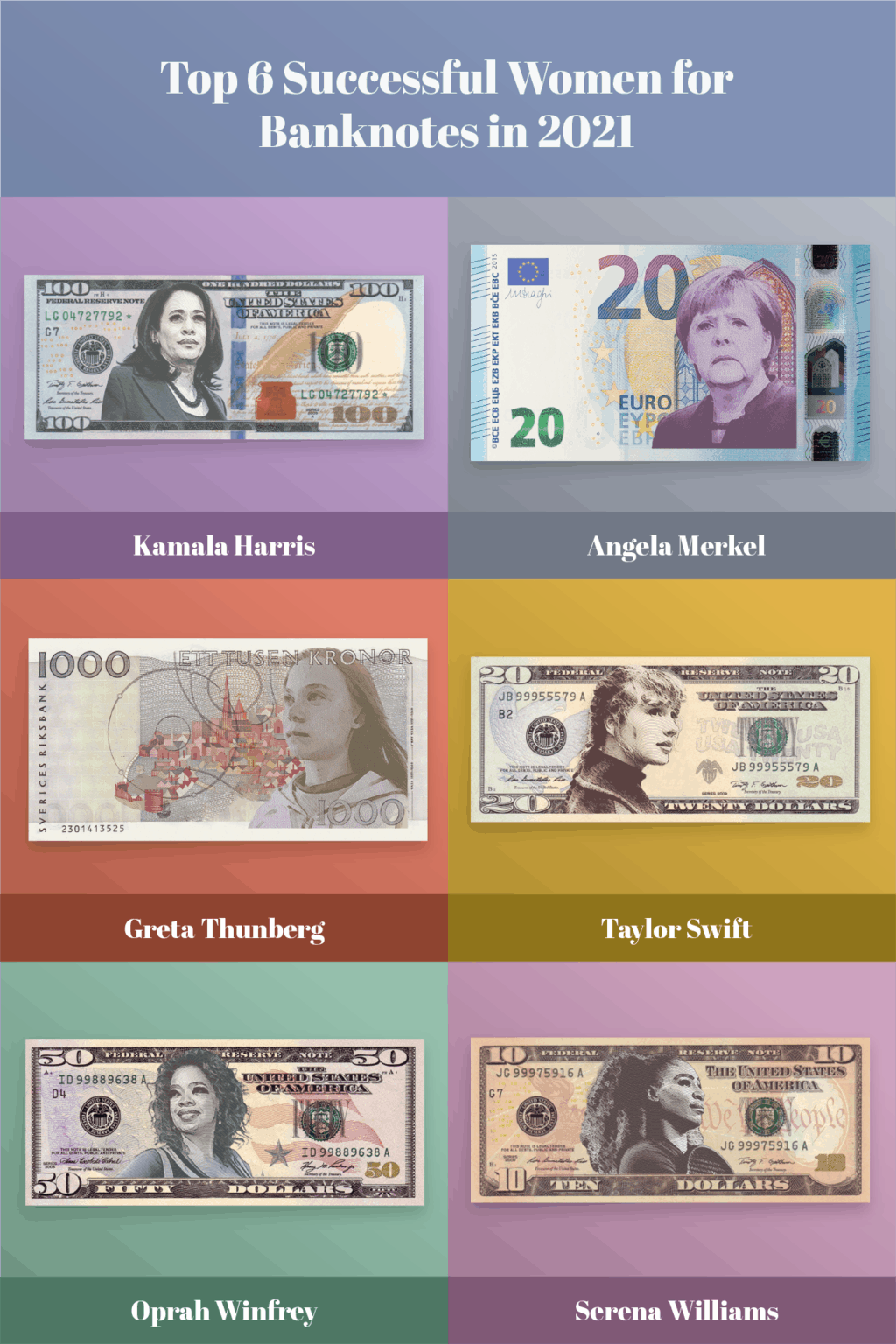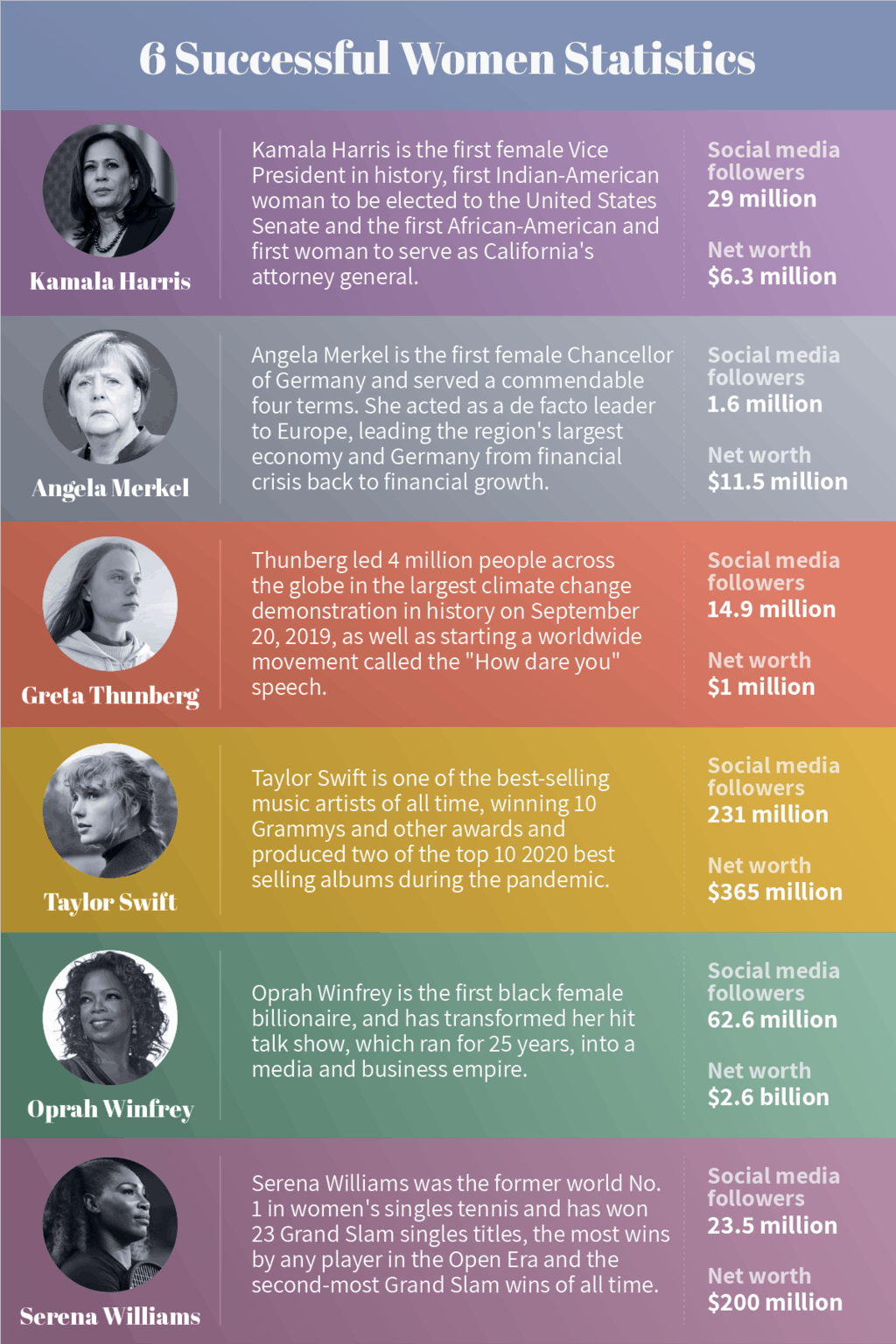 Kamala Harris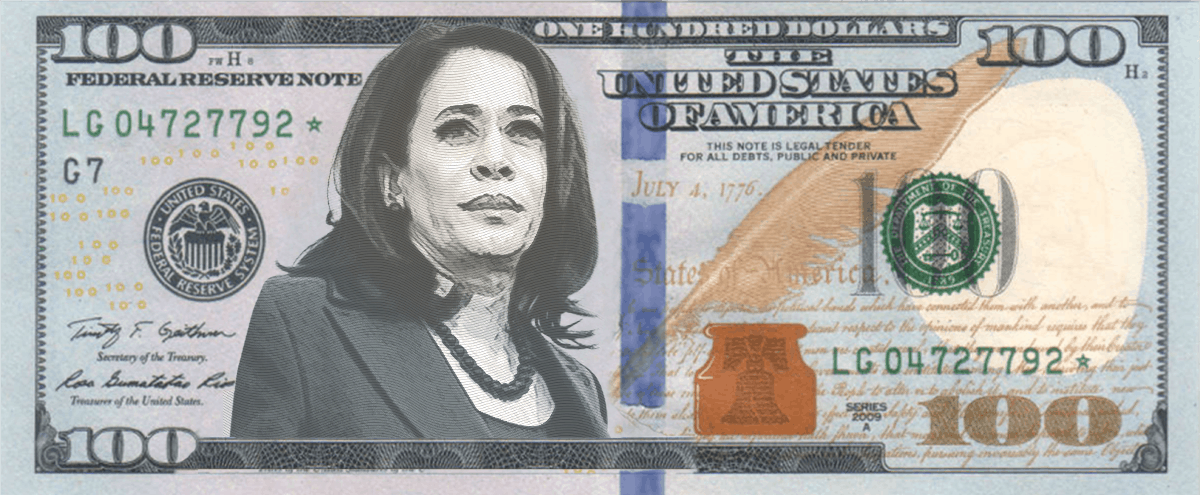 Net Worth: $6,300,000.00
Kamala Harris is the first female Vice President in history, first Indian-American woman to be elected to the United States Senate and the first African-American and first woman to serve as California's attorney general.
Angela Merkel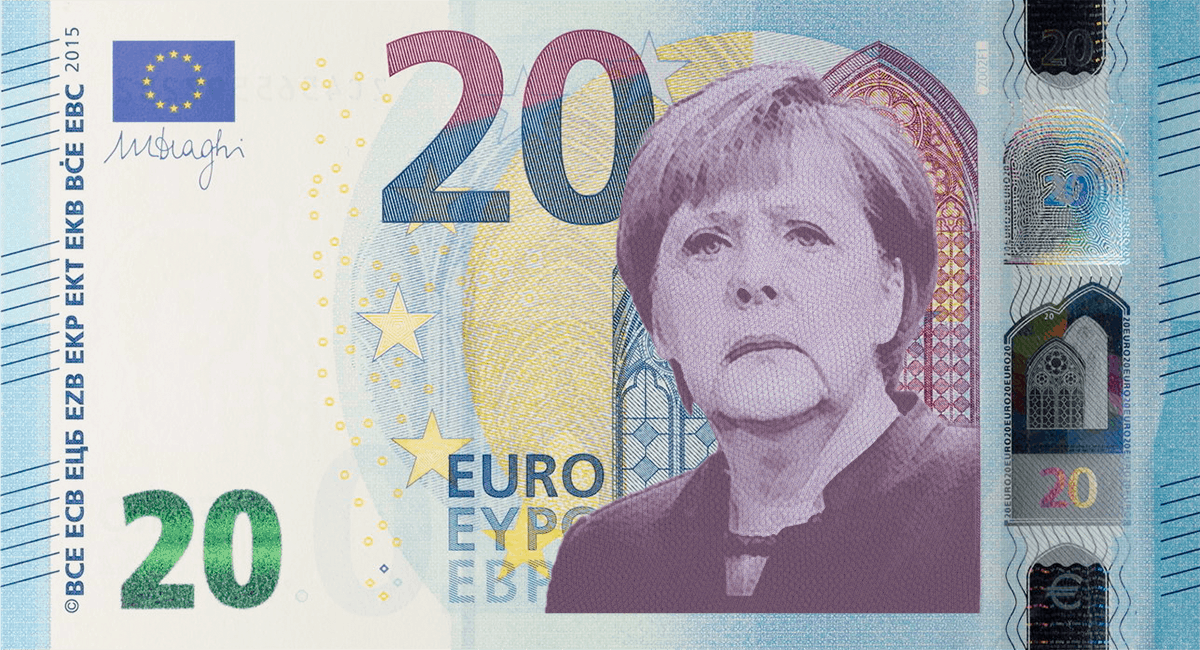 Net Worth:  $11,500,000.00
Angela Merkel is the first female Chancellor of Germany and served a commendable 4 terms. She acted as a de facto leader to Europe, leading the region's largest economy and Germany from financial crisis back to financial growth.
Greta Thunberg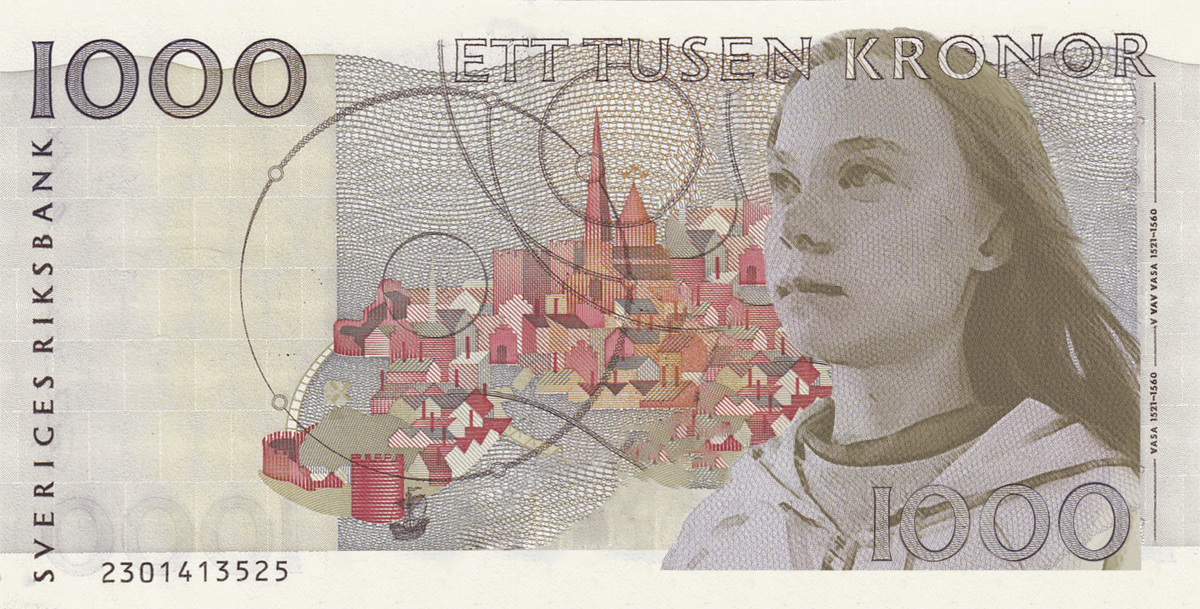 Net Worth: $1,000,000.00
Thunberg is internationally renowned for challenging world leaders to take action against climate change. She led 4 million people across the globe in the largest climate change demonstration in history on September 20, 2019, as well as starting a worldwide movement called the "How dare you" speech. 
Taylor Swift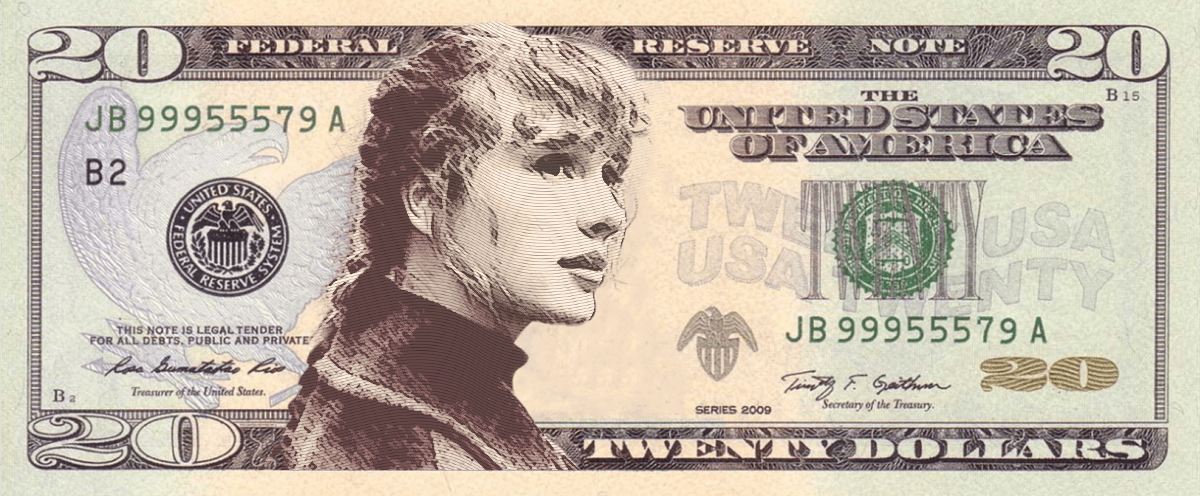 Net Worth: $365,000,000.00
Taylor Swift is one of the best-selling music artists of all time, winning 10 Grammys and other awards and produced two of the top 10 2020 best selling albums during the pandemic. She is also a key pioneer of LGBT rights. 
Oprah Winfrey
Net Worth: $2,600,000,000.00
Oprah Winfrey is the first black female billionaire and has transformed her hit talk show, which ran for 25 years, into a media and business empire.
Serena Williams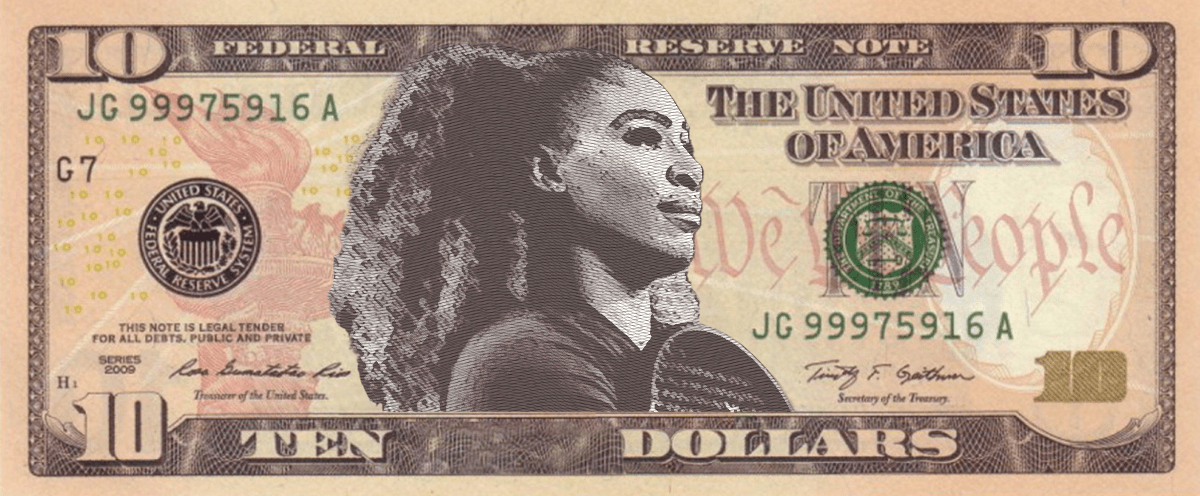 Net Worth: $200,000,000.00
Serena Williams was the former world No. 1 in women's singles tennis and has won 23 Grand Slam singles titles, the most wins by any player in the Open Era and the second-most grand slam wins of all time.
Person
Gender
Country originated from
Currency they're on
Note (e.g. $50/ $20)
Years of Circulation
Currently in Circulation
Notable achievement (that put them on the note)
Years of Birth/Death
Age/ Dead or alive?
Elizabeth II
Female
Australia
Australian Dollar
$5
1992
Yes
Queen of Australia (1952-)
1926-
Alive
Elizabeth II
Female
Australia
Australian Dollar
$1
1966–1984
No
Queen of Australia (1952-)
1926-
Alive
Ian Clunies Ross
Male
Australia
Australian Dollar
$50
1973–1995
No
Scientist; leader in veterinary medicine
1899–1959
Dead
Howard Florey
Male
Australia
Australian Dollar
$50
1973–1995
No
Nobel Prize winner for work with penicillin (1945)
1898–1968
Dead
Charles Kingsford Smith
Male
Australia
Australian Dollar
$20
1966–1994
No
Aviator; first to fly across the Pacific in 1928
1897–1935
Dead
Douglas Mawson
Male
Australia
Australian Dollar
$100
1984–1996
No
Antarctic explorer and geologist
1882–1958
Dead
John Flynn
Male
Australia
Australian Dollar
$20
1994
Yes
Founder of the Royal Flying Doctor Service (1928)
1880–1951
Dead
David Unaipon
Male
Australia
Australian Dollar
$50
1995
Yes
Inventor and writer
1872–1967
Dead
Henry Lawson
Male
Australia
Australian Dollar
$10
1966–1993
No
Poet and novelist
1867–1922
Dead
Mary Gilmore
Female
Australia
Australian Dollar
$10
1993
Yes
poet and journalist
1865–1962
Dead
John Monash
Male
Australia
Australian Dollar
$100
1996
Yes
General during World War I
1865–1931
Dead
Andrew Barton "Banjo" Paterson
Male
Australia
Australian Dollar
$10
1993
Yes
Poet; author of "Waltzing Matilda" (1895) and "The Man from Snowy River" (1890)
1864–1941
Dead
Edith Cowan
Female
Australia
Australian Dollar
$50
1995
Yes
Suffragette; the first woman elected to the Parliament of Australia (1920–1924)
1861–1932
Dead
Nellie Melba
Female
Australia
Australian Dollar
$100
1996
Yes
International opera soprano (1886–1926)
1861–1931
Dead
Lawrence Hargrave
Male
Australia
Australian Dollar
$20
1966–1994
No
Inventor aeronautical pioneer; invented the box kite (1893)
1850–1915
Dead
William Farrer
Male
Australia
Australian Dollar
$2
1966–1988
No
Leading agronomist and wheat breeder
1845–1906
Dead
John Tebbutt
Male
Australia
Australian Dollar
$100
1984–1996
No
Astronomer; discoverer of the "Great Comet of 1861"
1834–1916
Dead
Catherine Helen Spence
Female
Australia
Australian Dollar
$5
2001
Yes
Politician, journalist and suffragette
1825–1910
Dead
Henry Parkes
Male
Australia
Australian Dollar
$5
2001
Yes
The Father of the Federation
1815–1896
Dead
Caroline Chisholm
Female
Australia
Australian Dollar
$5
1967–1992
No
Humanitarian for women's immigrant welfare
1808–1877
Dead
Mary Reibey
Female
Australia
Australian Dollar
$20
1994
Yes
Businesswoman
1777–1855
Dead
John Macarthur
Male
Australia
Australian Dollar
$2
1966–1988
No
Pioneer of the Australian wool industry
1766–1834
Dead
Joseph Banks
Male
Australia
Australian Dollar
$5
1967–1992
No
English botonist; introduced eucalyptus to the West
1743–1820
Dead
Elizabeth II*?
Female
Canada
Canadian Dollar
$20
2012
Yes
Queen of Canada (1952)
1926-
Alive
Elizabeth II
Female
Canada
Canadian Dollar
$1
1954–1974
No
Queen of Canada (1952-)
1926-
Alive
Elizabeth II
Female
Canada
Canadian Dollar
$2
1954–1975
No
Queen of Canada (1952-)
1926-
Alive
Elizabeth II
Female
Canada
Canadian Dollar
$2
1986–1996
No
Queen of Canada (1952-)
1926-
Alive
Elizabeth II
Female
Canada
Canadian Dollar
$5
1954–1972
No
Queen of Canada (1952-)
1926-
Alive
Elizabeth II
Female
Canada
Canadian Dollar
$10
1954–1971
No
Queen of Canada (1952-)
1926-
Alive
Elizabeth II
Female
Canada
Canadian Dollar
$20
1954–1969
No
Queen of Canada (1952-)
1926-
Alive
Elizabeth II
Female
Canada
Canadian Dollar
$20
1969–1993
No
Queen of Canada (1952-)
1926-
Alive
Elizabeth II
Female
Canada
Canadian Dollar
$20
1993–2004
No
Queen of Canada (1952-)
1926-
Alive
Elizabeth II
Female
Canada
Canadian Dollar
$50
1954–1975
No
Queen of Canada (1952-)
1926-
Alive
Elizabeth II
Female
Canada
Canadian Dollar
$100
1954–1976
No
Queen of Canada (1952-)
1926-
Alive
Elizabeth II
Female
Canada
Canadian Dollar
$1,000
1954–1992
No
Queen of Canada (1952-)
1926-
Alive
Elizabeth II
Female
Canada
Canadian Dollar
$1,000
1992–2000
No
Queen of Canada (1952-)
1926-
Alive
Elizabeth
Male
Canada
Canadian Dollar
$20
1935–1937
No
Princess of York (1936–1952)
1926-
Alive
Viola Desmond
Female
Canada
Canadian Dollar
$10
2018
Yes
Challenging racial segregation at a cinema in New Glasgow, Nova Scotia in 1946
1914-1965
Dead
Henry
Male
Canada
Canadian Dollar
$100
1935–1937
No
Duke of Gloucester (1928–1974)
1900–1974
Dead
Mary
Female
Canada
Canadian Dollar
$10
1935–1937
No
Princess Royal of Canada (1932–1965)
1897–1965
Dead
Albert
Male
Canada
Canadian Dollar
$50
1935–1937
No
Duke of York (1920–1936)
1895–1952
Dead
Edward
Male
Canada
Canadian Dollar
$5
1935–1937
No
Prince of Wales (1910–1936)
1894–1972
Dead
Agnes Macphail
Female
Canada
Canadian Dollar
$10
2017 (commemorative)
Yes
Member of the Ontario Provincial Parliament (1948-1951)
1890-1954
Dead
James Gladstone
Male
Canada
Canadian Dollar
$10
2017 (commemorative)
Yes
Senator for Lethbridge, Alberta (1958-1971)
1887-1971
Dead
William Lyon Mackenzie King
Male
Canada
Canadian Dollar
$50
1975–1989
No
10th Prime Minister (1921–1926; 1926–1930; 1935–1948)
1874–1950
Dead
William Lyon Mackenzie King*
Male
Canada
Canadian Dollar
$50
2012
Yes
10th Prime Minister of Canada (1921–1926, 1926-1930 and 1935-1948)
1874-1950
Dead
Mary
Female
Canada
Canadian Dollar
$2
1935–1937
No
Royal consort to George V (1910–1936)
1867–1953
Dead
George V
Male
Canada
Canadian Dollar
$1
1935–1936
No
King of the United Kingdom and the British Dominions (1910–1936)
1865–1936
Dead
Robert Borden
Male
Canada
Canadian Dollar
$100
1976–1990
No
8th Prime Minister (1911–1920)
1854–1937
Dead
Robert Borden*
Male
Canada
Canadian Dollar
$100
2011
Yes
8th Prime Minister of Canada (1911-1920)
1854-1937
Dead
Wilfrid Laurier
Male
Canada
Canadian Dollar
$1,000
1937–1954
No
7th Prime Minister of Canada (1896–1911)
1841–1922
Dead
Wilfrid Laurier
Male
Canada
Canadian Dollar
$1,000
1935–1937
No
7th Prime Minister of Canada (1896–1911)
1841–1921
Dead
Wilfrid Laurier
Male
Canada
Canadian Dollar
$5
1986–2001
No
7th Prime Minister of Canada (1896–1911)
1841–1920
Dead
Wilfrid Laurier
Male
Canada
Canadian Dollar
$5
1972–1986
No
7th Prime Minister of Canada (1896–1911)
1841–1919
Dead
Wilfrid Laurier*
Male
Canada
Canadian Dollar
$5
2013
Yes
7th Prime Minister of Canada (1896-1911)
1841-1919
Dead
John A. Macdonald
Male
Canada
Canadian Dollar
$500
1935–1937
No
1st Prime Minister (1867–1873 and 1878–1891)
1815–1894
Dead
John A. Macdonald
Male
Canada
Canadian Dollar
$100
1937–1954
No
1st Prime Minister (1867–1873 and 1878–1891)
1815–1893
Dead
John A. Macdonald
Male
Canada
Canadian Dollar
$10
1989–2000
No
1st Prime Minister (1867–1873 and 1878–1891)
1815–1892
Dead
John A. Macdonald
Male
Canada
Canadian Dollar
$10
1971–1989
No
1st Prime Minister (1867–1873 and 1878–1891)
1815–1891
Dead
John A. Macdonald*
Male
Canada
Canadian Dollar
$10
2013
Yes
1st Prime Minister of Canada (1867–1873 and 1878–1891)
1815-1891
Dead
George-?tienne Cartier
Male
Canada
Canadian Dollar
$10
2017 (commemorative)
Yes
Premier of Canada East (1858-1862)
1814-1873
Dead
George VI
Male
Canada
Canadian Dollar
$1
1936–1954
No
King of Canada (1936–1952)
Dead
George VI
Male
Canada
Canadian Dollar
$2
1936–1955
No
King of Canada (1936–1952)
Dead
William Lyon Mackenzie King
Male
Canada
Canadian Dollar
$50
1989–2004
No
Dead
William McKinley
Male
USA
Dollar
$500
1929–1969
No
25th President of the United States (1897–1901)
1843–1901
Dead
Grover Cleveland
Male
USA
Dollar
$1,000
1929–1969
No
22nd and 24th President of the United States (1885–1889 (22nd Presidential term) and 1893–1897 (24th Presidential term)
1837–1908
Dead
Ulysses S. Grant
Male
USA
Dollar
$50
2004
Yes
18th President of the United States (1869–1877)
1822–1885
Dead
Abraham Lincoln
Male
USA
Dollar
$5
2008
Yes
16th President of the United States (1861–1865)
1809–1865
Dead
Salmon P. Chase
Male
USA
Dollar
$10,000
1929–1969
No
25th Secretary of the Treasury (1861–1864)
1808–1873
Dead
Andrew Jackson
Male
USA
Dollar
$20
2003
Yes
7th President of the United States (1829–1837)
1767–1845
Dead
James Monroe
Male
USA
Dollar
$5,000
1918–1928
No
Delegate, Continental Congress (1783–1786); 5th President of the United States (1817-1825)
1758–1831
Dead
Alexander Hamilton
Male
USA
Dollar
$1,000
1918–1928
No
1st Secretary of the Treasury (1789–1795)
1755/7-1804
Dead
Alexander Hamilton
Male
USA
Dollar
$10
2006
Yes
1st Secretary of the Treasury (1789–1795)
1755/7-1804
Dead
John Marshall
Male
USA
Dollar
$500
1918–1928
No
4th Chief Justice of the Supreme Court (1801–1835)
1755–1835
Dead
James Madison
Male
USA
Dollar
$5,000
1918–1928
No
Delegate, Continental Congress (1780–1783); 4th President of the United States (1809-1817)
1751–1836
Dead
George Walton
Male
USA
Dollar
$2
1976
Yes
signatory, Declaration of Independence, 1776
1749/50-1804
Dead
Edward Rutledge
Male
USA
Dollar
$2
1976
Yes
signatory, Declaration of Independence, 1776
1749–1800
Dead
Robert R. Livingston
Male
USA
Dollar
$2
1976
Yes
signatory, Declaration of Independence, 1776
1746–1813
Dead
Thomas Heyward, Jr.
Male
USA
Dollar
$2
1976
Yes
signatory, Declaration of Independence, 1776
1746–1809
Dead
Benjamin Rush
Male
USA
Dollar
$2
1976
Yes
signatory, Declaration of Independence, 1776
1745–1813
Dead
Elbridge Gerry
Male
USA
Dollar
$5,000
1918–1928
No
Delegate, Continental Congress (1782–1785); 4th Vice President of the United States (1813-1814)
1744–1814
Dead
Elbridge Gerry
Male
USA
Dollar
$2
1976
Yes
signatory, Declaration of Independence, 1776; 5th Vice President of the United States (1813-1814)
1744–1814
Dead
Thomas Mifflin
Male
USA
Dollar
$5,000
1918–1928
No
President of the United States in Congress Assembled (1783–1784)
1744–1800
Dead
Thomas Jefferson
Male
USA
Dollar
$5,000
1918–1928
No
Delegate, Continental Congress (1783–1784); 3rd President of the United States (1801-1809)
1743–1826
Dead
Thomas Jefferson
Male
USA
Dollar
$2
1976
Yes
3rd President of the United States (1801–1809); signatory, Declaration of Independence, 1776
1743–1826
Dead
James Wilson
Male
USA
Dollar
$2
1976
Yes
signatory, Declaration of Independence, 1776
1742–1798
Dead
William Hooper
Male
USA
Dollar
$2
1976
Yes
signatory, Declaration of Independence, 1776
1742–1790
Dead
Arthur Middleton
Male
USA
Dollar
$2
1976
Yes
signatory, Declaration of Independence, 1776
1742–1787
Dead
Samuel Chase
Male
USA
Dollar
$2
1976
Yes
signatory, Declaration of Independence, 1776
1741–1811
Dead
William Paca
Male
USA
Dollar
$2
1976
Yes
signatory, Declaration of Independence, 1776
1740–1799
Dead
George Clymer
Male
USA
Dollar
$2
1976
Yes
signatory, Declaration of Independence, 1776
1739–1813
Dead
George Clinton
Male
USA
Dollar
$2
1976
Yes
signatory, Declaration of Independence, 1776; 4th Vice President of the United States (1805-1812)
1739–1812
Dead
Charles Carroll
Male
USA
Dollar
$2
1976
Yes
signatory, Declaration of Independence, 1776
1737–1832
Dead
John Hancock
Male
USA
Dollar
$2
1976
Yes
signatory, Declaration of Independence, 1776
1737–1793
Dead
Francis Hopkinson
Male
USA
Dollar
$2
1976
Yes
signatory, Declaration of Independence, 1776
1737–1791
Dead
John Adams
Male
USA
Dollar
$2
1976
Yes
signatory, Declaration of Independence, 1776; 2nd President of the United States (1797-1801)
1735–1826
Dead
William Floyd
Male
USA
Dollar
$2
1976
Yes
signatory, Declaration of Independence, 1776
1734–1821
Dead
Thomas McKean
Male
USA
Dollar
$2
1976
Yes
signatory, Declaration of Independence, 1776
1734–1817
Dead
Robert Morris
Male
USA
Dollar
$2
1976
Yes
signatory, Declaration of Independence, 1776
1734–1806
Dead
George Read
Male
USA
Dollar
$2
1976
Yes
signatory, Declaration of Independence, 1776
1733–1798
Dead
John Dickinson
Male
USA
Dollar
$2
1976
Yes
signatory, Declaration of Independence, 1776
1732–1808
Dead
George Washington
Male
USA
Dollar
$5,000
1918–1928
No
Commander-in-Chief of the Continental Army (1775–1783); 1st President of the United States (1789-1797)
1732–1799
Dead
George Washington
Male
USA
Dollar
$1
1963
Yes
1st President of the United States (1789–1797)
1732–1799
Dead
Richard Henry Lee
Male
USA
Dollar
$2
1976
Yes
signatory, Declaration of Independence, 1776
1732–1794
Dead
Thomas Willing
Male
USA
Dollar
$2
1976
Yes
signatory, Declaration of Independence, 1776
1731–1821
Dead
Robert Treat Paine
Male
USA
Dollar
$2
1976
Yes
signatory, Declaration of Independence, 1776
1731–1814
Dead
William Williams
Male
USA
Dollar
$2
1976
Yes
signatory, Declaration of Independence, 1776
1731–1811
Dead
Samuel Huntington
Male
USA
Dollar
$2
1976
Yes
signatory, Declaration of Independence, 1776
1731–1796
Dead
Richard Stockton
Male
USA
Dollar
$2
1976
Yes
signatory, Declaration of Independence, 1776
1730–1781
Dead
Joseph Hewes
Male
USA
Dollar
$2
1976
Yes
signatory, Declaration of Independence, 1776
1730–1779
Dead
Charles Thomson
Male
USA
Dollar
$2
1976
Yes
signatory, Declaration of Independence, 1776
1729–1824
Dead
William Ellery
Male
USA
Dollar
$2
1976
Yes
signatory, Declaration of Independence, 1776
1727–1820
Dead
Lewis Morris
Male
USA
Dollar
$2
1976
Yes
signatory, Declaration of Independence, 1776
1726–1798
Dead
Oliver Wolcott
Male
USA
Dollar
$2
1976
Yes
signatory, Declaration of Independence, 1776
1726–1797
Dead
Benjamin Harrison, V
Male
USA
Dollar
$2
1976
Yes
signatory, Declaration of Independence, 1776
1726–1791
Dead
Abraham Clark
Male
USA
Dollar
$2
1976
Yes
signatory, Declaration of Independence, 1776
1725–1794
Dead
John Witherspoon
Male
USA
Dollar
$2
1976
Yes
signatory, Declaration of Independence, 1776
1723–1794
Dead
Samuel Adams
Male
USA
Dollar
$2
1976
Yes
signatory, Declaration of Independence, 1776
1722–1803
Dead
Roger Sherman
Male
USA
Dollar
$2
1976
Yes
signatory, Declaration of Independence, 1776
1721–1793
Dead
Philip Livingston
Male
USA
Dollar
$2
1976
Yes
signatory, Declaration of Independence, 1776
1716–1778
Dead
Francis Lewis
Male
USA
Dollar
$2
1976
Yes
signatory, Declaration of Independence, 1776
1713–1803
Dead
Stephen Hopkins
Male
USA
Dollar
$2
1976
Yes
signatory, Declaration of Independence, 1776
1707–1785
Dead
Benjamin Franklin
Male
USA
Dollar
$2
1976
Yes
signatory, Declaration of Independence, 1776
1706–1790
Dead
Benjamin Franklin
Male
USA
Dollar
$100
1996
Yes
Founding Father
1706–1790
Dead
William Bradford
Male
USA
Dollar
$10,000
1918–1928
No
2nd Governor of Plymouth Colony (1621–1651)
1590–1657
Dead
Myles Standish
Male
USA
Dollar
$10,000
1918–1928
No
military commander of Plymouth Colony
1584–1656
Dead
John Carver
Male
USA
Dollar
$10,000
1918–1928
No
1st Governor of Plymouth Colony (1620–1621)
1576–1621
Dead
John Robinson
Male
USA
Dollar
$10,000
1918–1928
No
organizer of the Mayflower voyage
1575–1625
Dead
William Brewster
Male
USA
Dollar
$10,000
1918–1928
No
leader and pastor of Plymouth Colony
1566–1644
Dead
Hernando de Soto
Male
USA
Dollar
$500
1918–1928
No
Spanish explorer; first European explorer to find the Mississippi River (1542)
1496/7-1542
Dead
James Madison
Male
USA
Dollar
$5,000
1929–1969
No
4th President of the United States (1809–1817)
Dead
Ing?lfur Arnarson
Male
Iceland
Icelandic kr?na
5 kr
1960–1969
No
first permanent settler of Iceland, 874
unknown
Dead
J?hannes Sveinsson Kjarval
Male
Iceland
Icelandic kr?na
2,000 kr
1995
Yes
painter
1885–1972
Dead
Christian X
Male
Iceland
Icelandic kr?na
100 kr
1929–1935
No
King of Denmark, 1912–1947;
King of Iceland, 1918–1944
1870–1953
Dead
Christian X
Male
Iceland
Icelandic kr?na
50 kr
1931–1936
No
King of Denmark, 1912–1947;
King of Iceland, 1918–1944
1870–1952
Dead
Christian X
Male
Iceland
Icelandic kr?na
50 kr
1907–1916
No
King of Denmark, 1912–1947;
King of Iceland, 1918–1944
1870–1951
Dead
Christian X
Male
Iceland
Icelandic kr?na
10 kr
1929–1934
No
King of Denmark, 1912–1947;
King of Iceland, 1918–1944
1870–1950
Dead
Christian X
Male
Iceland
Icelandic kr?na
10 kr
1907–1916
No
King of Denmark, 1912–1947;
King of Iceland, 1918–1944
1870–1949
Dead
Christian X
Male
Iceland
Icelandic kr?na
5 kr
1929–1935
No
King of Denmark, 1912–1947;
King of Iceland, 1918–1944
1870–1948
Dead
Christian X
Male
Iceland
Icelandic kr?na
5 kr
1907–1916
No
King of Denmark, 1912–1947;
King of Iceland, 1918–1944
1870–1947
Dead
Frederick VIII
Male
Iceland
Icelandic kr?na
50 kr
1907–1916
No
King of Denmark, 1906–1912
1843–1912
Dead
Christian IX
Male
Iceland
Icelandic kr?na
100 kr
1916–1935
No
King of Denmark, 1863–1906; signed the treaty that gave Iceland sovereignty, 1882
1818–1914
Dead
Christian IX
Male
Iceland
Icelandic kr?na
50 kr
1916–1920
No
King of Denmark, 1863–1906; signed the treaty that gave Iceland sovereignty, 1881
1818–1913
Dead
Christian IX
Male
Iceland
Icelandic kr?na
50 kr
1886–1907
No
King of Denmark, 1863–1906; signed the treaty that gave Iceland sovereignty, 1880
1818–1912
Dead
Christian IX
Male
Iceland
Icelandic kr?na
10 kr
1916–1920
No
King of Denmark, 1863–1906; signed the treaty that gave Iceland sovereignty, 1879
1818–1911
Dead
Christian IX
Male
Iceland
Icelandic kr?na
10 kr
1907–1916
No
King of Denmark, 1863–1906; signed the treaty that gave Iceland sovereignty, 1878
1818–1910
Dead
Christian IX
Male
Iceland
Icelandic kr?na
10 kr
1886–1907
No
King of Denmark, 1863–1906; signed the treaty that gave Iceland sovereignty, 1877
1818–1909
Dead
Christian IX
Male
Iceland
Icelandic kr?na
5 kr
1919–1920
No
King of Denmark, 1863–1906; signed the treaty that gave Iceland sovereignty, 1876
1818–1908
Dead
Christian IX
Male
Iceland
Icelandic kr?na
5 kr
1907–1919
No
King of Denmark, 1863–1906; signed the treaty that gave Iceland sovereignty, 1875
1818–1907
Dead
Christian IX
Male
Iceland
Icelandic kr?na
5 kr
1886–1907
No
King of Denmark, 1863–1906; signed the treaty that gave Iceland sovereignty, 1874
1818–1906
Dead
J?n Sigur?sson
Male
Iceland
Icelandic kr?na
500 kr
1981
Yes
leader of the 19th century independence movement
1811–1879
Dead
J?nas Hallgr?msson
Male
Iceland
Icelandic kr?na
10,000 kr
2013
Yes
Poet, author and naturalist
1807-1845
Dead
J?n Eir?ksson
Male
Iceland
Icelandic kr?na
49 kr
1948–1960
No
promoter of enlightenment
1728–1791
Dead
J?n Eir?ksson
Male
Iceland
Icelandic kr?na
48 kr
1936–1948
No
promoter of enlightenment
1728–1790
Dead
J?n Eir?ksson
Male
Iceland
Icelandic kr?na
10 kr
1969–1984
No
promoter of enlightenment
1728–1789
Dead
J?n Eir?ksson
Male
Iceland
Icelandic kr?na
6 kr
1947–1960
No
promoter of enlightenment
1728–1788
Dead
J?n Eir?ksson
Male
Iceland
Icelandic kr?na
5 kr
1935–1947
No
promoter of enlightenment
1728–1787
Dead
?rni Magn?sson
Male
Iceland
Icelandic kr?na
500 kr
1944–1948
No
medieval Icelandic scholar
1663–1735
Dead
?rni Magn?sson
Male
Iceland
Icelandic kr?na
101 kr
1947–1973
No
medieval Icelandic scholar
1663–1734
Dead
?rni Magn?sson
Male
Iceland
Icelandic kr?na
100 kr
1935–1947
No
medieval Icelandic scholar
1663–1733
Dead
?rni Magn?sson
Male
Iceland
Icelandic kr?na
11 kr
1947–1969
No
medieval Icelandic scholar
1663–1732
Dead
?rni Magn?sson
Male
Iceland
Icelandic kr?na
10 kr
1934–1947
No
medieval Icelandic scholar
1663–1731
Dead
?rni Magn?sson
Male
Iceland
Icelandic kr?na
100 kr
1981–1995
No
medieval Icelandic scholar
1663–1730
Dead
Ragnhei?ur J?nsd?ttir
Female
Iceland
Icelandic kr?na
5,000 kr
1986
Yes
developer of embroidery; 3rd wife of G?sli ?orl?ksson
1646–1715
Dead
Ingibj?rg Benediktsd?ttir
Female
Iceland
Icelandic kr?na
5,000 kr
1986
Yes
2nd wife of G?sli ?orl?ksson
1640-1673
Dead
Gr?a ?orleifsd?ttir
Female
Iceland
Icelandic kr?na
5,000 kr
1986
Yes
1st wife of G?sli ?orl?ksson
1640-1660
Dead
G?sli ?orl?ksson
Male
Iceland
Icelandic kr?na
5,000 kr
1986
Yes
Lutheran bishop of Hólar (1657–1684); husband of Ragnheiður Jónsdóttir
1631-1684
Dead
Brynj?lfur Sveinsson
Male
Iceland
Icelandic kr?na
1,000 kr
1984
Yes
Lutheran bishop; collected Old Norse literature
1605–1675
Dead
Arngr?mur J?nsson
Male
Iceland
Icelandic kr?na
10 kr
1981–1984
No
scholar
1568–1648
Dead
Gu?brandur ?orl?ksson
Male
Iceland
Icelandic kr?na
50 kr
1981–1987
No
bishop; published the first Icelandic translation of the Bible, 1584
1541–1627
Dead
Gu?brandur ?orl?ksson
Male
Iceland
Icelandic kr?na
500 kr
1948–1968
No
bishop; published the first Icelandic translation of the Bible, 1583
1541–1626
Dead
Karen Blixen
Female
Denmark
Krone
50 kr
1999–2009
Yes
author
1885–1962
Dead
Niels Bohr
Male
Denmark
Krone
500 kr
1997–2011
Yes
Winner of the Nobel Prize in Physics (1922)
1885–1962
Dead
Carl Nielsen
Male
Denmark
Krone
100 kr
1999–2010
Yes
Composer, conductor and violinist
1865–1931
Dead
Anna Ancher
Female
Denmark
Krone
1,000 kr
1998–2011
Yes
Painter
1859–1935
Dead
Michael Ancher
Male
Denmark
Krone
1,000 kr
1998–2011
Yes
Painter
1849–1927
Dead
Johanne Luise Heiberg
Female
Denmark
Krone
200 kr
1997–2010
Yes
Actress (1827–1864)
1812–1890
Dead
Hans Christian Andersen
Male
Denmark
Krone
10 kr
1952–1975
No
poet and author of fairy tales
1805–1875
Dead
Thomasine Heiberg
Male
Denmark
Krone
1,000 kr
1975–1998
No
author; portrait painted by Jens Juel
1779–1856
Dead
Hans Christian ?rsted
Male
Denmark
Krone
100 kr
1962–1974
No
physicist; discoverer of electromagnetism
1777–1851
Dead
Bertel Thorvaldsen
Male
Denmark
Krone
5 kr
1952–1962
No
sculptor
1770–1844
Dead
Pauline Maria Tutein
Female
Denmark
Krone
20 kr
1980–1990
No
wife of Peter Tutein, merchant; portrait painted by Jens Juel
1761–1827
Dead
Christian Ditlev Frederik
Male
Denmark
Krone
500 kr
1964–1975
No
agricultural reformer
1748–1827
Dead
Jens Juel
Male
Denmark
Krone
100 kr
1995–1999
No
painter
1745–1802
Dead
Ole R?mer
Male
Denmark
Krone
50 kr
1957–1975
No
astronomer; made the first measurements of the speed of light
1644–1710
Dead
Cathrine Sophie Kirchhoff
Female
Denmark
Krone
10 kr
1975–1980
No
wife of J.H. Kirchhoff, Councillor of State; portrait painted by Jens Juel
????-????
Dead
Engelke Charlotte Ryberg
Female
Denmark
Krone
50 kr
1975–1999
No
daughter-in-law of Niels Ryberg, merchant; portrait painted by Jens Juel
????-????
Dead
Franziska Genoveva von Qualen
Female
Denmark
Krone
500 kr
1974–1997
No
noble woman of Holstein, Germany; portrait painted by Jens Juel
????-????
Dead
Elizabeth II
Female
Australia
Pound
$1
1953–1966
No
Queen of Australia (1952-)
1926-
Alive
Hamilton Hume
Male
Australia
Pound
$1
1953–1966
No
First Australian-born explorer of Australia
1797–1873
Dead
Charles Sturt
Male
Australia
Pound
$1
1953–1966
No
English explorer of Australia
1795–1869
Dead
Sir John Franklin
Male
Australia
Pound
$5
1953–1966
No
Governor of Tasmania and explorer of the Arctic
1786–1847
Dead
Matthew Flinders
Male
Australia
Pound
10/-
1953–1966
No
Navigator and cartographer; author of A Voyage to Terra Australis
1774–1814
Dead
Arthur Phillip
Male
Australia
Pound
$10
1953–1966
No
Established the first European colony of Sydney, New South Wales
1738–1814
Dead
James Cook
Male
Australia
Pound
$1
1953–1966
No
Explorer; the first European to visit the Australian east coast
1728–1779
Dead
Elizabeth II
Female
England
Pound Sterling
$50
1981–1996
No
Queen of the United Kingdom (1952-)
1926-
Alive
Elizabeth II
Female
England
Pound Sterling
$1
1978–1988
No
Queen of the United Kingdom (1952-)
1926-
Alive
Elizabeth II
Female
England
Pound Sterling
$5
2002–2017
No
Queen of the United Kingdom (1952-)
1926-
Alive
Elizabeth II
Female
England
Pound Sterling
$10
1975–2018
No
Queen of the United Kingdom (1952-)
1926-
Alive
Elizabeth II
Female
England
Pound Sterling
$20
1970–2001
No
Queen of the United Kingdom (1952-)
1926-
Alive
Elizabeth II
Female
England
Pound Sterling
$5
2002
Yes
Queen of the United Kingdom (1952-)
1926-
Alive
Elizabeth II
Female
England
Pound Sterling
$10
2000
Yes
Queen of the United Kingdom (1952-)
1926-
Alive
Elizabeth II
Female
England
Pound Sterling
$20
1999
Yes
Queen of the United Kingdom (1952-)
1926-
Alive
Elizabeth II
Female
England
Pound Sterling
$20
2007
Yes
Queen of the United Kingdom (1952-)
1926-
Alive
Elizabeth II
Female
England
Pound Sterling
$50
2011
Yes
Queen of the United Kingdom (1952-)
1926-
Alive
Alan Turing
Male
England
Pound Sterling
$50
2021
Yes
Mathematician and computer scientist
1912–1954
Dead
Winston Churchill
Male
England
Pound Sterling
$5
2016
Yes
Prime Minister of the United Kingdom (1940-1945; 1951-1955)
1874–1965
Dead
Florence Nightingale
Female
England
Pound Sterling
$10
1975–1994
No
Pioneer of modern nursing[a]
1820–1910
Dead
Charles Dickens
Male
England
Pound Sterling
$10
1992–2003
No
Writer and social critic
1812–1870
Dead
Charles Darwin
Male
England
Pound Sterling
$10
2000–2018
No
Naturalist
1809–1882
Dead
Michael Faraday
Male
England
Pound Sterling
$20
1991–2001
No
Physicist and chemist; significantly contributed to the fields of electromagnetism and electrochemistry
1791–1867
Dead
George Stephenson
Male
England
Pound Sterling
$5
1990–2003
No
Co-Created the Steam Locomotive 'The Rocket'
1781–1848
Dead
Elizabeth Fry
Female
England
Pound sterling
$5
2002-2017
No
Reformer
1780-1845
Dead
J. M. W. Turner
Male
England
Pound Sterling
$20
2020
Yes
Landscape painter
1775-1851
Dead
Jane Austen
Female
England
Pound Sterling
$10
2017
Yes
Novelist
1775-1817
Dead
Arthur Wellesley
Male
England
Pound Sterling
$5
1971–1991
No
1st Duke of Wellington (1814–1852); Prime Minister (1828–1830 and 1834)
1769–1852
Dead
James Watt
Male
England
Pound Sterling
$50
2011
Yes
Inventor
1736-1819
Dead
Matthew Boulton
Male
England
Pound Sterling
$50
2011
Yes
Manufacturer
1728-1809
Dead
Adam Smith
Male
England
Pound Sterling
$20
2007
Yes
Economist
1723–1790
Dead
Isaac Newton
Male
England
Pound Sterling
$1
1978–1988
No
Physicist, mathematician and astronomer
1643–1727
Dead
Christopher Wren
Male
England
Pound Sterling
$50
1981–1996
No
Architect; designer of St. Paul's Cathedral
1632–1723
Dead
John Houblon
Male
England
Pound Sterling
$50
1994-2014
No
1st Governor of the Bank of England (1694-1697)
1632-1710
Dead
William Shakespeare
Male
England
Pound Sterling
$20
1970–1993
No
Playwright and poet; regarded as the greatest writer of the English language
1564–1616
Dead
George Best
Male
Northern Ireland
Pound Sterling
$5
2006
Yes
Footballer, Northern Ireland and Manchester United
(special commemorative issue)
1946–2005
Dead
Sir James Martin
Male
Northern Ireland
Pound Sterling
$100
2005
Yes
Inventor of the aircraft ejector seat
1893–1981
Dead
Harry Ferguson
Male
Northern Ireland
Pound Sterling
$20
2005
Yes
Engineer and developer of the modern agricultural tractor, the Ferguson monoplane and the Ferguson P99
1884–1960
Dead
Sir Samuel Cleland Davidson
Male
Northern Ireland
Pound Sterling
$50
2005
Yes
founder of the Belfast Sirocco Works and pioneer of air conditioning
1846-1921
Dead
John Boyd Dunlop
Male
Northern Ireland
Pound Sterling
$10
2005
Yes
Founder of the Dunlop Pneumatic Tyre Company
1840–1921
Dead
David Livingstone
Male
Scotland
Pound Sterling
$10
1813–1873
No
Scottish missionary and explorer in Central Africa.
1971–1998
Dead
Robert the Bruce
Male
Scotland
Pound Sterling
$1
1274–1329
No
King of the Scots (1306-1329)
1971-.1989
Dead
Lord Kelvin
Male
Scotland
Pound Sterling
$20
1824–1907
No
mathematical physicist and engineer
1971-.1989
Dead
Jack Nicklaus
Male
Scotland
Pound Sterling
$5
2005
Yes
Notable American golfer
(special commemorative issue)[3]
1940-
Alive
Queen Elizabeth II
Female
Scotland
Pound Sterling
$5
2002
Yes
To mark the Golden Jubilee of Elizabeth II
(special commemorative issue)[3]
1926-
Alive
Queen Elizabeth II
Female
Scotland
Pound Sterling
$10
2012
Yes
To mark the Diamond Jubilee of Elizabeth II
(special commemorative issue)[3][4]
1926-
Alive
Queen Elizabeth The Queen Mother
Female
Scotland
Pound Sterling
$20
2000
Yes
To mark the 100th birthday of The Queen Mother
(special commemorative issue)[3]
1900–2002
Dead
Nan Shepherd
Female
Scotland
Pound Sterling
$5
2016
Yes
Novelist and poet
1893-1981
Dead
Alexander Fleming
Male
Scotland
Pound Sterling
$5
2009
Yes
Discoverer of penicillin
1881–1955
Dead
Charles Rennie Mackintosh
Male
Scotland
Pound Sterling
$100
2009
Yes
Architect and designer
1868-1928
Dead
Elsie Inglis
Female
Scotland
Pound Sterling
$50
2009
Yes
Doctor and suffragist
1864–1917
Dead
Robert Louis Stevenson
Male
Scotland
Pound Sterling
$1
1994
Yes
Scottish novelist, poet, essayist and travel writer
(special commemorative issue)[3]
1850–1894
Dead
Catherine Cranston
Female
Scotland
Pound Sterling
$20
2020
Yes
Entrepreneur
1849-1934
Dead
Mary Slessor
Female
Scotland
Pound Sterling
$10
1998
Yes
Scottish missionary to Nigeria and campaigner for women's rights
1848–1915
Dead
Alexander Graham Bell
Male
Scotland
Pound Sterling
$1
1997
Yes
Inventor of the telephone
(special commemorative issue)[3]
1847–1922
Dead
William Arrol
Male
Scotland
Pound Sterling
$5
2015 (commemorative)
Yes
Civil engineer, bridge builder, and Liberal Unionist Party politician
1839-1913
Dead
Lord Kelvin
Male
Scotland
Pound Sterling
$100
1998
Yes
Mathematical physicist and engineer
1824–1907
Dead
Old Tom Morris
Male
Scotland
Pound Sterling
$5
2004
Yes
250th anniversary of The Royal and Ancient Golf Club of St Andrews
(special commemorative issue)[3]
1821–1908
Dead
Mary Somerville
Female
Scotland
Pound Sterling
$10
2017
Yes
Scientist
1780-1872
Dead
Sir Walter Scott
Male
Scotland
Pound Sterling
$100
2007
Yes
Historical novelist and poet; campaigner for the continuation of Scottish banknotes
1771–1836
Dead
Sir Walter Scott
Male
Scotland
Pound Sterling
$50
2007
Yes
Historical novelist and poet; campaigner for the continuation of Scottish banknotes
1771–1835
Dead
Sir Walter Scott
Male
Scotland
Pound Sterling
$20
1999
Yes
Historical novelist and poet; campaigner for the continuation of Scottish banknotes
1771–1834
Dead
Sir Walter Scott
Male
Scotland
Pound Sterling
$10
2007
Yes
Historical novelist and poet; campaigner for the continuation of Scottish banknotes
1771–1833
Dead
Sir Walter Scott
Male
Scotland
Pound Sterling
$5
2007
Yes
Historical novelist and poet; campaigner for the continuation of Scottish banknotes
1771–1832
Dead
Robert Burns
Male
Scotland
Pound Sterling
$5
1998
Yes
Notable Scottish poet
1759–1796
Dead
Robert Burns
Male
Scotland
Pound Sterling
$10
2009
Yes
Notable Scottish poet
1759–1796
Dead
Adam Smith
Male
Scotland
Pound Sterling
$50
1998
Yes
Economist and key figure of the Scottish Enlightenment
1723–1790
Dead
Lord Ilay
Male
Scotland
Pound Sterling
$100
1987
Yes
Founder and first governor of the Royal Bank of Scotland
1682–1766
Dead
Lord Ilay
Male
Scotland
Pound Sterling
$50
1987
Yes
Founder and first governor of the Royal Bank of Scotland
1682–1765
Dead
Lord Ilay
Male
Scotland
Pound Sterling
$20
1987
Yes
Founder and first governor of the Royal Bank of Scotland
1682–1764
Dead
Lord Ilay
Male
Scotland
Pound Sterling
$10
1987
Yes
Founder and first governor of the Royal Bank of Scotland
1682–1763
Dead
Lord Ilay
Male
Scotland
Pound Sterling
$5
1987
Yes
Founder and first governor of the Royal Bank of Scotland
1682–1762
Dead
Lord Ilay
Male
Scotland
Pound Sterling
$1
1987
Yes
Founder and first governor of the Royal Bank of Scotland
1682–1761
Dead
Robert the Bruce
Male
Scotland
Pound Sterling
$20
1998
Yes
King of the Scots (1306-1329)
1274–1329
Dead
Robert the Bruce
Male
Scotland
Pound Sterling
$20
2009
Yes
King of the Scots (1306-1329)
1274–1329
Dead