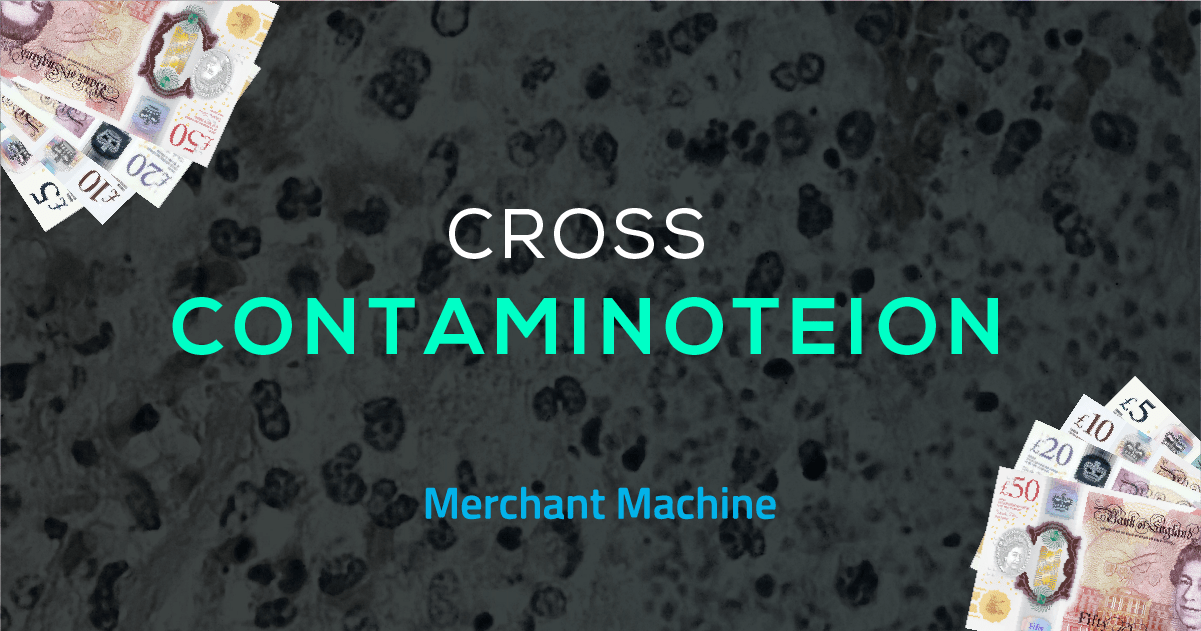 Study analyses how fast banknotes moves in the UK and US and what bacteria populate the different bank notes
With the pandemic outbreak, people have become more conscious when it comes to personal interactions, social life and personal hygiene. The traditional greeting gesture of shaking hands has now been transitioned to elbow bumps. 
Last year, the amount of cash transactions in the US and UK decreased significantly as a consequence of the COVID-19 outbreak, with more than a third of shoppers being stopped from paying with cash, in a collective effort to limit the spread of the virus.
Merchant Machine takes an in-depth look into the movement of cash to work out the velocity of money (measurement of the rate at which money is exchanged in an economy) in the UK and US economies as well as the average number of bacteria and different types that can be found on individual banknotes to reveal which ones are the 'dirtiest'. 
The £5 bank note accumulates around 153,000 different types of bacteria in 5 years 
Studies show that over the last decade, cash withdrawals in the UK fell by 22%. According to the same study, in the last couple of years cash usage decreased even more. This, along with the recent pandemic outbreak, has seen small businesses going cashless for safety reasons, asking customers to pay with alternative methods such as debit and credit cards. 
Even though this trend could potentially lead to 0% cash usage by 2026, cash transactions in the UK still correspond to 12.4% of the consumer expenditure.
To find out the dirtiest money in the UK's economy we analysed how fast and far each banknote moves in the UK economy and the total number of hands each note sees in it's lifespan to determine how many germs and bacteria are gathered on each type of banknote.
£5 is the dirtiest banknote with an average of 50.9 number of transactions, gathering almost 153,000 bacteria in its 5 years of circulation. There are 4 different kinds of harmful bacteria found on the £5 note, including Coliforms and Listeria. 
The bacteria Coliform can be found in humans' and animals' waste and can cause symptoms include diarrhea, stomach cramps and vomiting. Listeria can be also found in human and animal feces and in soil.
As we can observe in the image below, the average £10 banknote is spent around 10.5 times in the course of its 5 year lifespan, gathering an average of 330 potentially harmful bacteria. The types of bacteria found include Listeria and Staphylococcus Aureus. This latter is known to be antibiotic resistant and it is considered extremely dangerous by the World Health Organisation (WHO). This bacteria can cause skin infections and badly affect blood and intestinal organs.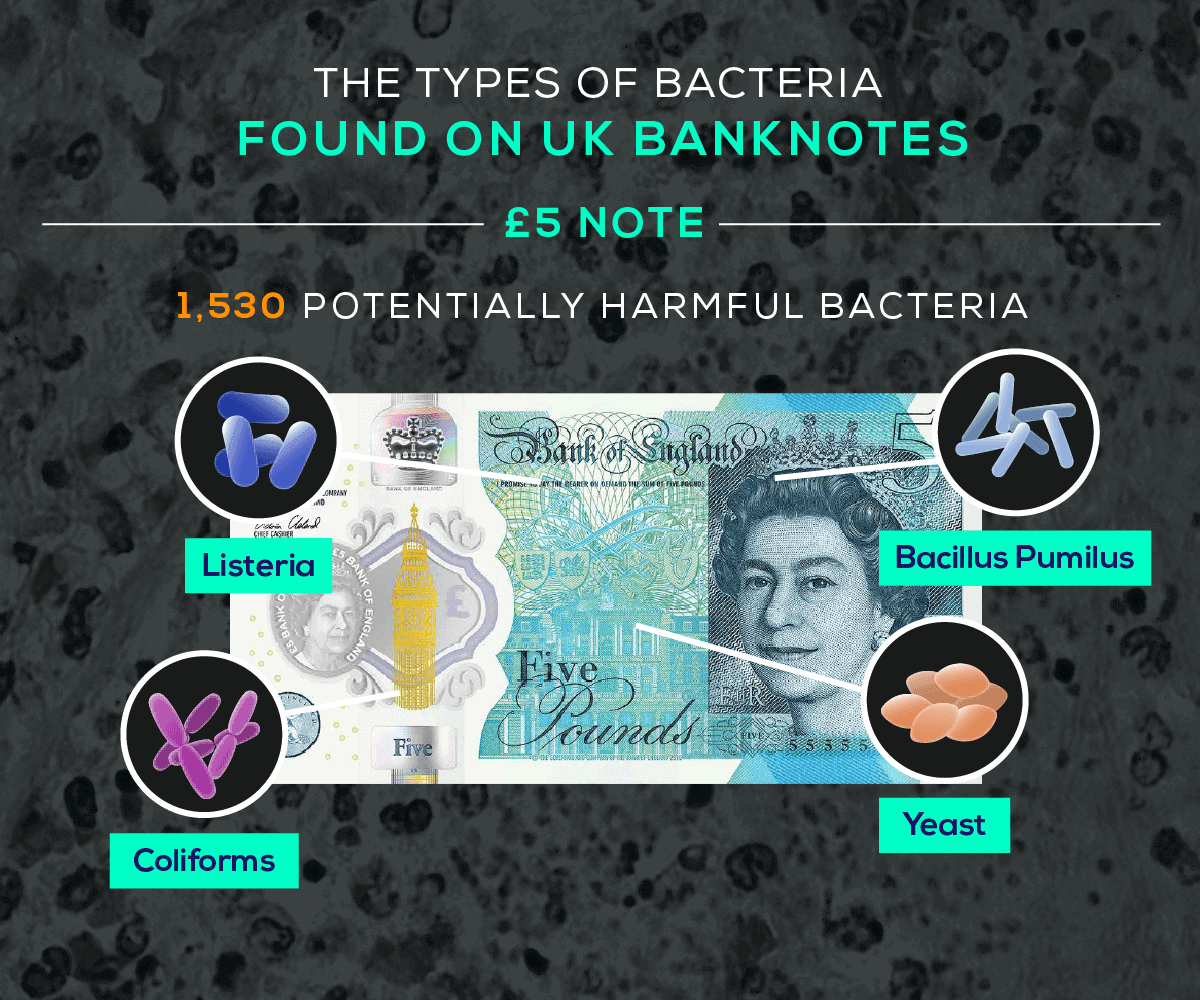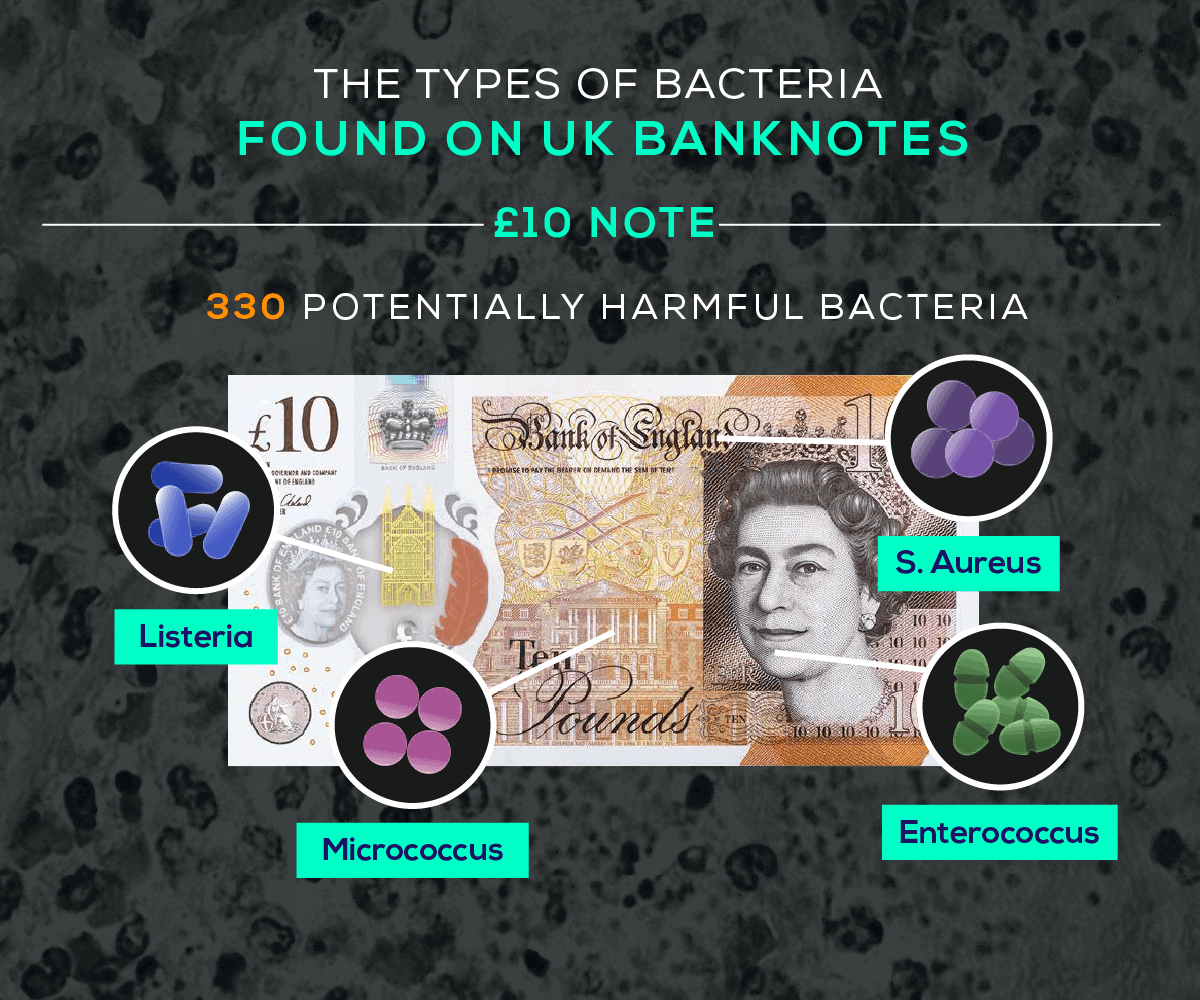 In the images below we can see the different kinds of bacteria accumulated on the average £20 and £50 note. According to the research, these two bigger denominations have a longer lifespan of 20 years and the total number of hands touched 10 and 4 respectively. 
Bacillus Pumilus, a type of bacteria that is mainly found in soil, can be found on both of these banknotes. This bacteria is particularly dangerous for children and can cause skin infections.
With an average of 12,000 types of bacteria and around 120 potentially harmful bacteria gathered, Micrococcus is a bacteria typically found on the average £50 banknote. This bacteria is typically found in soil and water, and people with a weaker immune system are more likely to contract it. This bacteria is also commonly found on the £10 banknote.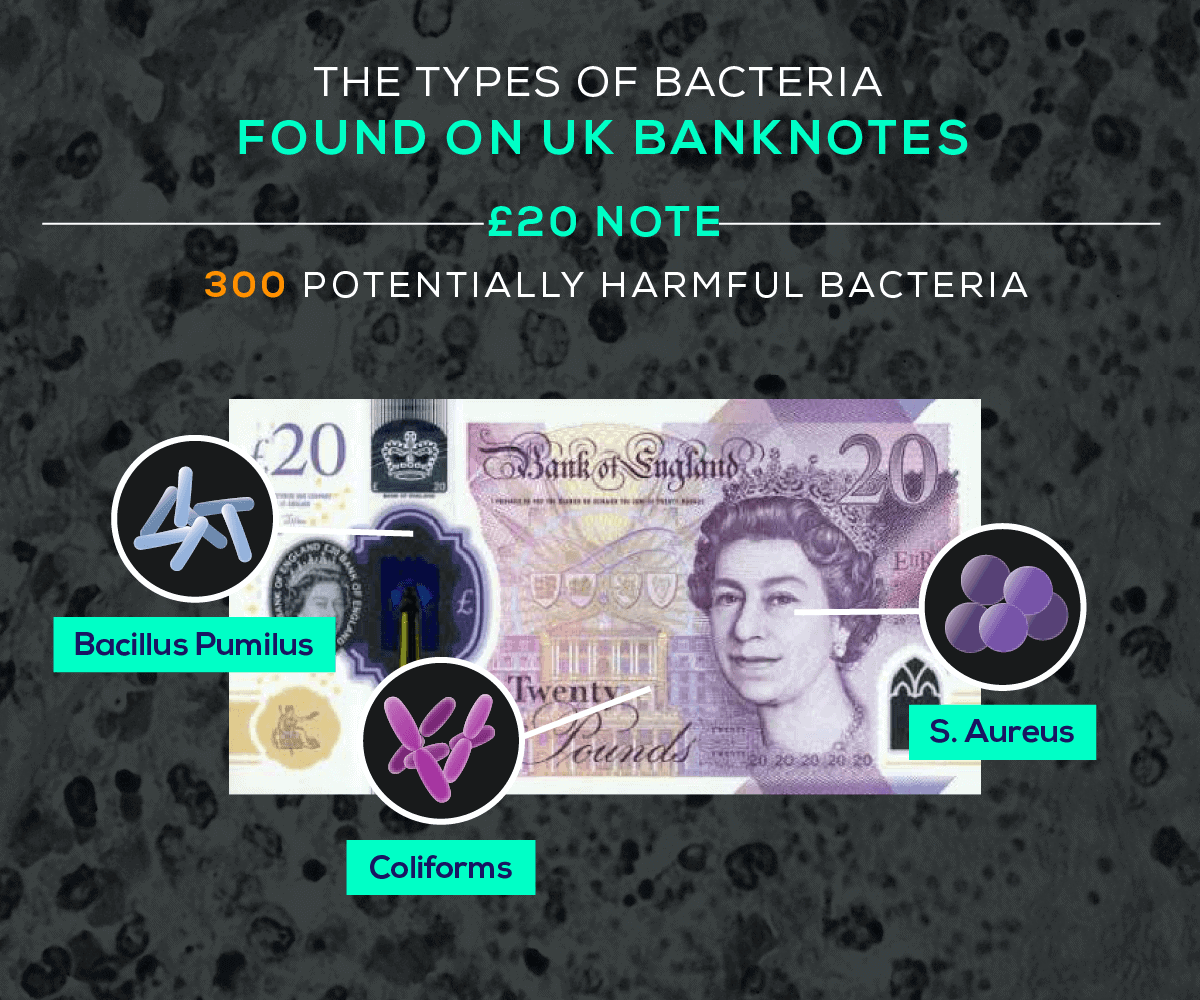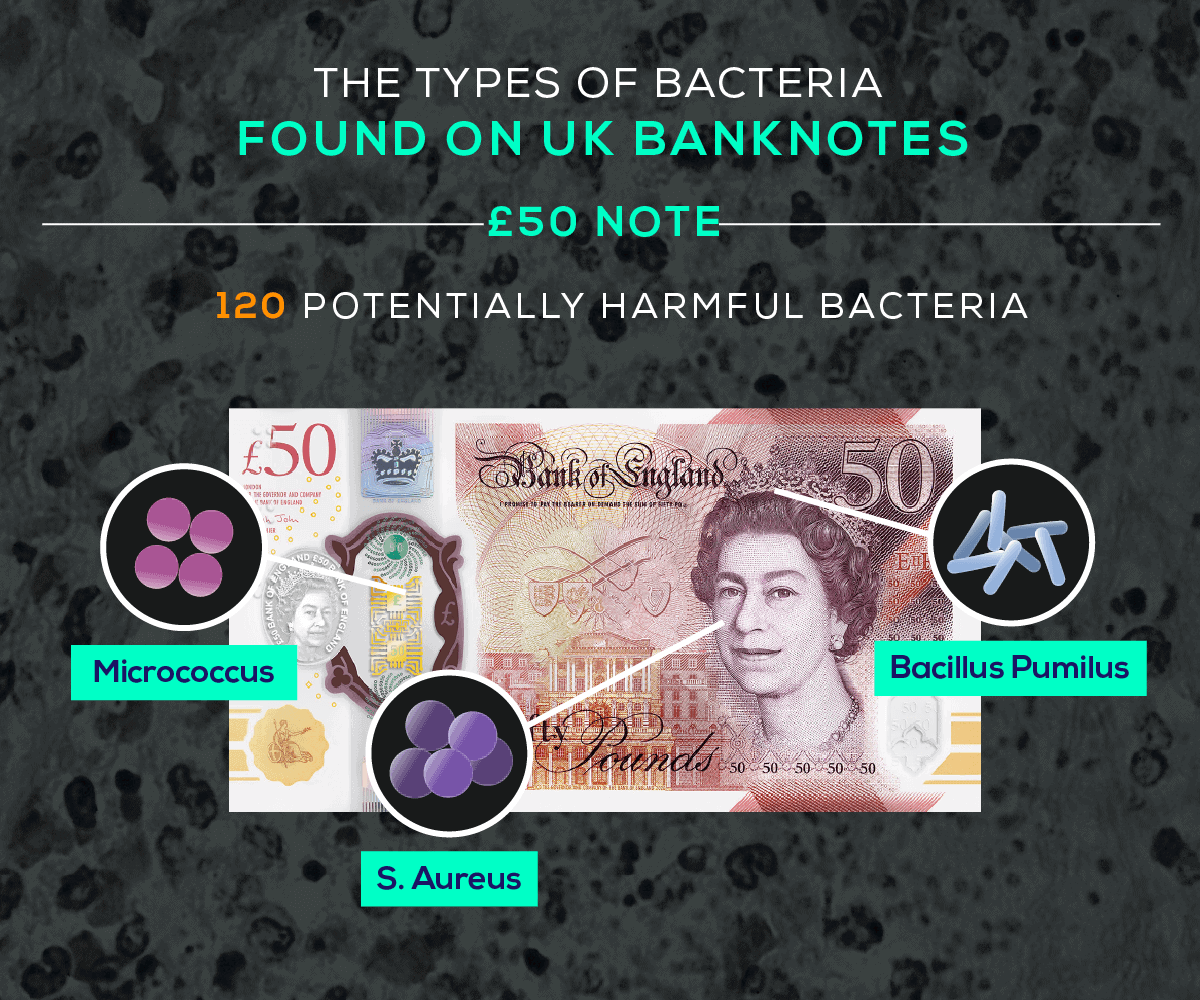 The image below illustrates and describes the types of harmful bacteria you may find on different UK banknotes.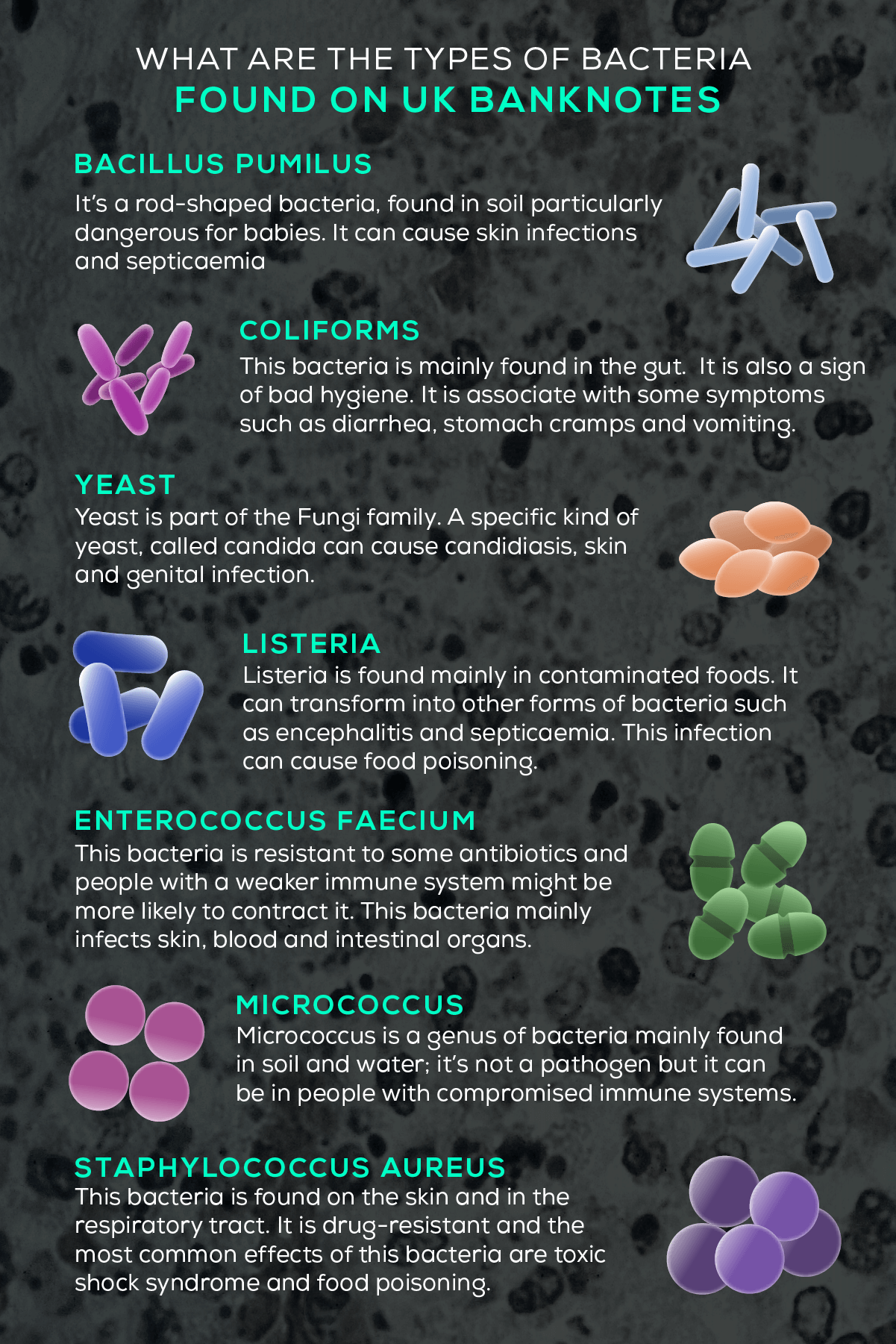 The table shows more detailed information about money velocity, total number of spend and harmful bacteria found on each UK banknote
| Type of Banknote | Estimated Velocity | Estimated Note Lifespan (years) | Total Number of Spends | Total Number of Hands Touched | Total Types of Bacteria Gathered | Potentially Harmful Bacteria per Note | Bacteria |
| --- | --- | --- | --- | --- | --- | --- | --- |
| £5 | 10.18 | 5 | 50.9 | 51 | 153,000 | 1,530 | Bacillus Pumilus, Coliforms, Listeria & Yeast |
| £10 | 2.1 | 5 | 10.5 | 11 | 33,000 | 330 | Enterococcus, Listeria, Micrococcus & S. Aureus |
| £20 | 0.47 | 20 | 9.4 | 10 | 30,000 | 300 | Bacillus, Coliforms, S. Aureus |
| £50 | 0.2 | 20 | 4 | 4 | 12,000 | 120 | Bacillus, Micrococcus & S. aureus |
The $10 bill is the dirtiest banknote in the US 
In the US only 4% of transactions are made using cash; whilst the remaining 59% and 22% are made using credit cards and e-wallet, respectively. 
From the findings below, we can see that not always do the lower denominations correspond to a lower velocity. In fact, the $5 and the $10 bills have the highest velocity and number of spends in an average of 5 years. This makes the $10 the dirtiest dollar bill with 16,344 types of bacteria accumulated in 5.3 years, 165 of which are potentially harmful. 
| Banknote Type | Estimated Velocity | Estimated Note Lifespan (years) | Total Number of Spends | Total Number of Hands Touched | Total Types of Bacteria Gathered | Potentially Harmful Bacteria per Note |
| --- | --- | --- | --- | --- | --- | --- |
| $1 | 0.28 | 6.6 | 1.8 | 2.8 | 8,469 | 85 |
| $5 | 0.89 | 4.7 | 4.2 | 5.2 | 15,522 | 155 |
| $10 | 0.84 | 5.3 | 4.4 | 5.4 | 16,344 | 163 |
| $20 | 0.13 | 7.8 | 1 | 2 | 6,016 | 60 |
| $50 | 0.08 | 12.2 | 0.9 | 1.9 | 5,782 | 58 |
| $100 | 0 | 22.9 | 0.1 | 1.1 | 3,169 | 32 |
Methodology
For this study, we gathered the total value of transactions involving cash in the UK and in the US and the total value of money stored as denominations of notes (cash) in circulation. We then broke down the total value of transactions by denomination of note using estimated proportions for how often each denomination is used, based on the average transaction value for each country.
We then divided the estimated value spent in each form of note by the total amount in circulation to give a velocity for each note denomination. We also found the estimated lifespan of each one of these notes.
We multiplied the velocity by the lifespan in years to give us a total number of times a note is likely to be spent before being taken out of circulation; the number of hands touched was therefore one greater than this figure. We did not take into account the hands of the cashiers and bankers, but only considered the number of hands touched during sales activities.
Finally, we found the average number of different types of bacteria on fingertips and multiplied this by the total number of hands touched to suggest how many different types of bacteria might make it onto a given note by the time it's retired. We used a figure suggesting 0.01% of bacteria on fingertips may be harmful to suggest how many different types of harmful bacteria may thus make it into each different note.
Sources:
| Banknote | Total Value in Circulation | Estimated Proportion of Value Spent | Estimated Total Value of Transactions | Estimated Velocity | Note Lifespan (years) | Total Number of Spends | Total Number of Hands Touched | Total Types of Bacteria Gathered | Potentially Harmful Bacteria per Note |
| --- | --- | --- | --- | --- | --- | --- | --- | --- | --- |
| £5 | £2,068,000,000.00 | 30.00% | £21,048,300,000.00 | 10.18 | 5 | 50.9 | 51 | 153,000 | 1,530 |
| £10 | £13,377,000,000.00 | 40.00% | £28,064,400,000.00 | 2.10 | 5 | 10.5 | 11 | 33,000 | 330 |
| £20 | £37,143,000,000.00 | 25.00% | £17,540,250,000.00 | 0.47 | 20 | 9.4 | 10 | 30,000 | 300 |
| £50 | £17,574,000,000.00 | 5.00% | £3,508,050,000.00 | 0.20 | 20 | 4.0 | 4 | 12,000 | 120 |
| $1 | $12,700,000,000.00 | 5.00% | $3,508,050,000.00 | 0.28 | 6.6 | 1.8 | 2.823081102 | 8,469 | 85 |
| $5 | $15,800,000,000.00 | 20.00% | $14,032,200,000.00 | 0.89 | 4.7 | 4.2 | 5.174135443 | 15,522 | 155 |
| $10 | $20,900,000,000.00 | 25.00% | $17,540,250,000.00 | 0.84 | 5.3 | 4.4 | 5.448005981 | 16,344 | 163 |
| $20 | $190,500,000,000.00 | 35.00% | $24,556,350,000.00 | 0.13 | 7.8 | 1.0 | 2.00545685 | 6,016 | 60 |
| $50 | $92,300,000,000.00 | 10.00% | $7,016,100,000.00 | 0.08 | 12.2 | 0.9 | 1.927371831 | 5,782 | 58 |
| $100 | $1,424,700,000,000.00 | 5.00% | $3,508,050,000.00 | 0.00 | 22.9 | 0.1 | 1.05638685 | 3,169 | 32 |